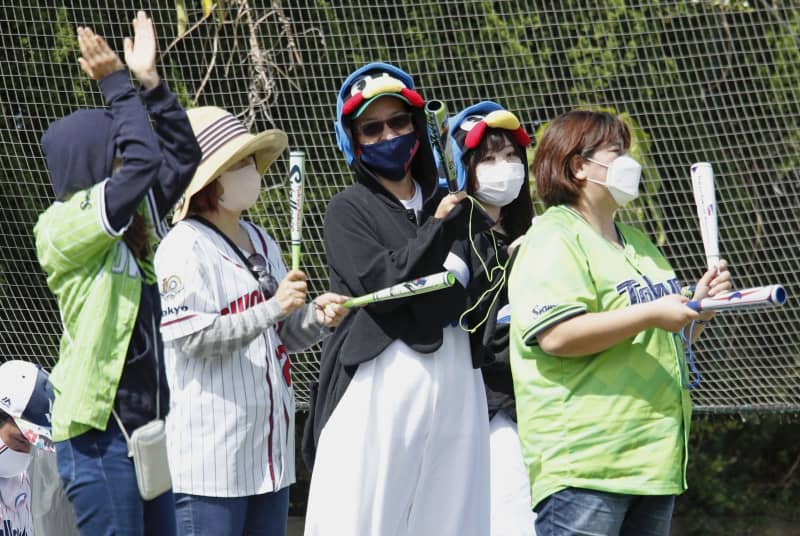 Fans welcomed the start of Japanese pro baseball's preseason exhibition season Thursday with sounds not heard at ballparks here since the start of the coronavirus pandemic, shouting, chanting and cheering.
Although required to remain masked, the crowd of 7,423 were allowed to raise their voices and serenade the Central League's Yakult Swallows and Yomiuri Giants at Yakult's spring training site in Okinawa.
Cheering had not been heard in ballparks since the very start of the 2020 preseason. It was not long before fans were banned from preseason games, and they remained away until small numbers began to be admitted to the stadium in July, nearly a month after the 2020 season's delayed June start.
"Naturally, the fans cheered, voicing their joy and disappointment," Swallows manager Shingo Takatsu said.
Horns, which along with drums, provide the customary soundtrack for teams' cheering clubs, were also heard. Yosuke Uchiyama, a member of a private club of Swallows supporters, said he had been getting ready.
"I've been practicing my trumpet," the 25-year-old said. "I've been waiting for this day. The difference between being able to cheer or not at the ballpark is night and day."
Tokyo resident Hiroyuki Takasawa, vacationing with his family in Okinawa, said he had doubts about cheering once more at the ballpark with the coronavirus still a concern.
"Until now, part of me wanted to hold back," he said. "Cheering can change the ballpark atmosphere. It was really great."
With Japan gearing up for the World Baseball Classic, the national team will play warm-up games on Saturday and Sunday in Miyazaki against the Pacific League's SoftBank Hawks in front of a sellout crowd, who will also be allowed to raise their voices.