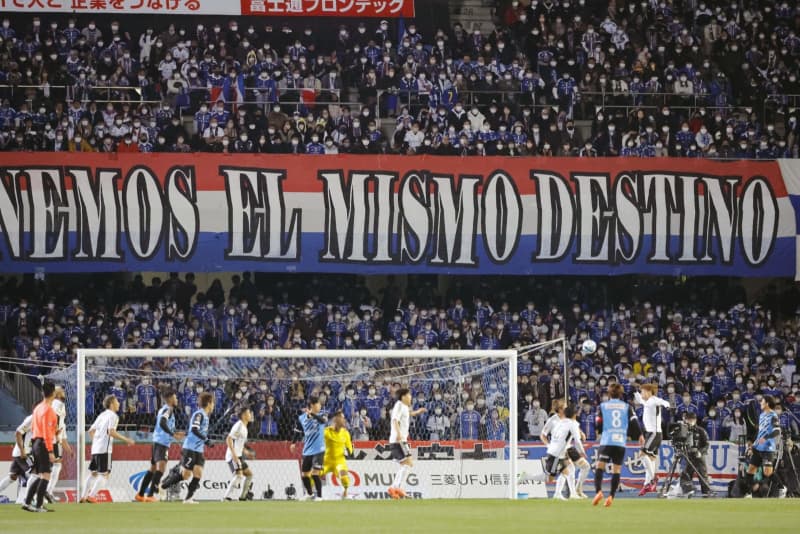 With J-League fans allowed to once more fill stadiums to capacity and vocally cheer for their teams, the opening two weeks of the season have shown positive signs that venues are returning to their pre-coronavirus norm.
"The bright atmosphere inside the venues is different from last year," J-League Chairman Yoshikazu Nonomura said recently. "I can sense that things are going back to what they were before the pandemic."
The average attendance per match this season has been 18,469 for J1 and 8,089 for J2 in the opening two rounds of fixtures.
The averages were 14,328 and 5,019 for the whole of last year, when the COVID-19 quasi-state of emergency curbs were still in place in some areas in Japan, with vocal cheering also restricted.
The figures in 2020 and 2021 were in the 5,000 to 6,000 range, even in J1, as vocal support was prohibited and some matches took place without spectators.
This season, in contrast, began Feb. 17 at a sold-out Todoroki Stadium, where visiting reigning champions Yokohama F Marinos held off last year's runners-up Kawasaki Frontale 2-1.
"(The supporters') voices really cheer the players up," said Kawasaki manager Toru Oniki. "I hope it becomes a normal thing."
Kyoto Sanga manager Cho Kwi Jae and his team, on the other hand, were booed by their home fans as they lost their opener 2-0 to Kashima Antlers a day later at Sanga Stadium.
"It was the first time I saw our supporters in that kind of mood," said the manager, in an indication that what had been ordinary before the pandemic now feels unfamiliar.
Total annual attendance topped 11 million in 2019 across all competitions, when J1 matches averaged above 20,000 for the first time, and the league is trying to once again cross that threshold.
The lifting of the requirement of face masks on March 13 could be another step toward achieving the target.