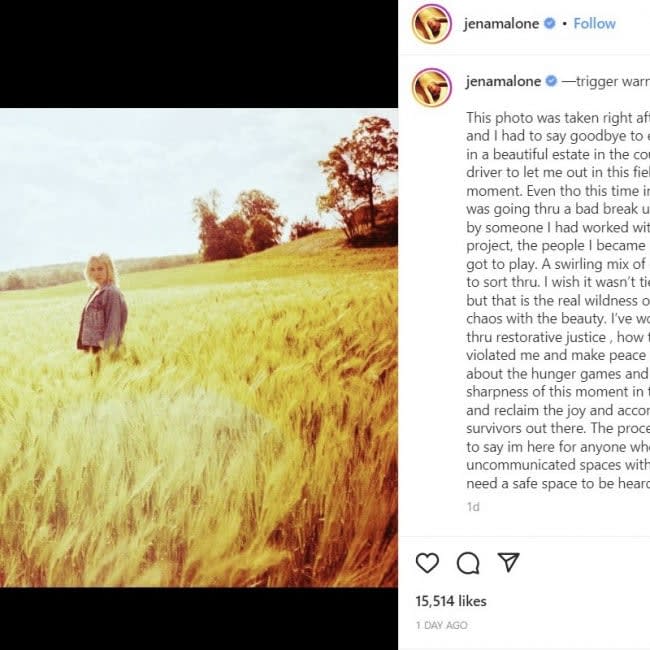 Jena Malone was sexually assaulted while filming 'The Hunger Games: Mockingjay - Part 2'.
The 38-year-old actress has shared a picture taken in the French countryside shortly after she wrapped filming on the 2015 movie, and told how she was assaulted by "someone I had worked with".
She wrote on Instagram: "-trigger warning-
This photo was taken right after I wrapped mocking Jay part two and I had to say goodbye to everyone on set.
We were shooting in a beautiful estate in the countryside of France and I asked the driver to let me out in this field so I could cry and capture this moment. Even tho this time in Paris was extremely hard for me , was going thru a bad break up and also was sexually assaulted by someone I had worked with , I was so full of gratitude for this project, the people I became close with and this amazing part I got to play. (sic)"
Jena - who also starred in 2013's 'The Hunger Games: Catching Fire' and 2014's 'The Hunger Games: Mockingjay - Part 1' - admits she wishes her experience of shooting the movie wasn't "tied to such a traumatic event", and it has made it tough for her to speak about the film franchise.
She added: "A swirling mix of emotions im only now just learning to sort thru. I wish it wasn't tied to such a traumatic event for me but that is the real wildness of life I I guess. How to hold the chaos with the beauty. I've worked very hard to heal and learn thru restorative justice , how to make peace with the person who violated me and make peace with myself. It's been hard to talk about the hunger games and Johanna Mason without feeling the sharpness of this moment in time but I'm ready to move thru it and reclaim the joy and accomplishment I felt. Lots of love to you survivors out there. The process is so slow and non linear. I want to say im here for anyone who needs to talk or vent or open uncommunicated spaces within themselves. Please dm me if you need a safe space to be heard. (sic)"