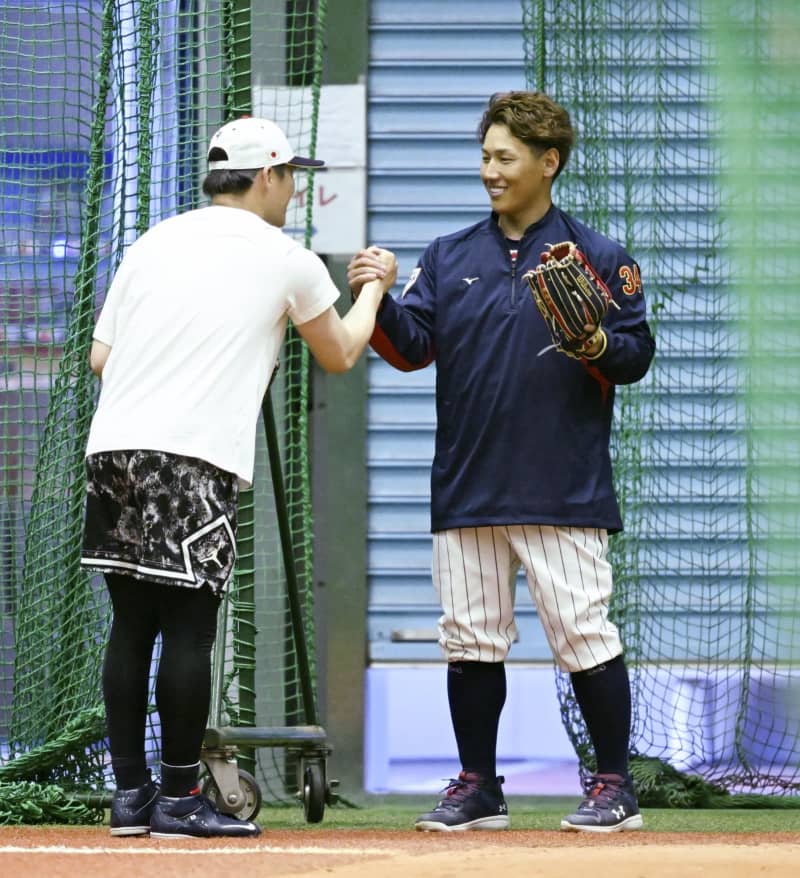 Masataka Yoshida, the last missing piece in manager Hideki Kuriyama's World Baseball Classic puzzle, took part in his first practice with Samurai Japan on Sunday, just four days before the team plays its first Pool B game.
The new Boston Red Sox outfielder, who made the unprecedented step of interrupting his first MLB spring training to return home to play for Japan, pronounced himself ready to go.
"I'm ready to play now, because I've been building up toward that goal (in America)," the 29-year-old said.
Asked why he joined the national team for the March tourney instead of focusing exclusively on acclimating to MLB as every star moving from Japan had done before his first season overseas, Yoshida said, "Because I want to win a championship."
"That will be possible if we all put our talents together and just play."
Yoshida's light workout came a day ahead of the team's final two warm-up games in Osaka on Monday and Tuesday and just four days before Japan opens Pool B play against China on Wednesday at Tokyo Dome.
Only one member of Japan's MLB contingent, pitcher Yu Darvish, arrived when Kuriyama's team opened its training camp on Feb. 17, while none of the four have been allowed to play prior to Monday's game.
"I envisioned the team being complete a bit earlier than this, and we were doing a lot of work to make that happen, but there were hurdles we could not overcome," Kuriyama said.
"Instead, the guys have arrived one by one, and interestingly enough, each created a new spark within the team when they arrived, and that was good. What matters now is how well we play."
Japan and rival Asian powerhouse South Korea will each play two games at Kyocera Dome Osaka before heading to Tokyo. On Monday, Japan plays the Hanshin Tigers, while South Korea takes on the Orix Buffaloes. On Tuesday the two national teams will switch opponents.
"The team has finally come together, and from tomorrow all the many people who are cheering us on will get to see an exciting group of players lined up one after another," Kuriyama said.
Buffaloes ace Yoshinobu Yamamoto will have his final pre-tournament warm-up on Monday when he starts against the Tigers, at his club team's home park.
"It will be a good challenge, very much like a meaningful game, and it's nice to do it on a mound I'm familiar with," Yamamoto said.