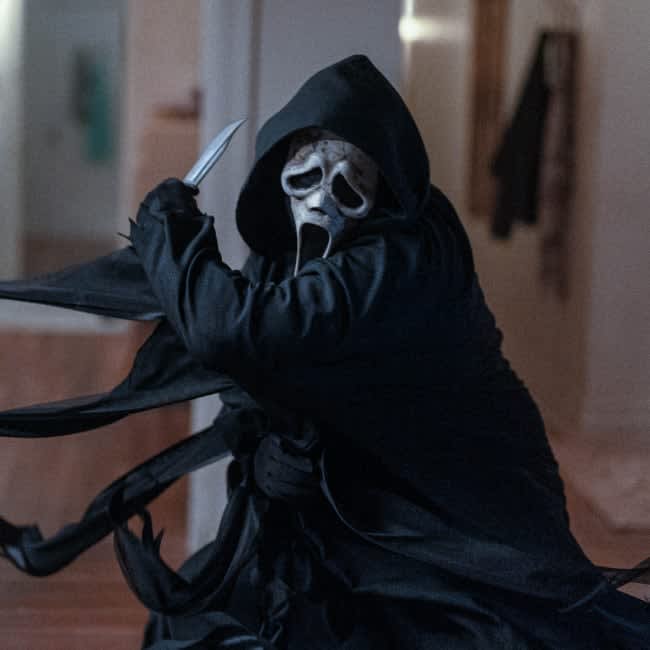 'Scream 6' directors Matt Bettinelli-Olpin and Tyler Gillett are hoping for more films in the franchise.
The duo are at the helm of the latest instalment in the big screen slasher series - which sees Jenna Ortega and Melissa Barrera as half-sisters Tara and Sam Carpenter alongside franchise legends Courteney Cox (Gale Weathers) and Hayden Panettiere (Kirby Reed).
On the subject of a another film, Bettinelli-Olpin told Deadline: "We hope. We want to be watching 'Scream' movies whether we're involved or not for the rest of our lives."
Gillett added: "We're so happy it's back!"
The newest movie turns the franchise on its head as the horror moves away from Woodsboro to New York City.
Creator Kevin Williamson told the outlet he was initially "hesitant" about the direction writers James Vanderbilt and Guy Busick were taking things.
He explained: "I was a little hesitant because I was like, 'How do you make it scary in New York City?' Well, they figured it out, they knew exactly how to do it.
"I didn't realise how scary New York City can be and then you go back and say, 'Well, I used to live here.'
"And there's so many times you walk down the street and there's nobody there. And you get on the subway and there's one or two people, and you're unnerved.
"It's scary to think how scary New York City can be because I used to live here … but I think they milked it and they managed to figure out how to make it really scary."
A seventh movie is yet to be announced, but the franchise continues to be a success and critics have heaped praise on the reinvention seen in 'Scream 6'.