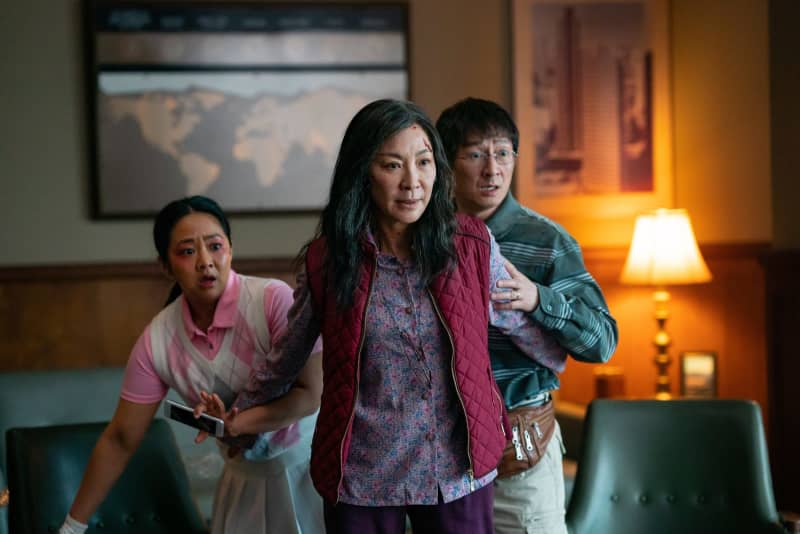 Last year's Academy Awards were, by most measures, a real mess; overlong, unfunny and punctuated by The Slap, an unexpected event that had everyone talking about the Oscars for the wrong reasons. The show was a parade of bad decisions, particularly the choice to prioritize limp comedy sketches over actual Oscar presentations (eight categories were awarded in a pre-show, then clumsily edited into the live show). After this mess, there's nowhere to go but up, right?
I'm hopeful that the 2023 ceremony, hosted by Jimmy Kimmel, will be less of a fiasco. Early signs are good: Academy CEO Bill Kramer told Time magazine that this year's show will be "much more immersive, much more nominee-focused, and much more focused on all of the disciplines of filmmaking," and confirmed that every category will be presented live. (That silly "fan favorite" Twitter poll? Kramer grimaced and made a cutting motion when it was mentioned. Good riddance.)
So let's be optimistic: The Oscars might be fun this year! (Yes, I say that every year; you have to be an optimist in this business.) Here's a look at which nominees might be taking home the little gold guys — and, fingers crossed, making acceptance speeches that we'll remember Monday morning, for all the right reasons.
Best picture
When the Producers Guild, the Directors Guild and the Screen Actors Guild all pick the same movie as their best of the year, it's pretty much a done deal. "Everything Everywhere All at Once," a unique experience and a wild thrill ride, will likely go home with the top award, and deservedly so. Does anything else even have a shot? "The Banshees of Inisherin" and "All Quiet on the Western Front" have their fans, and you never know what's going to be written on that last envelope, but I'd call this one a safe bet.
Prediction: "Everything Everywhere All at Once"
My vote: "Everything Everywhere All at Once"
Wish you were here: "Turning Red"
Best director
I'm expecting a unique acceptance speech from the Daniels (Kwan and Scheinert), the directing team behind "Everything Everywhere All at Once." It's possible the Oscars might turn sentimental and hand this one to Steven Spielberg, whose "The Fabelmans" was a gentle tribute to his own beginnings as a filmmaker (and who hasn't won an Oscar in almost 25 years). Todd Field, whose work in "Tár" is remarkable, might have had a shot in a different year.
Prediction: Kwan/Scheinert, "Everything Everywhere All at Once"
My vote: Kwan/Scheinert or Field, "Tár"
Wish you were here: Sarah Polley, "Women Talking"
Best actress
Michelle Yeoh made her film debut nearly 40 years ago; now, finally, it appears that she'll win her Oscar, for her remarkable work in "Everything Everywhere All at Once," in which she plays a woman both ordinary and extraordinary. Cate Blanchett, uncanny in "Tár," might have been a contender, but she's won twice already and it seems unlikely that Oscar voters would want to miss out on a speech from the great Yeoh. (Postscript to this category: Andrea Riseborough's appearance on the ballot caused some controversy, due to some lobbying by well-connected actor friends. Could those same connections put her on top here? Seems unlikely, but Oscar is full of unlikely stories.)
Prediction: Yeoh
My vote: Yeoh
Wish you were here: Lesley Manville, "Mrs. Harris Goes to Paris"
Best actor
Now here we have a real toss-up: Will the voters go with the brilliant young upstart (Austin Butler, for "Elvis"), the midcareer comeback story (Brendan Fraser, "The Whale") or the respected character actor who's never even been nominated before, let alone won (Bill Nighy, "Living," and now that I think of it, you could also put Colin Farrell, "The Banshees of Inisherin," in either of these last two categories)? I'm thinking, with older actors favored in the other three acting categories, Oscar might reward the youth here? But this one's, pleasantly, a crapshoot.
Prediction: Butler
My vote: Nighy or Farrell. Don't make me decide, Academy.
Wish you were here: No one's jumping to mind.
Best supporting actress
Here we've got a couple of beloved longtimers and never-before-winners, each of which would make a great story: Jamie Lee Curtis, getting a first nomination in her 60s for "Everything Everywhere All at Once"; Angela Bassett for "Black Panther: Wakanda Forever," the first performance in a Marvel movie to be nominated — and her own first nod since "What's Love Got to Do with It" back in 1994. I'm going to lean toward Bassett, who's more the emotional center of her movie — but Curtis won the SAG, so who knows? Hong Chau ("The Whale"), Kerry Condon ("The Banshees of Inisherin") or Stephanie Hsu ("Everything Everywhere") could all surprise; this is a rich category.
Prediction: Bassett
My vote: Bassett
Wish you were here: Rooney Mara, "Women Talking"
Best supporting actor
It's hard to imagine anyone other than Ke Huy Quan ("Everything Everywhere All at Once") walking away with this, considering his irresistible story (former child actor gives up the business, returns decades later when he reads the "Everything Everywhere" script) and the enchanting speeches he's been giving all season. Then again, Judd Hirsch ("The Fabelmans") — last nominated before a couple of his co-nominees were born — has a good story, too, and Barry Keoghan did some pretty effective scene-stealing in "The Banshees of Inisherin." But I think it's Quan's year, and I can't wait to hear his speech.
Prediction: Quan
My vote: Quan
Wish you were here: Paul Dano, "The Fabelmans"
Elsewhere, I'm predicting that "Everything Everywhere" and "All Quiet on the Western Front" might win the screenplay awards (the latter's just a hunch), that "Avatar: The Way of Water" and "Top Gun: Maverick" will split the technical awards, and nobody will get slapped this year. Here's hoping for a momentous-but-not-too-eventful Oscar night.