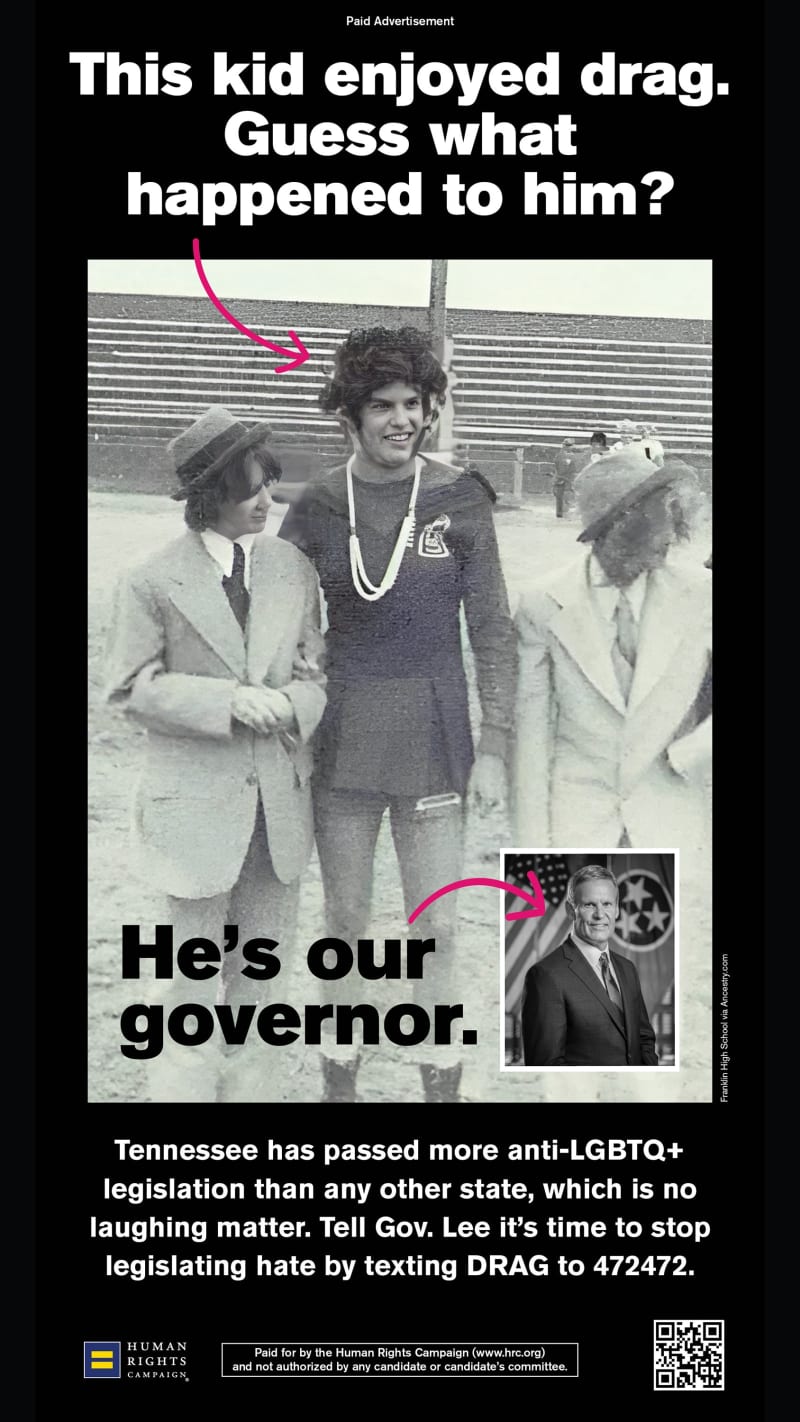 A full-page ad with Tennessee Gov. Bill Lee dressed in drag ran in one of the state's largest newspapers Tuesday, just days after the Republican politician signed into law a bill targeting drag performances — the first of its kind in the nation.
The ad, which appeared in The Tennessean, was paid for by the Human Rights Campaign. It shows a recently unearthed photo of the self-described "conservative outsider" wearing women's clothes while posing for his high school yearbook in 1977.
"This kid enjoyed drag," the ad reads in part, with an arrow pointing at Lee. "Guess what happened to him? He's our governor."
The goal of the ad is to highlight the "hypocrisy of Tennessee's drag ban," according to the HRC, the nation's largest LGBTQ civil rights organization.
"Tennessee has passed more anti-LGBTQ+ legislation than any other state, which is no laughing matter," the ad reads, referring to a total of 14 pieces of legislation that directly target the rights of the state's LGBTQ population.
"Gov. Bill Lee isn't just focused on anti-LGBTQ+ legislation — he's obsessed with it. He's infatuated with it," HRC President Kelley Robinson told the Daily News in a statement.
"It's why Tennessee has enacted more anti-LGBTQ+ laws than any other state since 2015, and why Gov. Lee last week became the very first governor in the country to sign a drag ban into law," she added.
On Thursday, when Lee made Tennessee the first state in the U.S. to criminalize drag performances, he also signed a total ban on gender-affirming care for minors, making the state the fourth in the nation to do so in recent weeks despite opposition by the American Medical Association, the American Psychological Association and the American Academy of Pediatrics.
Robinson said the organization is working alongside local partners to host a demonstration in Nashville later this week.
"Slay Hate: Rally Against Anti-LGBTQ+ Bills" will bring together advocates and activists from across the state "to oppose the rash of anti-LGBTQ+ laws, as well as additional bills currently snaking through the legislative process."
The demonstration is scheduled for 6:30 p.m. Thursday at the LGBTQ club Tribe.