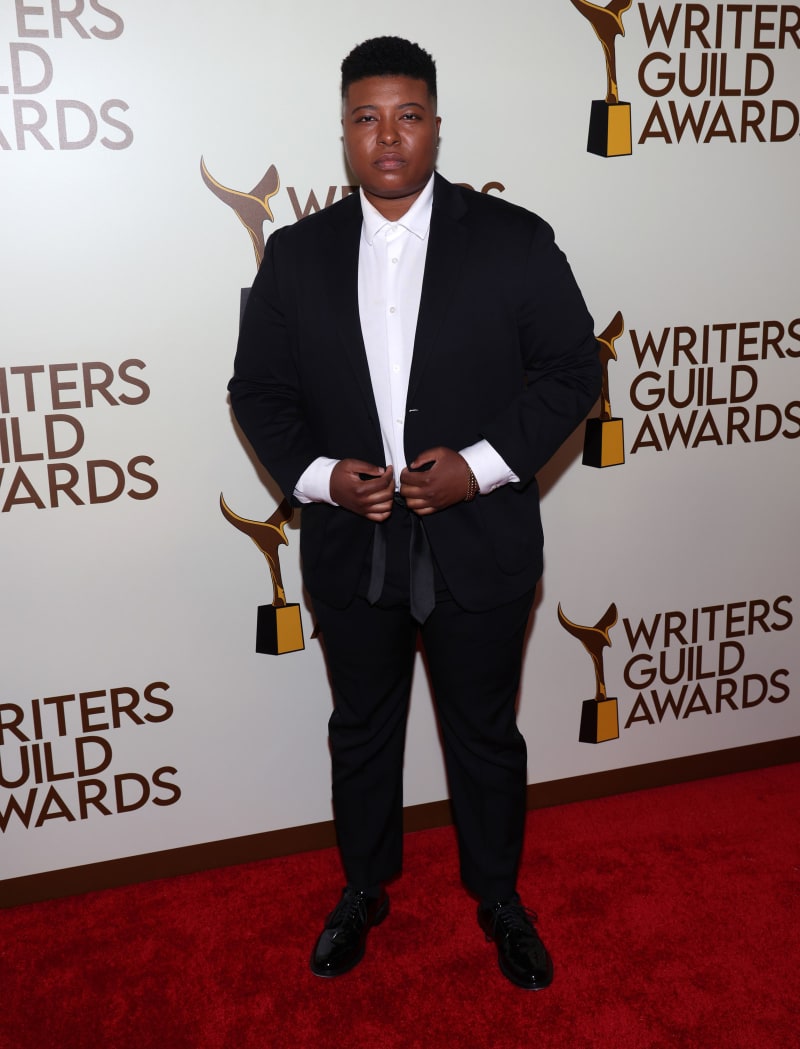 Chicago native and comedian Brittani Nichols is a writer on ABC's "Abbott Elementary." Quinta Brunson, the show's creator and star, spent time in Chicago earlier in her career taking classes at Second City, but ironically, that Chicago connection is not how they met.
Nichols wound up meeting Brunson when they both worked on a BuzzFeed web series called "You Do You." They would again work together on HBO's "A Black Lady Sketch Show." How did that lead to the ABC sitcom?
Around the time "Abbott Elementary" was first coming together, Nichols had sold a show to the streaming platform Quibi, which later went out of business. As Nichols looked around for her next project, Brunson mentioned: "I have this pilot at ABC and if it goes, just keep it in mind as you make decisions."
This season, Nichols said she's been drawn to writing for Gregory. "To me, he's really the straight man of Abbott. He's the one looking around and thinking: 'No, everyone around here is nuts, and I'm the normal one.' A lot of his quirks and eccentricities are infused with the personalities of all the writers, so it's fun to throw bits of us into Gregory."
Though primarily a writer, Nichols has also appeared on camera. When asked about a worst moment in her career, she recalled her role on the Amazon series "Transparent."
My worst moment …
"I'm going to give you some context: I had never eaten a bagel until I was in college. And in my first interaction with a bagel, I accidentally put sour cream on it because I didn't know what cream cheese was. This was at Yale and we had a condiment station; there were several white condiments that weren't labeled, and you just kind of had to be able to tell them apart. And I had never had sour cream or cream cheese, but I had seen people putting white stuff on a bagel. I clearly picked the wrong one.
"So I swore off bagels after that. At the time, I didn't realize I had put the wrong thing on it, and I thought: I just don't like bagels. And I literally didn't have another bagel until this story I'm about to tell you.
"Cut to August 2015, I'd been cast in 'Transparent' playing one of Carrie Brownstein's best friends (Brownstein played a character named Syd Feldman). I got cast off of meeting the show's creator Joey Soloway at a Pride event and a mutual friend was like, 'Brittani's really funny!' and days later I had an offer in my inbox.
"But I was so new, I truly had no idea how anything worked in TV. I had been a production assistant and I had been in jobs around the industry. And I had shot my own web series. But as far as a real TV set with professionals on the Paramount lot? No. I was so overwhelmed most of the time I was there. People don't talk about the small things that make you realize: Oh, this is truly my first time because I don't know how to navigate this situation. Like, do I just hang out in my trailer until someone comes to get me? No one tells you this stuff.
"So this was the last episode I was going to be appearing in. And the scene is with the whole Pfefferman family. It's Yom Kippur in the episode and, of course, I had no idea what that is — I had no idea about any Jewish holidays. But this is a show about a Jewish family, so bagels are part of their lives.
"We're at this dinner and the whole gang is there. My character was there to sort of break some of the awkward tension. And we're given bagels to eat because that's what they're breaking their fast with.
"In the action line for the episode, it says something like: 'She feasts on bagels.' I'm supposed to be aggressively eating bagels. And I take that to heart (laughs).
"I don't have any lines in this scene. My job was to eat bagels and make faces. But I can tell that the camera is catching me a fair amount of the time. I don't know what take that they're going to use. But I know that the action says I'm supposed to feast on these bagels. Again, I have not eaten a bagel since my very unfortunate situation in college.
"Well, I end up eating not one bagel, not two bagels, but four bagels. That's a lot of bagels. It almost became a bit I was doing.
"I also didn't know about spit buckets. So every time they reset my bagel, I would eat the bagel.
"The worst part is, they didn't end up using any of the footage of me eating the bagels! In the episode, there are a couple shots of me passing a plate and making a face. So I did all that bagel eating for nothing. I gave my appetite to all these bagels for nothing!
"And of course, when they called lunch I couldn't eat anything because I was full of bagels (laughs)."
What is the reality of eating on camera and what is a spit bucket?
"A spit bucket is what it sounds like: When an actor is seen eating something on camera, when they call cut you just spit it into a bucket so you don't have to swallow it and end up eating pounds and pounds of food. A lot of time the food is treated with something to make it last longer. Or it's cold because it's been out for so long. Or it can be really disgusting because they're not making it with someone tasting it in mind.
"Luckily the bagels weren't gross. With my previous bagel experience, I thought this was going to be disgusting. I thought I was going to have to put on a performance to convince everyone that I was enjoying these bagels. So in that respect, I was relieved that the bagels tasted good. And there was actual cream cheese on the bagels this time."
Four bagels with cream cheese is a lot of bread and dairy in one go.
"(Laughs) It is. It really didn't hit me until I left. So much of that day was normal nerves, but then I became concerned that I was going to become physically ill. Luckily I was still pretty young and could eat whatever I wanted and bounce back.
"But I imagine if I'd had a spit bucket, that would be pretty gross too. Just to have that sitting next to you with all your spit-out food in it for hours. That doesn't sound like a great option to me either!
"On 'Abbott,' when they're in the teachers' lounge eating lunch, they're really just snacking and those are snacks that the actors themselves like. But there was an episode in which Quinta is on a date and the tag is that she's eating ribs really hardcore and her face is plastered in barbecue sauce. And she did not have a spit bucket. What's hilarious is the idea for that scene was hers! So I wrote it, and then when we were on set filming it she was like, 'Brittani, why did you do this to me!' (laughs)"
The takeaway …
"I have no regrets — I enjoyed giving it my all even though it was such a small role and no one really gave a crap that I was doing all this character work with these bagels. No one's ever going to watch that and be like, 'Wow, that bagel eating!'
"But it was my first big Hollywood experience. And now I have enough production experience to make an informed decision about whether I want to eat the food or if I need a spit bucket."
———