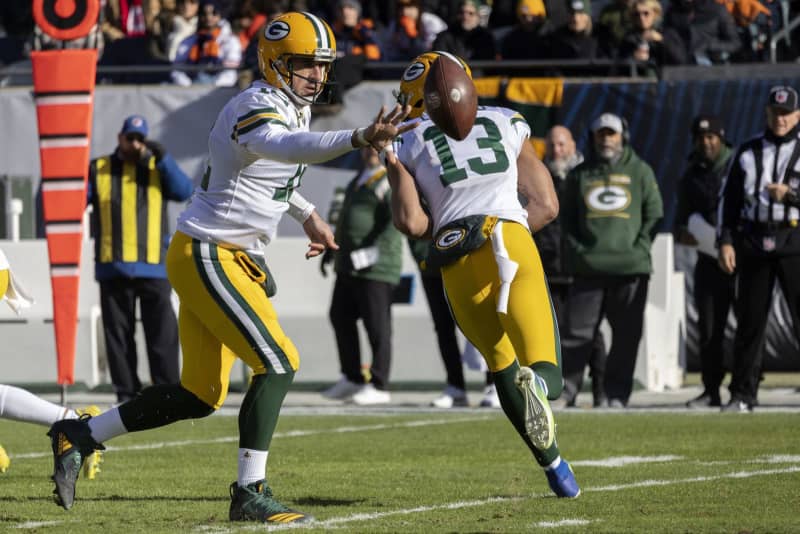 Jets fans have patiently awaited Aaron Rodgers' decision after the team met with him last week.
While Rodgers continues to keep the NFL world in the darkness, even he knows there's a "time limit."
During an interview Saturday with former Jets wide receiver and current I Am Athlete host Brandon Marshall at a flag football charity event, Rodgers said "it won't be long" until he decides whether to stay with the Packers, retire or request a trade.
"It is always interesting meeting important figures in the sport," Rodgers said about meeting with the Jets. "It is always interesting, it's all I'm giving you. That's all I'm giving you."
"Stay tuned," it won't be long. There's a time limit for all of this."
Last Tuesday, Jets owner Woody Johnson, general manager Joe Douglas, coach Robert Saleh and offensive coordinator Nathaniel Hackett flew to California to meet with Rodgers hoping to convince the four-time MVP to ask to be traded to the team. The Packers allowed the Jets to speak with Rodgers as he continues to be undecided about his future.
Rodgers recently went on a darkness retreat, hoping to sort out his future. But he has continued to say he will make a decision soon. With free agency and the legal negotiation window beginning on Monday at 4 p.m., the Jets need an answer sooner rather than later.
As they look for a veteran quarterback this offseason, the Jets have already missed out on one potential option while waiting on Rodgers. Derek Carr officially signed a four-year, $150 million contract with the Saints this weekend, which includes $100 million in total guarantees.
Gang Green hosted Carr last month as he visited the organization to see if there was a fit between both sides. Carr also met with the Jets at the NFL Combine a few weeks ago. But when it was clear Rodgers was their top option, Carr decided to sign with the Saints instead.
The Jets will have options if Rodgers does decide to retire or return to the Packers as they could target free agent Jimmy Garoppolo. They also could go after Lamar Jackson, as the Ravens placed the non-exclusive franchise tag on him last week. If the Jets were to sign Jackson to an offer sheet and the Ravens refuse to match the offer, Baltimore would receive two first-round picks.
The Packers also need a decision on Rodgers' future soon as it appears they're ready to turn the franchise over to 2020 first-round pick Jordan Love. After waiting three seasons sitting behind Rodgers, Green Bay needs to see Love as a starter as the team has to decide to pick up his fifth-year option by May 1.
In an interview with WBAY-TV, a television station in Green Bay, Packers president and CEO Mark Murphy seemed like a trade to the Jets was the likeliest option.
"It's a situation where I think we wanted to help Aaron achieve what he wanted as well as the Packers," Murphy said. "Hopefully, to create a situation where it's a win for both sides.
"We are fortunate to have back-to-back Hall-of-Fame quarterbacks," Murphy said. "It was very early in my tenure, so I remember it very well with Brett's [Favre] situation. It kind of happens in our game, very few players play for only one team."