By Chris Herring
Welcome to one of my favorite times of the year. It's the portion of the NBA calendar when there are only a few weeks left, and the postseason is close enough to where clubs often begin jockeying for position—aka sitting out their best players—to manifest the first-round playoff matchup they want. Oftentimes, only the diehards are watching closely by late March, both because playoff teams are largely known already and because load management becomes a key talking point.
I have a feeling we'll see less of that gamesmanship this season, if only because the standings are too tight near the bottom in both conferences to guarantee a firm spot in the playoffs, let alone a particular seed. Shout-out to the NBA's parity this year. Aside from the legit surprises it's helped yield (like the Kings being in second and the Knicks even looking like a contender more recently), it's certainly kept things more interesting all the way to the finish line. And the exact same can be said for the addition of the play-in round and for the flattening of the draft-lottery odds.
In any case, with a decent portion of the league scrambling to clinch those last few spots in both conferences, this felt like a good time to highlight a handful of the game-changing players I've been noticing the most from fringe playoff teams lately.
Trey Murphy III
This time a month ago, Murphy was entering a slump in which he failed to connect on 50% of his attempts even once in seven games and hit just 31.8% of his tries and 25.6% of his threes during span. The struggles prompted Pelicans coach Willie Green to cut his playing time closer to the low 20-minute range some nights.
Fast forward to the four games since that drought, though, and you have a different picture. Murphy's been above 50% in every game but one, scoring 17, 16, 15 and, in a career-best showing Sunday, 41 points in a win over Portland. In the breakout performance against the Blazers, the sharpshooting Murphy hit nine triples. But the highly efficient 22-year-old forward also showcased the other thing that makes him so special. Aside from using well-timed cuts to expose gaps in the middle of the Blazers' defense (which uses zone more than most teams), he exploded off the dribble to get to the rim, where he simply jumps higher than most rim protectors can.
Zion Williamson's availability is likely to dictate how far this team can go this year. But the Pels' depth, when at full strength, is significant. And Murphy drives that point home better than just about anyone else on the roster when he plays well.
Markelle Fultz
Just in case you'd felt tempted to write off the 2017 No. 1 pick following his mysterious struggles with injuries and shot mechanics in Philadelphia—or after his ACL tear with Orlando in '21—it's not too late for you to see the light.
Fultz has been flat-out good this year. Not just good for someone coming off an injury or for someone who had what was thought to be a wayward start for a No. 1 pick. No caveats. At 13.6 points, 5.5 assists and four rebounds in just under 30 minutes per game—and on good efficiency—he's been solid. That's wildly encouraging for a team that's accumulating the pieces—Paolo Banchero, Franz Wagner, Wendell Carter Jr., Gary Harris, etc.—to be good very, very soon.
The perimeter shooting, while considerably improved and at career-best levels, still isn't good. Fultz shoots just 30.8% from three on 1.4 attempts per game. But he's been far better with his intermediate game this season, in the area between the restricted area and the long-midrange portion of the floor. As such, he's shooting 53.6% from two-point range, including almost 50% from three to 10 feet, and 43.8% on two-pointers longer than 16 feet. (All those marks are currently career highs to this point.) He ranks in the NBA's 99th percentile on floater efficiency, according to Synergy Sports, an indication of how much his touch has improved.
There's also the impactful defense—his 2.5 deflections per game rank just behind team leader Jalen Suggs's 2.6—and the fact that he creates for his teammates. Of the 48 players who drive to the cup 10 times or more per game, Fultz's assist percentage is at 13.2% , ranking among the top five in the NBA, trailing only Darius Garland, Russell Westbrook, Fred VanVleet and Tyrese Haliburton.
Also of note: Fultz is still only 24 years old.
Jalen Williams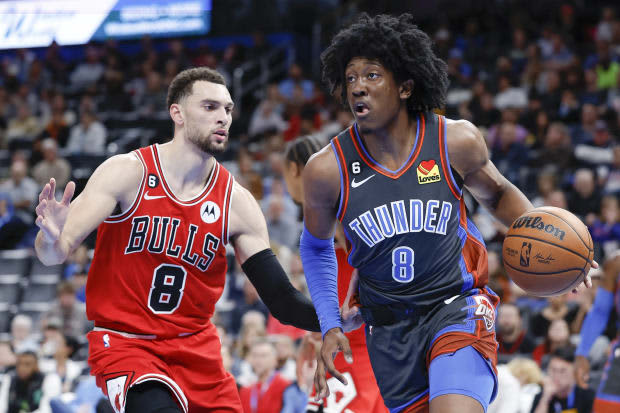 It's clearly an open-shut case for Rookie of the Year at this point, given Banchero's dominant start to the season and his role as the No. 1 option for the Magic.
But seeing who finishes in second will be interesting, and it won't be surprising if a number of those votes go to Oklahoma City's Williams, who's averaging 13.4 points, 4.3 boards and 3.2 assists on 52% shooting and 34.7% from deep on nearly three attempts per night.
If you haven't gone out of your way to watch the Thunder, you might not have noticed him. But if you catch one of OKC's games, even for a minute or two, the combo guard will almost certainly stand out. And not just because of his 6'6" stature or his old-school afro. The guy gets downhill whenever he wants and then generally makes those drives count. As a rookie, he's shooting 73% from inside of three feet, per Basketball Reference. That's well enough for defenders to want to give him a few feet of space, to ensure he can't blow past them. But he's already proving to be a good enough shooter to thrive in the space opposing defenders opt to give him.
It's exciting to think he's yet another ballhandler who'll play next to the incredibly skilled Shai Gilgeous-Alexander and Josh Giddey. But given that Williams has spent his last eight games draining over half his shots and averaging more than 22 points per contest—in the midst of a tight playoff race, no less—it's clear that he's more than a typical rookie.
Zach LaVine
It goes without saying at this point, but the Bulls are deeply, deeply weird.
They were almost head-scratchingly great for a solid chunk of last year until injuries intervened and dropped them from first place to just above the play-in games. If you were to look at their group this season, without Lonzo Ball—whose knee is still a question mark as he prepares for a third surgery on it within the last 14 months—you'd probably assume it was an offensive juggernaut. Instead, the team sits among the top five on the defensive side but is a bottom-seven offense.
But as of late, no fingers can be pointed at LaVine when it comes to the Bulls' failure to produce points. The shooting guard has been scoring 35 per game, on 56.5% shooting overall and 51.4% from three, since the beginning of March. His true shooting percentage of 69.9% in March matches the season-long number for Nikola Jokić, who's putting together a record-breaking year efficiency-wise. (LaVine's season-long stat profile looks nearly identical to last season's.)
Chicago hasn't been consistent all year and has one of the more difficult slates the rest of the way. But LaVine's being a flamethrower would obviously help the Bulls' chances of getting back to the playoffs in the East.
Talen Horton-Tucker
A couple of games without floor general Jordan Clarkson? For a Jazz team that just dealt away Mike Conley and is in the playoff hunt in the West? Not great, Bob!
Thank goodness for Horton-Tucker, though, who's essentially filled that role to perfection in the last few games Clarkson has missed. In that span, Horton-Tucker has possessed the ball for more than eight minutes per game—the NBA's third-most time of possession, ahead of Damian Lillard, Trae Young, James Harden and Gilgeous-Alexander. He's been making great use of that time, averaging 7.5 assists. Perhaps even more important: He's also logged 22.5 points per night.
That included a 37-point outing against lowly Charlotte, which couldn't stop him from bogarting his way to the rim with one Siakam-level spin after another. (Jazz announcer Craig Bolerjack at one point referenced Horton-Tucker's 234-pound guard's frame and how he used it to bully the poor Hornets defense around.) He got to the line eight times and finished with 10 dimes—one off his career high.
Because of Horton-Tucker's struggles from outside (he has shot 28.6% from three this season and 27.9% for his career), his performance looked like a less athletic, less high-flying version of what Giannis often does to opponents. There might be limitations to how long Horton-Tucker can score at such a high level, though, and that showed Monday, when the Heat held him to nine points on 3-of-13 shooting in a loss (albeit with eight assists.) Still: The playoff-contending Jazz are happy with whatever they get from Horton-Tucker's starts as Clarkson misses time with a finger sprain.
Meat and potatoes: Good reads from SI and elsewhere this past week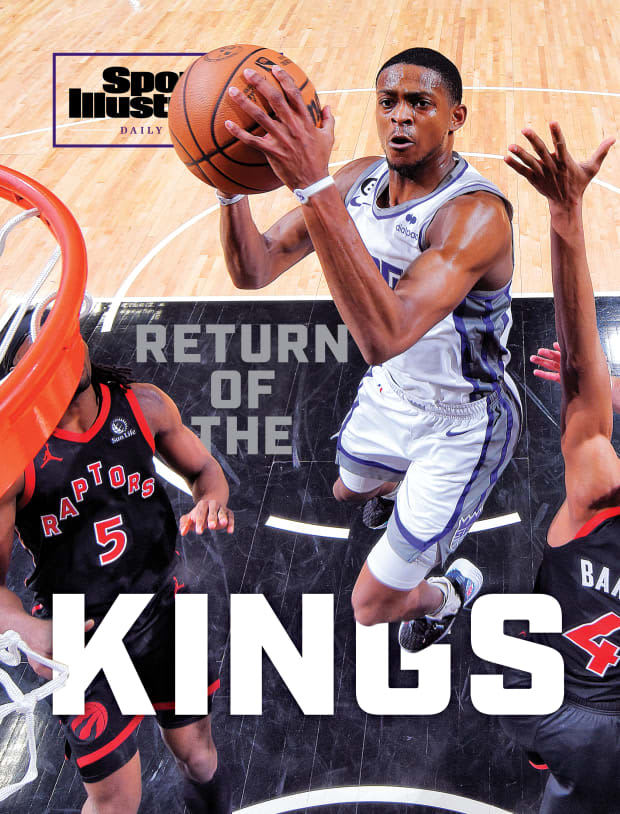 • I went to Sacramento and spent time with coaches, executives, players and fans to write a longform piece on the Kings, who sit in second place out West after having endured the longest playoff drought in NBA history. Beyond that, I wrote about what's been bothering me most about the Ja Morant conversation and tackled the sad reality facing Lonzo Ball and the Bulls: that he may never be the same player again after needing a third surgery within the past year or so to fix his troubled left knee.
• Chris Mannix touched on the Celtics' warts that have begun to show in recent weeks, including four losses in five games between the end of February and start of March. (Grant Williams, the Boston hero from Game 7 of last season's conference finals against Milwaukee, struggled mightily during that span and remains someone to watch the rest of the way.) Mannix also had a convo with Damian Lillard, who hasn't abandoned hope that Portland can make a run.
• Rohan Nadkarni sized up a trio of clubs. He labeled the Heat as the most confounding team in the East and said the Knicks—yes, the Knicks—could be title contenders. Conversely, in light of KD's freak injury in pregame warmups, Nadkarni said the Suns don't quite meet the threshold of being true contenders anymore.
• Jimmy Traina wrote about Fred VanVleet's press conference, which instantly became the sharpest, most pointed—while also levelheaded—criticism I've ever seen leveled at an individual referee following a game. The Raptors guard received what seemed like a relatively tame $30,000 fine afterward.
• Kyle Wood handled our power rankings, in which he placed the Kings in the top five for the first time.
• Mirin Fader of The Ringer has a deep-dive profile on 2007 No. 1 pick Greg Oden, who still can't let the game of basketball go, even after all the pain it's brought him over the years. He now oversees basketball operations at Butler under Thad Matta, who was also his coach back at Ohio State.
• Bill Plaschke had a heartfelt column that was both infuriating and compassionate in the Los Angeles Times: A deaf, autistic athlete named Kade West earned a spot on the Cerritos College basketball team but struggled to gain clearance to play from the state's community college athletic association.
• From Mike Vorkunov of The Athletic: Former NBA big man Loren Woods always dreamt of Hollywood acting fame, but basketball essentially got in the way. Now he's finally where he wants to be.
• Pablo Torre's fantastic ESPN Daily podcast features a tearjerker of a story on then 56-year-old Scott Park, who took a million-dollar half court shot back in 2015, only to come up woefully short and become the butt of jokes on the internet. But the podcast, and the Outside the Lines feature on it, explain that there was so much more to that day, that man, and the story behind it all.
• Raptors Republic scribe Samson Folk spent hours poring through film to analyze the uniqueness of Raptors forward Scottie Barnes's passing ability.
• Supremely talented Pacers writer Caitlin Cooper had an interesting piece on her Patreon about Indiana's occasional use double teams and pseudo-traps on star-level ballhandlers 75 feet away from the basket.
• Have you seen this video of Tracy McGrady and Vince Carter explaining how they found out they were cousins? If you haven't, it's amazing.