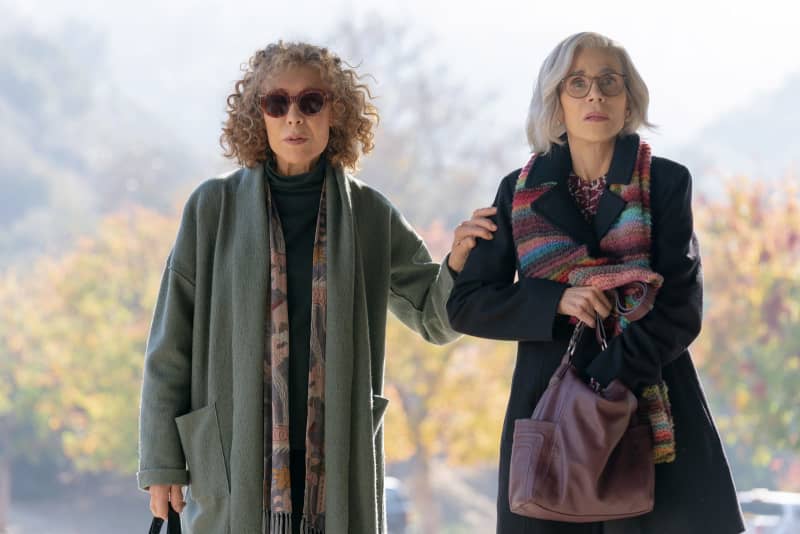 "Moving On" isn't "Grace and Frankie" for the big screen, but you might be forgiven for thinking that it is, at least at first. Paul Weitz's film (and whether it's a comedy or a drama is something I'm still mulling over) stars Jane Fonda and Lily Tomlin as a pair of college friends who reunite in the early scenes. Claire (Fonda), perfectly coifed and lipsticked, is the more uptight one of the two; curly-haired Evelyn (Tomlin) is more freewheeling. Sound familiar?
But it's always a pleasure to see Fonda and Tomlin, famously longtime friends both on and off the screen, together again, even in a project as uneven as "Moving On." A few minutes into the movie, Claire arrives — clearly haunted by and upset about something, but we don't know what — at the funeral of a friend. She walks up to the widower (Malcolm McDowell), looks him squarely in the eye and says, "I'm going to kill you." Claire, it is clear, is not kidding around, and we spend the rest of the movie slowly learning what happened between them long ago, as she and Evelyn (reluctantly, on Evelyn's part) join forces. Spoiler alert: It isn't funny.
But "Moving On" is frequently good fun, simply because Fonda and Tomlin have such chemistry together, and because Tomlin in particular is so good at finding dry wit in tiny moments. When she saunters into the movie — in sunglasses in the middle of the funeral, having walked in the wrong door — "Moving On" suddenly snaps to life; as good as Fonda is, she's better with Tomlin next to her. ("Nice picture," Evelyn says of a portrait of the departed, not the slightest bit concerned that she's interrupting the eulogy. "A bit sanitized maybe.")
Weitz, who made a much better movie with Tomlin a few years back ("Grandma"), frequently struggles to get the tone right here; the comedy/drama balance is tricky, and often teeters. And you wonder if "Moving On" might have felt fresher if he'd switched the casting. (There's no doubt in my mind that Fonda and Tomlin would have each nailed the other's part.) But really, when you have these two in your movie, you just need to point the camera at them and they'll do the rest. Ultimately, "Moving On" is about friendship, and who better than Grace and Frankie to show us that?
———
'MOVING ON'
3 stars (out of 4)
Rated: R (for language)
Running time: 1:25
How to watch: In theaters Friday