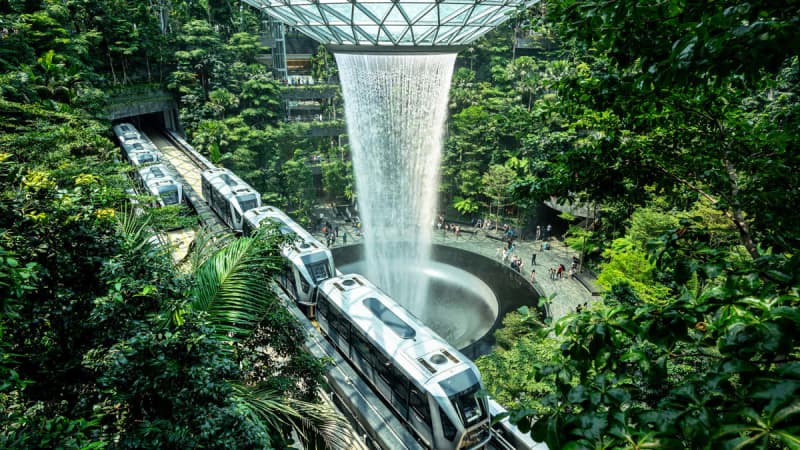 By Rob Lenihan
The annual survey of airports is based upon such factors as check-in, arrivals, transfers, shopping, and security.
You may remember that Hanks starred in "The Terminal," Steve Spielberg's 2004 film about an Eastern European man who gets stuck at New York's JFK Airport when he becomes a man without a country.
While it's nothing against New York, Hanks might have been better off if he had gotten trapped at Singapore's Changi Airport — the facility was, according to an annual review performed by UK-based airline and airport review platform Skytrax, officially given status of the World's Best Airport.
DON'T MISS: United Airlines Signals an Impending Loss
Singapore Changi Airport also won the awards for the World's Best Airport Dining and World's Best Airport Leisure Amenities — the airport famous among travelers has over 80 restaurants in every type of cuisine imaginable.
Skytrax, which has been giving out the award in 1999, said the survey evaluates traveler experiences such as check-in, arrivals, transfers, shopping, security and immigration through to departure at the gate.
The Singapore airport is well-known for its indoor Jewel — a 1.4-million-square-foot complex that includes 10 levels of forest-like gardens, an indoor waterfall, a hotel, and hundreds of dining and shopping options.
The Airport That Is 'Like Living In Another Dimension'
The airport previously topped Skytrax's list for eight years running but slipped a couple of notches in 2021 and 2022 as passenger numbers fell during the Covid-19 pandemic.
"Flew to Singapore this morning," one person said on Twitter. "Changi Airport blew my mind. It was like living in another dimension."
"Plants everywhere and giant waterfall," another said. "There are like gardens and mazes and treetop walks. My home airport is doodoo."
The 2021 and 2022 Airport of the Year, Hamad International Airport in Qatar's Doha took second place in the global ranking.
Hamad also won three top awards for the World's Best Airport Shopping, the Best Airport in the Middle East and the Cleanest Airport in the Middle East.
Tokyo Haneda Airport scored third in the global ranking, continuing previous years' successes by bringing home awards for the World's Cleanest Airport, the World's Best Domestic Airport and the Best Airport PRM & Accessible Facilities.
LaGuardia Gets Best New Terminal Award
Seoul Incheon International Airport came in fourth and Charles De Gaulle in Paris rounded out the top five.
The only U.S. airport to make the top 20, Seattle-Tacoma International Airport came in at 18th place and was also named the Best Airport in North America.
LaGuardia Airport's Terminal B, which was once the butt of NYC traveler jokes but receivedan $8 billion dollar upgrade over the last five years, won the award for the World's Best New Airport Terminal on the very same day the new terminal received the highest 5-Star Airport Terminal Rating from Skytrax.
This put its Amon g only 22 airports and terminals worldwide to nail down the top grade.
"Winning this prestigious award and becoming the first North American airport terminal to receive a 5-star rating from Skytrax proves that we have accomplished what many once said was impossible: elevate LaGuardia from worst to best," Port Authority Executive Director Rick Cotton said in a press statement.
Skytrax also introduced the Art in the Airport category for the first time and gave it to the Houston Airport System in recognition of the art standards across their two airports, William P. Hobby Airport and George Bush Intercontinental Houston Airport.