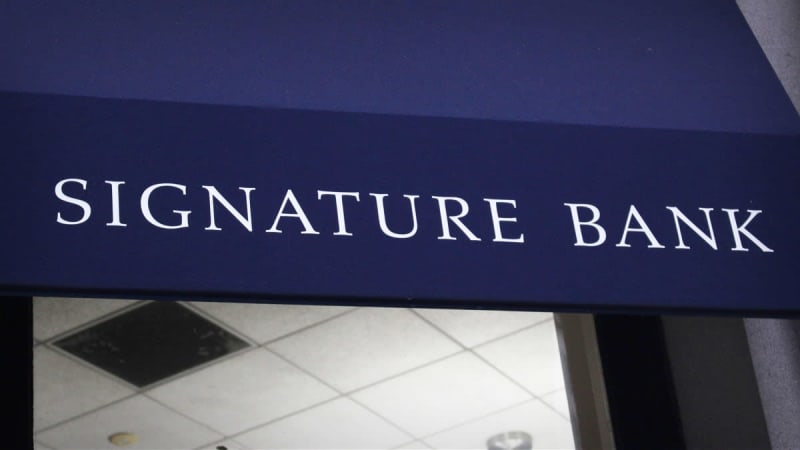 By Ellen Chang
Signature Bank was closed by regulators on March 12, the third bank to fail in March.
Prominent hedge fund manager Bill Ackman said he had heard rumors that New York-based Signature Bank will be acquired by Bank of America, but did not provide any details.
"I am hearing that @BankofAmerica is going to buy Signature Bank on Monday," he tweeted. "Unless and until we can protect uninsured deposits, the cost of capital is going to rise for smaller banks pushing them to merge or be acquired by the SIBs. I don't think this is good for America."
DON'T MISS: SVB: Financier Bill Ackman Rips First Republic Bank Rescue Plan
Ackman did not mention who his sources are or where he learned of the potential deal.
Signature Bank, which worked with cryptocurrency companies, was closed by the state chartering authority, New York Department of Financial Services (DFS) on March 12.
The deposits and assets of Signature Bank were transferred immediately to Signature Bridge Bank, N.A., a full-service bank that will be operated by the FDIC as "it markets the institution to potential bidders," a separate statement said.
The FDIC named Greg D. Carmichael as CEO of Signature Bridge Bank, N.A. He recently served as president and CEO of Fifth Third Bancorp.
Bank of America (BAC) - Get Free Report does not want to purchase Signature Bank, a source told Reuters.
Bank of America declined to comment while Signature Bank did not respond to a request for comment, reported Reuters.
Signature Bank branched out into the cryptocurrency industry unlike other banks who stayed away from the virtual currencies.
The bank's involvement with its customers in the crypto industry was being investigated by prosecutors in the U.S. before it was shut down by regulators, sources told Bloomberg.
The investigators in Washington and Manhattan from the Justice Department were looking into whether Signature Bank had looked into if its clients were conducting money laundering, the article said.
Banks are required to follow steps to determine if they know their customers, such as examining who an account holder is. They are also required to look into the types of transactions made by customers and if they resemble any kind of criminal wrongdoing.
Sources told Bloomberg that the Securities and Exchange Commission was also investigating Signature Bank.
Ackman, the CEO of the Pershing Square hedge fund, along with tech investor David Sacks and tech billionaire Mark Cuban, have been pressuring regulators to save Silicon Valley Bank, which had failed after a bank run.
The parent company of SVB, SVB Financial, filed for bankruptcy on March 17.
Ackman has not been a fan of the rescue plan for California-based First Republic where 11 banks deposited $30 billion in cash for 120 days.
He warns that the California bank's risks have now spread to big banks.
Ackman, one of Wall Street's most well-known and respected financiers, urged regulators to act as swiftly as possible, to avoid a panic in the markets and significant damage to the global financial system. For him, inaction would be devastating.
Presumably, Ackman and other influential voices on Wall Street and in Silicon Valley had been heard. The Treasury Department, the Federal Reserve and the Federal Deposit Insurance Corp. announced extraordinary measures on March 12.
The FDIC guaranteed all of SVB's deposits, even those above $250,000, removing the regulatory limit.