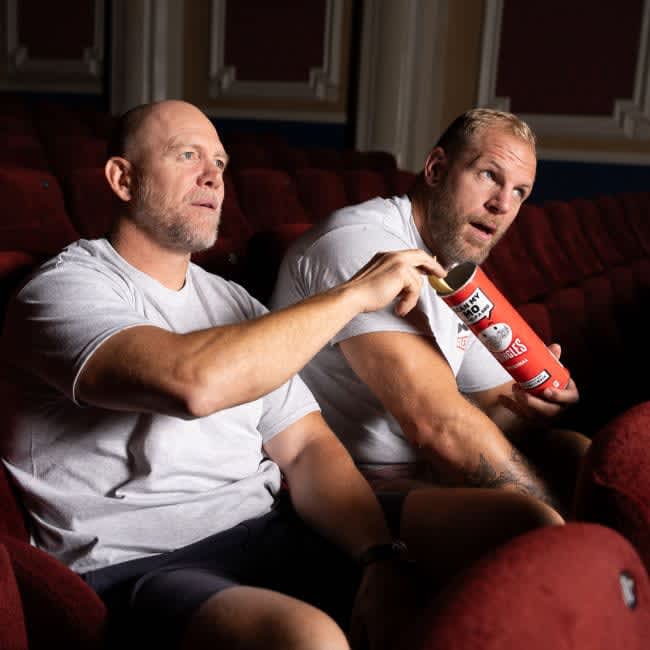 Mike Tindall believes men find it particularly "hard" to open up about the "challenges" they face.
The 44-year-old former rugby player - who is married to Princess Anne's daughter Zara Tindall - and his 'The Good The Bad and the Rugby' co-host James Haskell have teamed up with Pringles to launch the Talk-Thru cinema in conjunction with men's health charity Movember in a bid to encourage guys to share their struggles more regularly, and the ex-sportsman hopes the initiative will show groups of males what a "huge difference" speaking about their issues can make.
He said in a statement: "When we open up and talk to one another I think we realise how, in some way, everyone has their own struggles or challenges in life. However for lots of people, especially men, it's hard to break down the walls and start that conversation.
"Encouraging mates to check in with one another can make a huge difference and, for those who don't know where to begin, the talking tools from Pringles and Movember are a great place to start."
The Talk-Thru cinema - which will be staged in London and Liverpool this month - will welcome guests to bring along a friend for a catch up while watching 'Hot Fuzz' and enjoying some Pringles, and was created after research from the snack brand looking into men's friendships and attitudes to mental health found although guys are willing to open up more to their mates, they feel they need an activity in place to do so and a third were more likely to broach a tricky subject if they were doing something else at the same time.
The study also found that although 51% of men believe they have enough friends, 7.8 million guys in the UK feel lonely on a weekly basis.
James hopes the cinema events will help men start opening up more regularly.
He said: "Highlighting the importance of men's mental health and the stigma men feel is a cause close to my heart and it is shocking to find out that many men feel frequently lonely.
"That's why it's vital men take the moment to come together, open up and lean on one another for support, taking it one conversation at a time.
"I'm hoping the men who come to Pringles' Talk-Thru Cinema will keep talking long after the event ends."
The London event takes place on 25 September at the Ritzy Picturehouse in Brixton, while the Liverpool event is at the Picturehouse@ FACT on 26 September.
Tickets for the Pringles x Movember Talk-Thru Cinema are free and a pair can be booked at https://www.picturehouses.com/movie-details/004/HO00013568/talk-thru-cinema-ritzy-hot-fuzz for London and https://www.picturehouses.com/movie-details/013/HO00013569/talk-thru-cinema-fact-hot-fuzz for Liverpool.