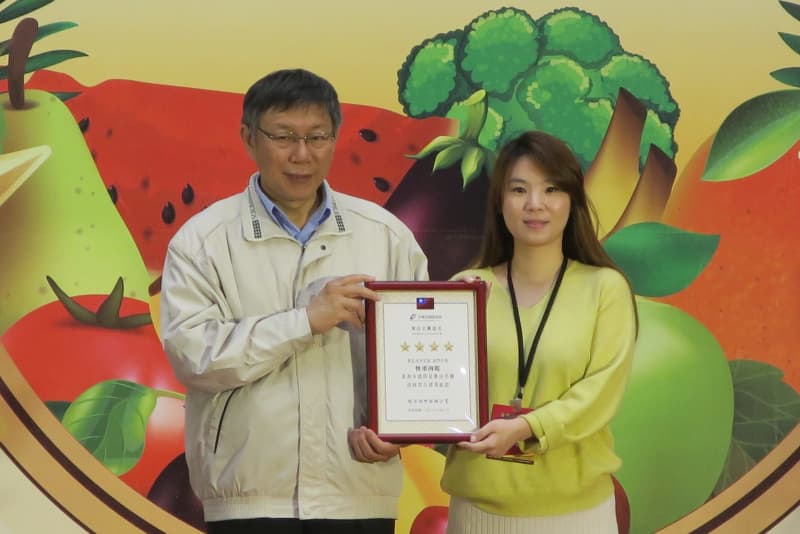 Taipei Mayor Ko Wen-je is at it again.
Two weeks after being re-elected in Taiwan's local elections on Nov. 24, the outspoken Ko dismissed as "totally unreasonable" last month's referendum to retain a partial ban on Japanese food products imposed after the 2011 Fukushima nuclear disaster.
He then went on to criticize Taiwan as democratically immature for using such polls to make difficult political decisions.
Four days after his comment on referendums, Ko, a political independent, was again in the news when he agreed to a public meeting with Taiwan President Tsai Ing-wen in a scarcely concealed effort by Tsai to mend fences after her Democratic Progressive Party nearly sabotaged Ko's re-election.
Looking unenthusiastic throughout the two-hour affair, Ko was asked during a concluding press conference if he would support a Tsai re-election bid in 2020.
The mayor's response: no comment.
Ko's candor and aversion to party politics have earned him significant support among young, metropolitan voters that represent the island's demographic future.
Many are urging Ko to run for president, an idea he has floated himself on occasion without committing either way.
But whether he runs or not may be less important than what his prickly leadership style says about the prevailing mood of electoral politics in Taiwan, which has both the DPP and main opposition Nationalist Party (KMT) paying close attention to his success as they try to adapt following their own recent failures at the polls.
But what they find is quite unusual.
For one thing, he is not a career politician, but an accomplished surgeon. Nicknamed "Ko P" (the P short for professor), the 59-year-old Ko joined National Taiwan University Hospital in 1988 as a resident physician specializing in trauma and organ transplant surgery.
In addition to his lack of political experience, Ko was the first independent ever elected mayor of Taiwan's capital city, winning the 2014 race by a landslide thanks to anti-KMT sentiment that year and to the DPP's decision to back him rather than field its own mayoral candidate.
At the time, the DPP's reasoning appeared sound given Ko's history of supporting the party, even while he never became a member. So while Ko declined repeated attempts to recruit him, the DPP agreed to enter into an informal alliance involving mutual consultation and support.
But it soon became clear that Ko's habit of thinking for himself would make an alliance difficult.
One of his notable early gaffes occurred in 2015 and again in 2017 when he proclaimed that Taiwan and China were "one close family" and "a community of shared destiny," infuriating the independence-leaning DPP's traditional base.
With the DPP increasingly dominating island politics, many began to ask why they should support such a high-profile figure who operated outside the bounds of party control.
Party leaders eventually bowed to demands that the DPP field its own candidate for Taipei mayor in 2018, a decision most now regret, not only because their nominee lost badly last month, but because votes he took from Ko nearly handed the election to the KMT.
That Ko won anyway indicates something of his political power, which has grown during his time in office.
To some extent, Ko's appeal is no different from that seen in democracies everywhere today. As Meng Chih-cheng, a political science professor at National Cheng Kung University, puts it, Ko speaks to "people who are fed up with political parties and do not trust politicians."
In this, Ko shares much with another big winner last month, Kaohsiung Mayor-elect Han Kuo-yu who defeated a highly qualified DPP candidate in a city that the ruling party has long governed.
While Han ran on the KMT ticket, he attracted voters by distancing himself from that party and speaking to local economic concerns. He also ran a campaign uncharacteristically clean by Taiwanese standards, with no scandals or personal attacks.
Yet Ko possesses a combination of charisma and competence that make him more than just another anti-establishment populist.
Personally, he is often praised for his candor, which some attribute to not being burdened by party ideology. When candor edges toward insensitivity, supporters blame social awkwardness related to Asperger syndrome, which he suffers.
Ko also has a strong appeal for young people who are drawn to a rebel idealism he expresses as the desire to "change the culture of politics in Taiwan."
In October, Ko summarized his political philosophy in a music video that went viral in which he and a local rapper chant the phrases "do the right thing, do things right."
Beyond personal charm, four years in office has shown Ko to be a capable administrator, no doubt the result of years directing NTU's high-pressure trauma and organ transplant units.
But Ko has also managed to "do things right" in other ways, such as translating a seemingly naive political vision into a more complex message that resonates with voters even while challenging their assumptions about what it means to be Taiwanese.
To whatever extent Ko's remark on the familial nature of cross-strait relations offended some, it also drew moderates from both political wings by acknowledging obvious cultural ties between Taiwan and China, while using language that neither requires nor excludes political union.
And while critical of what some see as the purest form of democratic decision making, Ko's views on referendums find widespread support among political commentators who, like Jonathan Sullivan, associate professor of political science at the University of Nottingham, says voters expressing their opinions is one thing, but "policymaking is better left to the professional representatives they elect."
On the Nov. 24 referendum on maintaining a ban on food products from five Japanese prefectures, which passed, Sullivan points out that November's "experiment with 'direct democracy'" only succeeded in undermining Taiwan's relationship with a crucial ally.
Whether or not Ko's qualities as a mayor would be enough to elect him president is unclear.
While recent polls rank him the strong favorite should he choose to run in 2020, Meng suggests that if either party runs a strong candidate, Ko's independence will count against him.
But if they don not, Ko may get his chance to change the political culture of Taiwan.