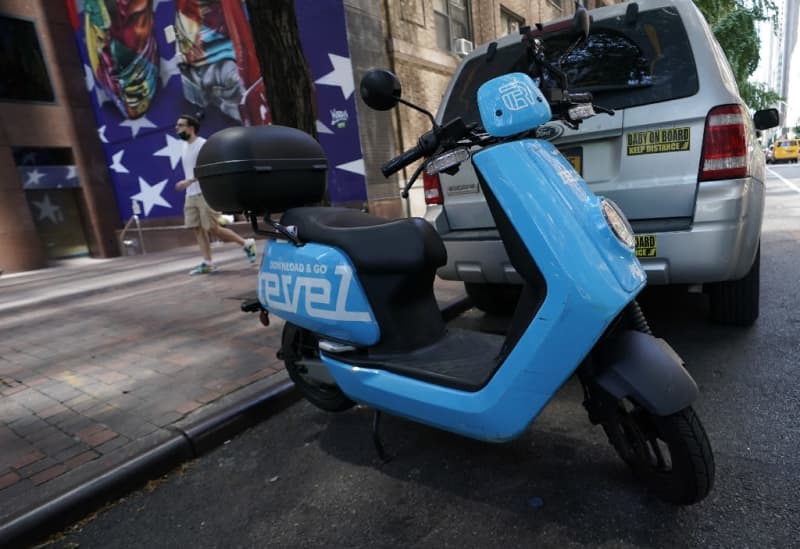 New York (AFP) - An increasingly popular moped ride-sharing company suspended their operations in New York City on Tuesday after two riders died in separate crashes while using the electric two-wheelers.
Revel's turquoise rental scooters have become a common sight on the streets of the Big Apple in recent weeks as residents shun public transport because of coronavirus.
But critics say the near silent vehicles are a safety hazard, pointing out that they are often driven by inexperienced riders.
Earlier this month, Nina Kapur, a 26-year-old reporter with CBS, died after falling from one of the mopeds.
In the early hours of Tuesday, a 32-year-old man was killed after he drove a Revel into a street light pole.
"Starting today, NYC service will be shut down until further notice," Revel said in a post on its Twitter page.
"We're reviewing and strengthening our rider accountability and safety measures and communicating with city officials, and we look forward to serving you again in the near future," it added.
The announcement came after a Congressman from Manhattan called for Revel's activities to be suspended.
Mayor Bill de Blasio suggested city hall may have forced Revel's hand.
"We spoke with Revel this morning and they are shutting down until we can find a way to make shared mopeds safe," he tweeted. 
Revel launched in Brooklyn in 2018 with a pilot program of 68 of the electric mopeds.
Before suspending operations it ran 6,000 vehicles, clocking 100,000 miles (160,000 kilometers) per day in New York.
Revel says it has suspended 2,000 riders in the past six months for violating safety guidelines, such as refusing to wear the helmets that are provided with each trip.
The company requires that users have a valid driver's license to book a moped, but doesn't ask them to take a test.
Revel also has fleets in Washington, Miami, Austin and Oakland. It plans to launch in San Francisco soon.