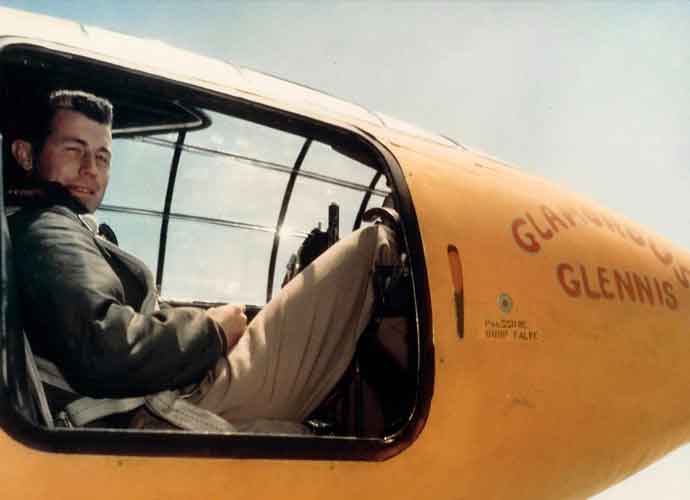 U.S. Air Force officer and test pilot Chuck Yeager, who was famous for breaking the sound barrier when he tested the X-1 in October 1947, has died at 97.
Yeager, who was known as "the fastest man alive," died on Monday night in a Los Angeles hospital. The pilot had gone through a series of physical health challenges, then suffered a fall that complicated things further due to his old age.
The pilot's second wife, Victoria Yeager, tweeted through her husband's official Twitter account tweeted the news of his passing, writing, "It is w/ profound sorrow, I must tell you that my life love General Chuck Yeager passed just before 9pm ET. An incredible life well lived, America's greatest Pilot, & a legacy of strength, adventure, & patriotism will be remembered forever."
Yeager was born and raised in West Virginia and enlisted in the Army Air Corps at age 18 in 1941. He flew 64 missions through World War II stationed in England. When he returned to the U.S. in 1945, he married his first wife Glennis.
Yeager became a test pilot after the war and quickly gained recognition for his flying, frequently asked to perform in airshows and help with trials for new planes, including the X-1.
50 Best Photos Of The Year 2020
After multiple flights with the X-1, Yeager broke the sound barrier on Oct. 14, 1947 flying over Rogers Dry Lake in Southern California. The aircraft reached Mach 1.06 or 700 mph, which made Yeager the first man to travel faster than the speed of sound and earned him the title of "Fastest Man Alive." He went on to break another record, flying a straight wing aircraft at Mach 2.44 in December of 1953.
He was immortalized in the classic film The Right Stuff.
"This is a sad day for America. After he broke the sound barrier, we all now have permission to break barriers," said John Nicoletti, Yeager's friend and ground crew chief, to CNN Monday night. "General Yeager represents the best of us. For me, Chuck Yeager will always be the sound of freedom."