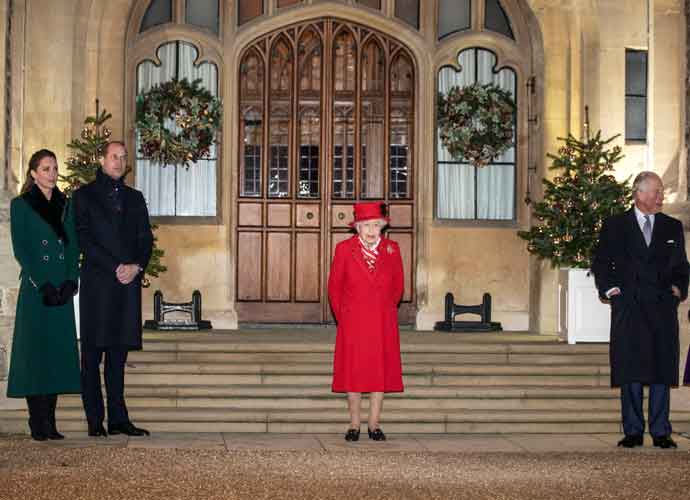 Windsor Castle was the last stop for Prince William and Kate Middleton, Duke and Duchess of Cambridge, across Britain via the Royal Train.
The couple was joined with Queen Elizabeth II, Prince Charles, Prince of Wales, Camilla, Duchess of Cornwall, Princess Anne, Prince Edward and his wife Sophie, Countess of Wessex on Tuesday afternoon to pay tribute to key workers, care staff and volunteers who aid those vulnerable in the town near the castle for their work in helping others throughout the coronavirus pandemic. The royal family greeted those volunteers and workers from various charities and organizations in Berkshire, who will be helping others over the Christmas holiday.
The Duke and Duchess of Cambridge went on a three day tour around Britain, having stoped in Wales, England and Scotland to meet and thank frontline workers, care home staff, volunteers, teachers, and schoolchildren. The royal couple's office stated that they wanted to hear about the "experiences, sacrifices and the inspiring work they [frontline workers, etc] have done throughout this challenging year."
Prince Andrew was noticeably absent from the castle, he withdrew from public life after his friendship with the late convicted sex offender Jeffrey Epstein was revealed. Also missing from the event was Prince Harry and Meghan Markle, the couple recently settled in their new home in California.
The royal family took part in some festive spirit in performing Christmas carols with the Salvation Army band.
Gossip surrounding the royal family has recently restarted due to Netflix's The Crown releasing their fourth season last month following the strained marriage of Prince Charles and Princess Diana and his affair with Camilla. Last week, a representative from the U.K. government called the streaming service to put a warning before each episode stating that the show was a drama based on real people and events. On Monday, Netflix put out a statement saying that they will not add a disclaimer and do not need to warn viewers about any historical inaccuracies that may occur in the series.
50 Best 2021 Concert Tours! Get Ticket Deals Here!