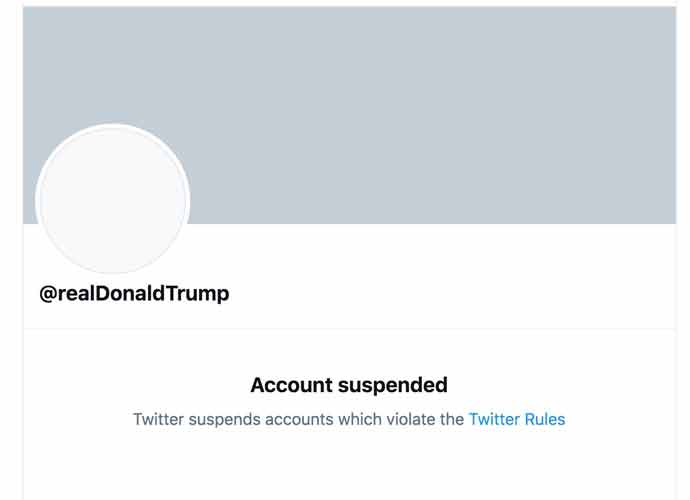 Twitter permanently suspended President Donald Trump's account on Friday, due to "the risk of further incitement of violence."
"After close review of recent Tweets from the @realDonaldTrump account and the context around them we have permanently suspended the account due to the risk of further incitement of violence," Twitter wrote.
The ban followed Trump's comments as his supporters stormed the U.S. Capitol in response to Congress planning to certify President-elect Joe Biden's victory.
After his personal account @realDonaldTrump was suspended, Trump took to the official POTUS to continue tweeting about the "Radical Left." However, those tweets were promptly taken down by Twitter.
Twitter had been taken increasing steps to sanction the president, as he often used the platform to promote misinformation and conspiracy theories — most recently, about baseless allegations of widespread voter fraud.
Prior to the permanent suspension, Twitter had taken multiple actions against the account earlier in the week, including removing three tweets pushing election conspiracy theories.
The tweets that ultimately prompted the suspension due to a "risk of further incitement of violence" were about his followers and Inauguration Day.
"The 75,000,000 great American Patriots who voted for me, AMERICA FIRST, and MAKE AMERICA GREAT AGAIN, will have a GIANT VOICE long into the future," Trump wrote in the first tweet. "They will not be disrespected or treated unfairly in any way, shape or form!!!"
The second tweet read: "To all of those who have asked, I will not be going to the Inauguration on January 20th."
Twitter determined that the pair of tweets were "likely to inspire others to replicate the violent acts that took place on January 6, 2021, and that there are multiple indicators that they are being received and understood as encouragement to do so."
"In the context of horrific events this week, we made it clear on Wednesday that additional violations of the Twitter Rules would potentially result in this very course of action," Twitter wrote. "Our public interest framework exists to enable the public to hear from elected officials and world leaders directly. It is built on a principle that the people have a right to hold power to account in the open."
"However, we made it clear going back years that these accounts are not above our rules and cannot use Twitter to incite violence," the company continued. "We will continue to be transparent around our policies and their enforcement."
Twitter had previously told Forbes that Trump would be protected by its "World Leaders policy," which allows certain content violating Twitter's policies to remain posted (with a flagged warning providing context) if there is a "clear public interest value."
However, world leaders are not entirely above the laws of Twitter, with "clear and direct threats of violence against an individual" among the listed reasons why a world leader could be suspended.
Twitter's decision was immediately polarizing, with Democrats praising the move and Trump supporters condemning the company's censorship.
"Thank you @twitter for taking this action," Sen. Joe Manchin (D-West Virginia) wrote. "We must come together as a country to heal and find a common path forward."
Jonathan Greenblatt, who heads the Anti-Defamation League, an advocacy group that had called on Twitter to ban the president, called Twitter's move an "excellent step" and "a fitting end to a legacy of spewing hate and vitriol."
However, Republicans and Trump supporters condemned the decision.
"Silencing people, not to mention the President of the US, is what happens in China not our country. #Unbelievable," wrote Nikki Haley, the former ambassador to the United Nations.
Donald Trump Jr. tweeted that "we are living Orwell's 1984."
"Free-speech no longer exists in America. It died with big tech and what's left is only there for a chosen few," he added. "This is absolute insanity!"
Freedom of speech, or the First Amendment, applies only to the government — not private companies.
However, many have flocked to other platforms that have less censorship in place, including the relatively new social media site Parler, which advertises itself as offering "free expression without violence and no censorship."
However, the same day Trump's Twitter account was suspended, Parler was taken off the Google Play store for failing to remove posts inciting violence. The Apple Store similarly warned Parler to implement a better system of content moderation.
"Our investigation has found that Parler is not effectively moderating and removing content that encourages illegal activity and poses a serious risk to the health and safety of users in direct violation of your own terms of service," Apple wrote in a letter. "We won't distribute apps that present dangerous and harmful content."