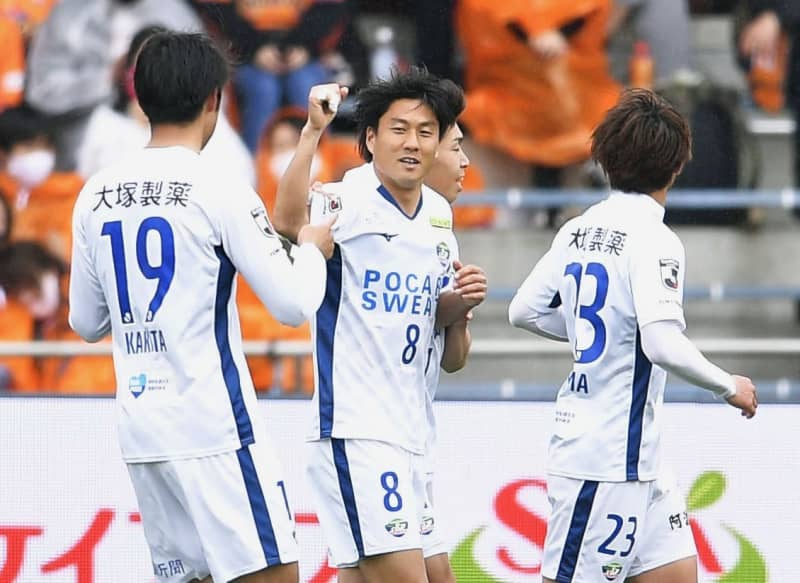 Tokushima Vortis outran and outhustled Shimizu S-Pulse in the J-League first division Sunday, grabbing a 3-0 win on the road with an early strike by Taisei Miyashiro and second-half goals from Ken Iwao and Yuki Kakita.
The promoted side from Shikoku looked impressive on the way to their first-ever back-to-back wins in the top flight, having beaten Yokohama FC 2-1 in the previous round for their first J1 victory since 2014.
Miyashiro opened the scoring in the 28th minute at IAI Stadium after the visitors launched a lightning quick counterattack from their own goal area.
Storming into the center of the pitch from the right side, Miyashiro unloaded a thunderbolt that keeper Shuichi Gonda could only parry back toward the 20-year-old winger, who slotted home from the middle of the area.
"I received a good pass from (midfielder Tokuma Suzuki) and from that position I thought to just keep going forward. I shot it straight ahead, but I got a fortunate rebound and was thankfully able to stay calm and finish," said Miyashiro, who also netted the winner over Yokohama FC on March 21.
After Shimizu center back Yoshinori Suzuki was penalized for a handball early in the second half, Iwao stepped up and doubled the advantage for Tokushima, whose new manager Dani Poyatos has yet to join the team because of travel restrictions aimed at the coronavirus.
Tokushima compounded the frustration for Miguel Angel Lotina's side in the 92nd minute when Takeru Kishimoto bolted down the right touchline and floated a cross to the middle of the area for Kakita, who found the target with a glancing header.
"There have been a number of games where we've led 1-0 at halftime but haven't gone on to win, so I'm really happy we scored more goals today and won 3-0," Miyashiro said.
With the win, Tokushima climbed ahead of Shimizu into ninth place on goal difference.