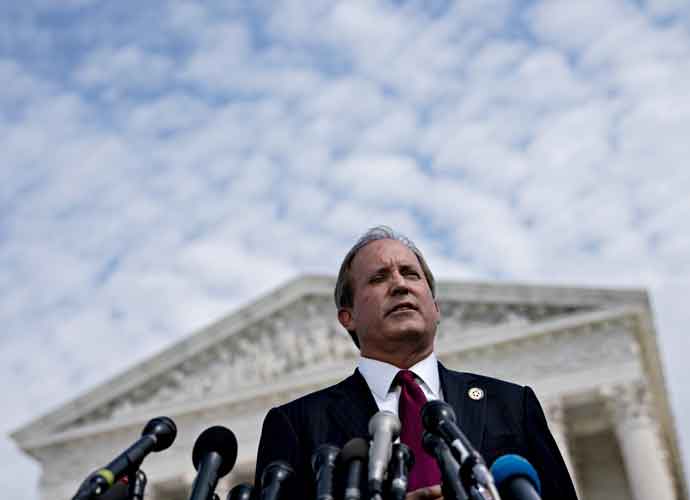 Texas Attorney General Ken Paxton is refusing to release text messages that he either sent or received while attending the pro-Donald Trump rally that devolved into the U.S. Capitol riot on Jan 6, which resulted in five casualties.
Several news outlets are attempting to obtain copies of the attorney general's work-related email and text communications, despite Paxton's office being uncooperative. The Texas Public Information Act ensures the public's right to public officials' government records.
Lauren Downey, the public information coordinator at the Office of the Attorney General, said, "The Office of the Attorney General is in full compliance with the Public Information Act."
Paxton was one of several GOP attorneys general who joined a lawsuit to invalidate election results that secured swing state victories for President Joe Biden. In addition, the Texas Republican is also facing a federal investigation into whether he abused his office to help a campaign donor.
At the pro-Trump rally on Jan 6., Paxton spoke about his failed legal attempt to overturn the presidential election results. "What we have in President Trump is a fighter," he said. "And I think that's why we're all here. We will not quit fighting. We're Texans, we're Americans, and the fight will go on."
Since the riots, Paxton has issued a number of false claims regarding the event – blaming the attack on Antifa, a left-wing anti-fascist movement, despite FBI Director Christopher Wray refuting this allegation. Additionally, Paxton has falsely claimed that Trump supporters were not responsible for the insurrection.
Though many constituents are eager for Paxton to release his communications about the event, the Attorney General seems to have found a loophole to potentially prevent their release. Downey said that she will refuse to release the records on the grounds that they all fall under the category of confidential attorney-client communications.
James Hemphill, board member of the Freedom of Information Foundation of Texas, said: "It would seem unusual for every single communication made by any kind of lawyer to be subject to attorney-client privilege."
Paxton claimed that he had official business in Washington the week of the rally. "I had a state purpose," he said. "The next day I had meetings at the White House…That's how I spent most of my time."