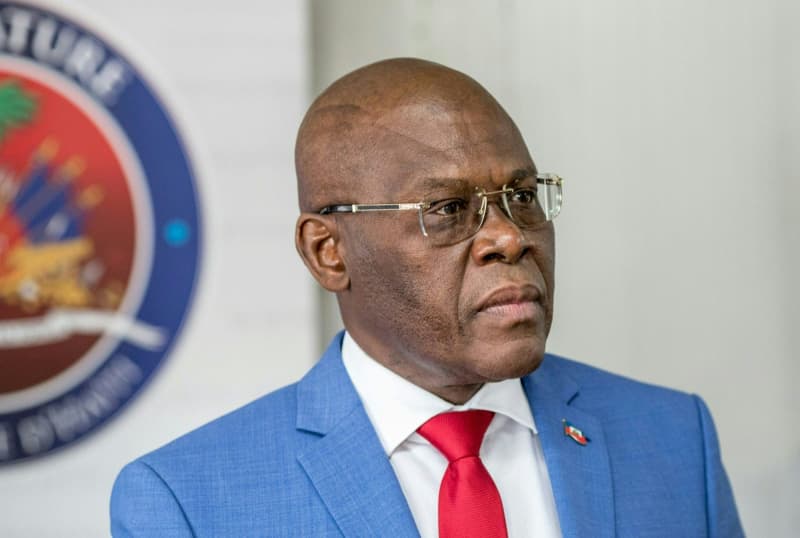 Haiti Prime Minister Joseph Jouthe resigned Wednesday in the wake of a surge in crime that has left the country on edge amid a deepening political crisis.
His resignation after only a year in the job comes shortly before a controversial constitutional referendum, and as the international community grows increasingly impatient with President Jovenel Moïse's inability to contain Haiti's growing violence.
In a tweet, Moïse said Jouthe's resignation will "make it possible to address the glaring problem of insecurity and continue discussions with a view toward achieving the consensus necessary for the political and institutional stability of our country."
The outgoing prime minister provided no explanation for his abrupt departure, saying only in a post on Twitter early Wednesday that it had been an honor to serve the country. The president's office, however, suggested that Moïse considered Jouthe an obstacle in resolving Haiti's mounting insecurity, saying recent kidnappings were "tangible proof" that a council of top police brass working with the ex-minister has been "ineffective" in quelling the violence.
The shakeup comes on the heels of a spate of crimes that have startled the nation. Bandits attacked an orphanage, sexually assaulting two children and killing a guard, over the weekend, the manager of the facility said. On the same day, five Roman Catholic priests and two nuns were kidnapped on Sunday, along with three relatives of a priest. The Archdiocese of Port-au-Prince recently described the crime wave as a "descent into hell."
The prime minister's resignation could provide an opportunity for the nation's embattled president to reconfigure the government and move closer to stabilizing Haiti's political crisis. It remains to be seen whether the United States and others in the international community will pressure Moïse, who has been reluctant to share power, to establish a dialogue and build a consensus government, one not controlled by him or his own party.
Opposition leaders who have been calling on Moïse to step down say he will need to take more decisive action than simply naming a new prime minister. The president appointed Foreign Minister Claude Joseph, who has been increasingly speaking out in support of the government in the international media, as interim prime minister. Joseph's nomination makes him Moïse's sixth prime minister since coming into office in 2017.
"If Jovenel Moïse thinks that he can exit the crisis by appointing a prime minister of his own choosing, it is wishful thinking," said Jerry Tardieu, a former lawmaker and member of the opposition. "He can't continue to [bluff] his way through."
The president is under mounting international pressure to crack down on the armed gangs believed responsible for much of the violence and hold legislative and presidential elections. Haiti's opposition contends Moïse's term expired in February; he disagrees, arguing that he is the country's designated leader until 2022, a claim backed by the U.S. Moïse has been ruling by decree for over a year, since Haiti failed to hold legislative elections in October 2019.
On Monday, both the United Nations and Organization of American States released statements expressing concern following the killing of more than a dozen Haitians in an April gang attack in a Port-au-Prince neighborhood, as well as the recent clergy kidnappings.
OAS Secretary General Luis Almagro said he deplored "the deterioration of the security situation and more particularly the resurgence of cases of kidnappings and assassinations," calling on the Haitian government to investigate recent massacres in working-class neighborhoods.
The U.N. political office in Haiti also publicly stated for the first time that it considers the proposed constitutional referendum to be problematic. Until recently, it supported the initiative, with Helen La Lime, U.N. Secretary General António Guterres' representative in Port-au-Prince, penning an editorial in the country's daily newspaper advocating for the constitutional reform process.
The vote is scheduled for June, but civil society leaders and legal scholars say the vote is illegal because the constitution forbids changing the magna carta through a referendum. They also assert that Haiti is not prepared to hold elections, given the current insecurity crisis.
"At this stage, the process is not sufficiently inclusive, participatory or transparent," the U.N. Integrated Office in Haiti, which is headed by La Lime, said in a tweet. "National ownership of the draft constitution requires the engagement of a wider range of political, societal, including women's and religious groups across the country."
Jouthe was appointed prime minister in March 2020 by presidential decree, two months after Moïse began ruling by executive order after the terms of most members of Parliament expired. Moïse had unsuccessfully spent a year trying to get two different prime ministers through Parliament after the Lower Chamber of Deputies fired Prime Minister Jean Henry Céant on March 18, 2020.
The firing cost Haiti hundreds of millions of dollars in desperately needed aid because it no longer had a government approved by Parliament that could agree to the terms of the aid. Following Céant's dismissal, foreign diplomats, leading failed negotiations, had pressed Moïse and the opposition to reach a political accord to form a consensus government so that elections could be scheduled and international aid unlocked.
It is unclear whether Jouthe, who has been under pressure to do something about the rash of kidnappings and killings, resigned on his own, or was forced out by Moïse. There have been budding tensions between Jouthe, Moïse and members of the government, including Minister of Justice and Security Rockfeller Vincent, for quite some time.
Last month, Jouthe ordered Haitians to remove tints from their windows in an attempt to curb kidnappings. Later, he and a close adviser to the president, Rénald Lubérice, got into a public spat. Lubérice took to social media and radio to express his disagreement with the prime minister's decision. Following the disagreement, Haitians began wondering how long Jouthe would remain in the role.
Following last month's botched police raid in the Village de Dieu slum, which left four officers dead and a fifth one missing, Jouthe challenged Haiti National Police Director Léon Charles' assessment that the operation was well planned. Jouthe, who serves as president of the Superior Council of the National Police, said there were tactical errors.
"There were orders that were not given on time which led the police to fall into the trap," Jouthe said. "Many instructions from the chain of command had not been applied to the letter on the ground."
Jouthe is known for his unapologetic and controversial statements, such as when he announced during a press conference that he had been in communication with gang leaders, calling them out by name.
When a Haitian university professor thought he had contracted the coronavirus last year at the onset of the pandemic, and spoke of his ordeal of trying to get tested by the government's health ministry, Jouthe publicly lashed out at him, accusing him of trying to "create a buzz."
The outgoing leader also downplayed the kidnapping uptick, saying such crimes had decreased "considerably" in metropolitan Port-au-Prince, a day after the priests and nuns were kidnapped while driving through Croix-des-Bouquets, a suburb of the capital.
On Saturday, while touring Fort-Liberté in northern Haiti after recent flooding, Jouthe defended his governance and commitment to fighting the gangs. He told reporters that on two recent occasions authorities had seized containers filled with arms in the port of Cap-Haïtien, only to see the local prosecutor free the suspect involved. He also hinted at his pending departure when explaining why municipalities had been unable to tap $40 million from the World Bank to address pressing issues.
Explaining that he was no longer depending on the funds, Jouthe said he would, for the time being, continue to fight to resolve problems because "perhaps next week, I won't be the one who is prime minister."
The Catholic Church, which has accused Haitian authorities of not doing enough to resolve this crisis, has announced that it will close all of its schools and offices Thursday in protest over the violence. The church is asking Haitians to attend Mass to pray for the country and the release of hostages. At noon, church bells around Haiti will ring in protest. Eight chambers of commerce have announced they will join in solidarity and are asking businesses in Haiti to shut down for the day in protest.
Tardieu does not believe that Jouthe's resignation, for now, changes anything, as opposition and civil society groups will continue to press for Moïse to resign.
"He was a simple employee of Jovenel Moïse without any political force of his own," he said. "His year in office will remain a very dark one."
______