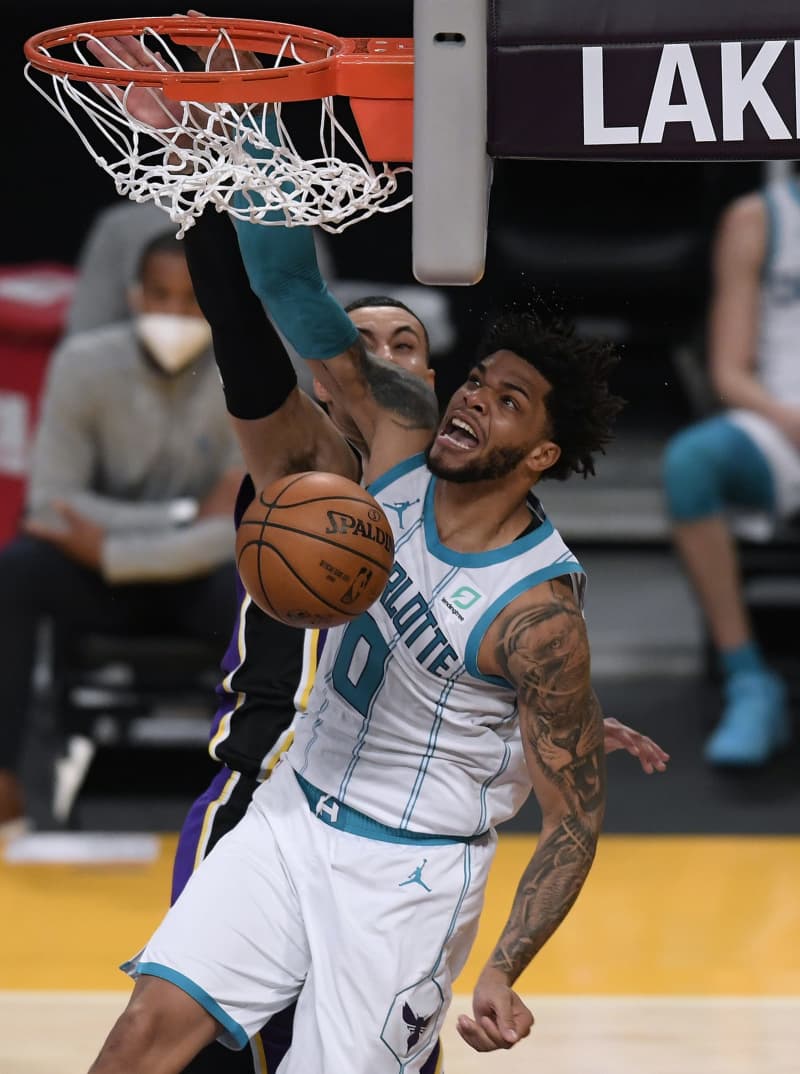 CHARLOTTE, N.C. — Miles Bridges is going to say things that make others uneasy.
That's OK. Sometimes friction is essential to improvement. If that means getting into it with coaches over switching from zone to man-to-man defense, that's fine.
If it means speaking out about water contamination in his hometown of Flint, Mich., that's good.
Last fall, it meant saying the Hornets "haven't been a good organization in a long time" to spark change.
Bridges will keep speaking his mind.
"I feel like if I keep my mouth closed on stuff I feel very passionate about, then nothing will get fixed," Bridges told The Charlotte Observer. "So the more I talk about it — speak it into existence — I feel like that helps me. And it helps the situation that is going on."
The Hornets are hurting. Entering Friday's road game against the Brooklyn Nets, they have lost three in a row and have slid from fourth in the Eastern Conference standings to eighth. That's been primarily about injuries, with five core players — Gordon Hayward, LaMelo Ball, Malik Monk, P.J. Washington and Terry Rozier — all missing recent games.
The only key players coach James Borrego has had available continuously of late are Bridges and point guard Devonte Graham. The injuries keep shifting 6-foot-7 Bridges' role from sixth man to starter, from power forward to small forward and back again.
What Borrego has come to so appreciate about Bridges this season is his flexibility and selflessness. He concerns himself with what's good for the Hornets, not just what's good for him.
"He cares. That separates him from the pack — the care factor," Borrego described of Bridges.
"Miles is not an entitled individual. He's no-excuses, no-complaining. He comes in here to do his job. It doesn't mean he always agrees with his role or what I go with, but he never complains or takes a day off and mopes.
"He's about taking ownership of his game and his life."
TOM IZZO: 'I LOVE MILES BRIDGES'
Bridges learned in training camp he would no longer be starting and would be playing primarily power forward, rather than small forward. The Hornets made a 4-year, $120 million commitment to free agent Gordon Hayward, so it was a given Hayward would start at small forward.
But Bridges, a former lottery pick and starter, didn't make a fuss. He simply asked Borrego what was needed and went about filling that. That switch in role has led to the most productive of Bridges' three NBA seasons. His scoring and minutes are down a bit, but he's having career highs in field-goal percentage (50.1%) and 3-point percentage (38.6%).
Borrego always saw Bridges best suited as a power forward, rather than a small forward. And the energy and ruggedness he provides was a good fit as Charlotte's sixth man, in that reserves are often most useful in the NBA shaking up bad patterns.
"He brings us an edge, a physicality, a toughness that we really need on this roster," Borrego said.
This worked because Bridges was open-minded enough to consider the pluses, rather than view no longer starting as a demotion. As Borrego described, "he didn't complain one time, he never asked for an explanation."
Bridges says he's learned in 2-plus NBA seasons to no longer label himself; rather to blend his skills with others and it will all work out.
This isn't new to him. Bridges chose to stay for his sophomore season at Michigan State, despite already being a borderline lottery pick after this freshman year. The Spartans were bringing in a stellar recruiting class that included two big men — future top-4 pick Jaren Jackson and Xavier Tillman.
He never felt threatened that he wouldn't be "the man" on his college team; Bridges adapted his game to Jackson's. He invited Jackson to be his roommate and became a secondary star on a team that won the Big Ten regular-season and went 30-5 in 2017-18.
Bridges said he looks back at that as an education that expanded his game: "It made me a better passer, which I needed."
Michigan State coach Tom Izzo says that self-description doesn't do Bridges justice. Izzo advised Bridges to turn pro, yet he still delayed being a first-round pick to chase a national championship and nurture freshmen.
"His humility is off the charts," Izzo told The Charlotte Observer. "He wasn't quite as boisterous then (in his leadership), but his mentoring was such an ego-less approach. He showed (teammates) how to put a team first.
"I don't like Miles Bridges. I love Miles Bridges."
BEING VOCAL, SETTING A TONE
That understated version of Bridges is what Borrego saw his first two seasons in Charlotte. That changed in the nine months between the abbreviated end to last season and the start-up again last December. It showed publicly when Bridges said he's exasperated by the Hornets going four seasons without a playoff appearance.
"Everybody around our team wants to change it — this mediocrity," Bridges said.
Borrego welcomed that bluntness because it was backed up by action. Bridges started pulling aside teammates to offer advice and tackled uncomfortable issues, like that timeout in Orlando, Fla., when he questioned the defense and fueled a win.
"The NBA game has slowed up so much for me, and I feel like I can pass that on," Bridges said. "I had so many good vets before me, like Kemba Walker, Marvin (Williams) and Tony Parker. They were so professional, they helped me out.
"Why can't I do that for the next guy?"
One of the ways Bridges rubbed off on teammates is frank dialogue.
"If it concerns us, we as a team are really good at coming together now, and speaking about it," said second-year forward Jalen McDaniels. "We know how to communicate in the right way."
Nothing speaks louder than action. For Bridges, no action speaks louder than those dunks.
PRIMAL, IMPACTFUL DUNKS
Dunking in the percussive way Bridges does is as primal an act as anything in sports. It's the blindside sack of a quarterback or the walk-off home run with bases loaded.
When Bridges rose above Atlanta Hawks center Clint Capela in the fourth quarter Sunday, he had no plan. He knew Capela was a fine shot blocker, so laying the ball off the backboard wasn't wise. Bridges cocked the ball with his right (non-dominant) hand and hammered it through the rim.
The NBA says Bridges' dunk has been viewed more than 44 million times since Sunday across various social media platforms. He doesn't want to be perceived as just a dunker, but Bridges certainly grasps how the emotional impact of plays like that can count for more than two points.
"It energizes. It gets everybody hyped. It brings so much momentum to a game," Bridges said. "It affects the emotion of the other team and yours, too."
Bridges has 59 dunks this season, through Wednesday's Cavs game, which ranks him 22nd in the NBA.
Borrego says there's nothing quite like Bridges' dunks on this team and that isn't about show — it's substance.
"It can turn a game — a momentum-changing play," Borrego said. "I know the last one didn't go our way (with the Hawks winning), but those are impact plays. And in the NBA, that's rare.
"Miles? That's a really special piece right there."