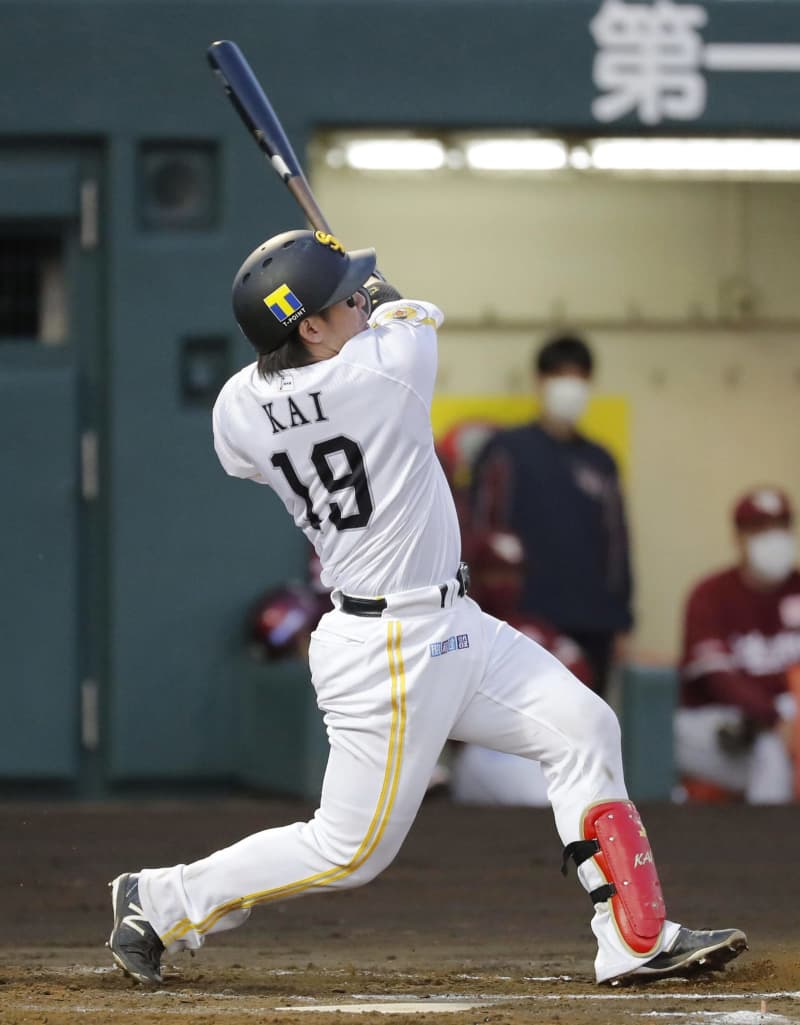 Catcher Takuya Kai had a three-run home run, went 3-for-4 and had five RBIs as the SoftBank Hawks overcame the Rakuten Eagles 6-4 to move ahead at the top of the Pacific League standings.
The two teams entered the first contest in the three-game series with identical 11-7 records with three ties, and Kai's second hit of the game proved decisive. A two-run, bases-loaded double with two outs in the sixth inning broke a 4-4 tie at Kitakyushu Municipal Stadium.
Batting eighth, Kai earlier went deep over the left-field fence in the second off Rakuten starter Takayuki Kishi (2-2), plating three runs to turn the game around for the Hawks after the Eagles led through two walks and an error in the first inning.
The visitors quickly restored the lead with a three-run shot of their own in the top of the third, Hiroaki Shimauchi ripping one off SoftBank starter Shunsuke Kasaya with two on and one out. The lefty lasted 4-1/3 innings, allowing four runs, three earned, striking out one and walking two in an 81-pitch effort.
Kishi again failed to preserve that one-run lead, however, giving up back-to-back doubles to Ryoya Kurihara and Alfredo Despaigne -- who also went 3-for-4 on the day -- with no out in the fourth to see the game tied.
The pair singled off Kishi to open the sixth before a one-out walk and Kai's double completed the scoring. The right-hander was chased in the process, allowing six runs, all earned, on nine hits and a walk in a 105-pitch outing, fanning six.
Six Hawks relievers kept the Eagles off the board with Shinya Kayama earning the win.
At Zozo Marine Stadium, the Lotte Marines won their fifth straight game with an 8-4 win over the Nippon Ham Fighters after Koki Yamaguchi's solo shot broke a 4-4 tie in the four-run eighth.
At Osaka's Kyocera Dome, Masataka Yoshida went 3-for-4 with a home run as the Orix Buffaloes amassed 17 hits in an 11-3 rout over the Seibu Lions.
At Koshien Stadium, the Central League-leading Hanshin Tigers won their eighth straight game for the first time in seven years after beating the Yomiuri Giants 10-5, ending the visitors' six-game winning run. Hanshin had five home runs, including two from both Jefry Marte and Yusuke Oyama.
At Nagoya's Vantelin Dome, the Chunichi Dragons' Yudai Ono threw eight shutout innings and the DeNA BayStars' Shinichi Onuki seven as the game ended 0-0.
At Mazda Stadium, Shingo Kawabata's pinch-hit RBI single in the seventh steered the Yakult Swallows to a 2-1 comeback win over the Hiroshima Carp.