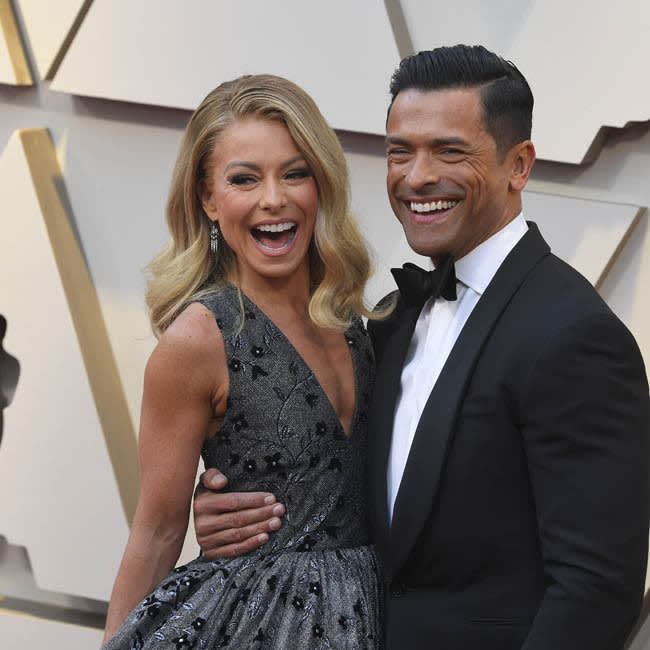 Kelly Ripa and Mark Consuelos are celebrating 25 years of marriage.
The couple marked a quarter of a century married on Saturday (01.05.21) with sweet matching posts on photo sharing site Instagram, where Kelly branded Mark the "love of her life".
Taking to Instagram to share a sweet anniversary tribute to her husband, she wrote: "Happy 25th Anniversary to the love of my life @instasuelos in the blink of an eye. Because when you know, you know. Thank you for all of the dreams you made reality ... (wedding, 5,10,15,20........#25) #silver (sic)"
Whilst Mark shared a video of some of their favourite memories together and captioned it: "@kellyripa ..."I'll be loving you until the rainbow burns the stars out in the sky ... always". Happy 25th (sic)"
And Kelly admitted she hadn't even seen some of the pictures before.
Alongside a string of heart and laughing emojis, she commented on the post: "Sobbing. I love you so very much. Some of these pics are never before seen. As in, I've never seen them before (sic)"
Meanwhile, Kelly and Mark previously branded their marriage as "old-fashioned".
Kelly said: "What's funny is I think of us as such a progressive as a couple. I always think of us as politically progressive. Yet, when it comes to our own family and our marriage and our roles, I think of us as very traditional and almost old-fashioned in our roles."
Mark agreed, and suggested there is "only room for one man" in their marriage.
He added: "[I'm a] traditional guy. I feel like there are certain roles - it's hard to explain exactly what those roles are. We had a conversation where I said, 'Hey listen, there's really only room for one man in this relationship and it's going to be me.'"