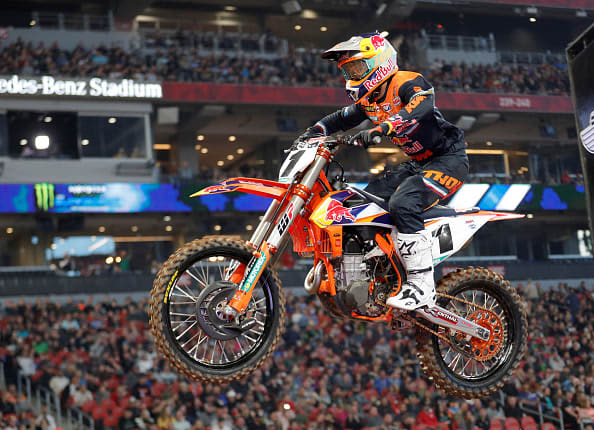 For now the second time in the last three years, "Paul" Cooper Webb has given Red Bull KTM a World Supercross Championship. Outside of a lackluster season opener, Webb once again had a world-class season and put a vice grip on the championship at the halfway point of the season, much like in 2019. Just like in 2019, he would hold the red number plates to the very end of the season and delivered some soul-crushing defeats to rival Ken Roczen. Here we go from start to finish of Webb's second World Title campaign in 2021.
Cooper Webb's Path
Webb to no one's surprise, entered 2021 as one of the championship favorites after a second-place points finish in 2020. After bowing out of Motocross after one round, Webb seemed poised for another excellent Supercross campaign. Webb however, would start off slow at the season opener in Houston, finishing a relatively dismal ninth. After that, he would only finish worse than fourth one time for the final 16 rounds of the year. His first win would come on a last-lap pass on Roczen at the final Houston round after the latter was held up by lapped rider Dean Wilson. Roczen would then go nuclear in the next three rounds in Indianapolis, winning all of the Main Events and putting an early stranglehold on the championship.
Soul Reaper
Webb would respond with wins in five of the next six rounds, including three straight in Dallas. He went from a 16 points deficit after Indianapolis, to a 15 point lead after Dallas on Roczen. Webb now had himself in a great spot points-wise with just five rounds remaining. Roczen proceeded to win the second of three Atlanta rounds after a horrendous outing just nights prior. Webb would end up in sixth that night, a result that looked better than it actually was. Where things got interesting was the final Atlanta round. Roczen checked out early on in the Main Event, and it felt like he was getting himself back into the title picture. However, Roczen wrecked in a whoops section and bent his handlebars. Webb smelling blood in the water, erased the six-second gap after the crash in just laps to deliver a soul-crushing blow to Roczen.
Webb entering Salt Lake City had a very real shot to clinch his title a round early. Roczen again wrecked himself out of a win, but Webb fell short to teammate Marvin Musquin. Despite this, Webb put himself in a near-perfect position to clinch the championship. All he needed to do was finish 19th or better to clinch, but Webb decided to go for the jugular. After forcefully moving Roczen out of the way second, Webb then got by his teammate Chase Sexton for first. This would be Webb's seventh win of the year, and would officially wrap up his second championship in three years.
)##### Paul" Wins it All (Again)
After a miserable stint at the now (technically) defunct Monster Energy Factory Yamaha team, Roger DeCoster made an at the time unexpected move to bring Webb to them. Much like when DeCoster brought his former Suzuki rider Ryan Dungey to the orange brand in 2012, this has been another slam dunk of a move for KTM. Now since 2019, Webb has 19 Main Event Wins, 2 Championships, and his lowest points finish is a second. All of those stats are the class of the field.
Webb is not the best raw talent in the 450 class, at least a half dozen riders have him beat. However, there is not a single rider who wants to succeed as bad as Webb does, and it's not even close quite frankly. This is a rider who has been overlooked since his amateur days in the early 2000s. He had all of one contract offer to turn professional, being with Star Yamaha. Now, Webb joins James Stewart, Chad Reed, Jeff Ward, and Rick Johnson as two-time Supercross Champions. Those are some of the greatest riders in the history of the sport. Webb now looks to ride himself to a monster new contract over the next 18 months. His current deal is expected to expire after the 2022 Motocross season and negotiations will likely start before then. It would be very hard to imagine him riding a motorcycle that was not colored orange at this point.
Check us out on our socials:
Twitter: @PTSTNews and @TalkPrimeTime
Facebook Page: Prime Time Sports Talk
Join our Facebook Group: Prime Time Sports Talk
Instagram: @ptsportstalk
Follow Jack Gaffney on Twitter @JackGaffneyPTST
Main Image Credit: Embed from Getty Images