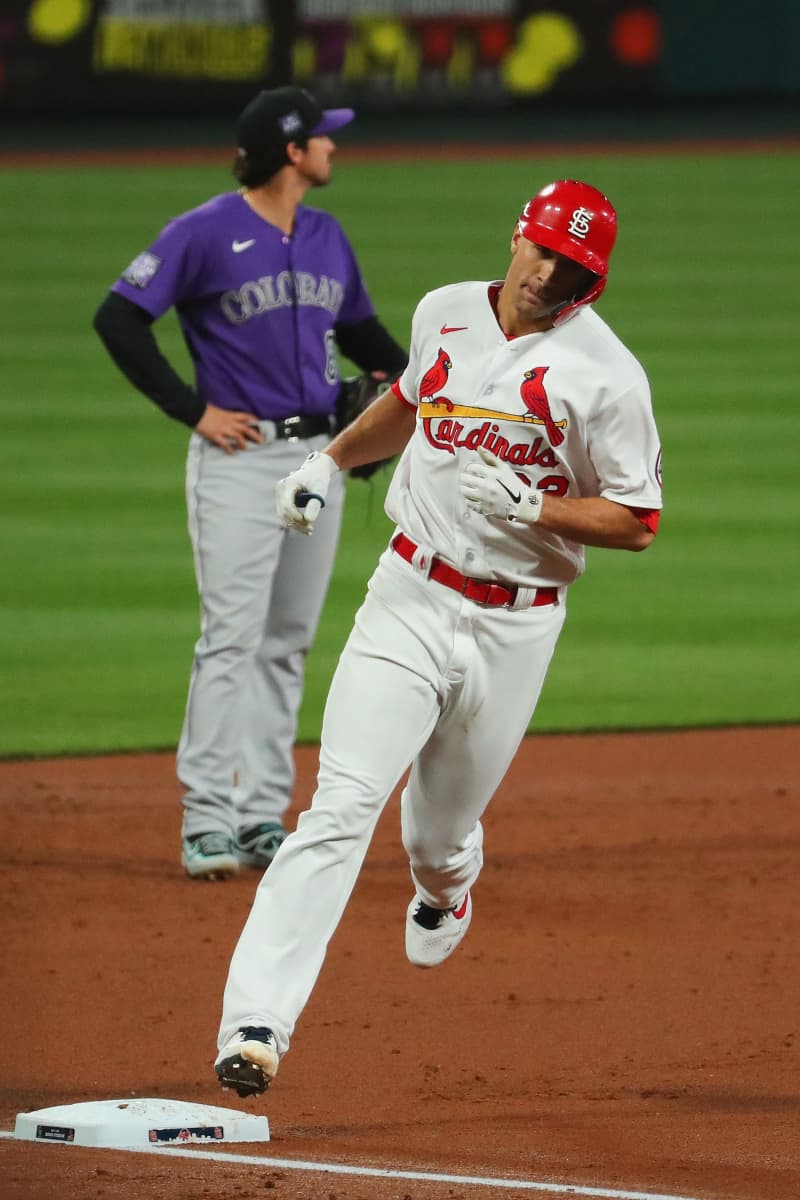 ST. LOUIS — St. Louis Cardinals manager Mike Shildt, considering the matchup of longtime teammates and friends Austin Gomber, now of Colorado, and the Cardinals' Jack Flaherty, was asked before Friday's game which was the better hitter.
Sensing he was being set up, Shildt laughed and responded, "Jack's taken as good at-bats in the National League as I've seen a pitcher take. I'll leave it at that," he said.
When the count on Flaherty ran to 3-1 in the third inning, Flaherty attacked a 92 mph Gomber fastball and ripped a 416-foot drive to left center for the first homer of his career, resulting in his first curtain call as a hitter.
The rest of his game wasn't too bad, either,. Flaherty, whose homer followed a two-run shot off Gomber the inning before by Harrison Bader, polished off his big-league-leading sixth victory in a 5-0 win at Busch Stadium before a season-high crowd of 13,475.
Flaherty, who already had the major-league lead at five wins, allowed all three of the hits he gave up for the game in the first inning. He set down 18 of the final 19 hitters he faced as he went seven innings, walking only Trevor Story in the third.
The Cardinals bumped their lead to two games over sliding Milwaukee in the National League Central Division.
The last of the first-inning hits by the Rockies was a ground single by Garrett Hampson, the ball eluding the diving attempt of former Colorado third baseman Nolan Arenado.
As shortstop Paul DeJong backhanded the play and knocked the ball down, Ryan McMahon was held at third. But Charlie Blackmon went too far around second base and DeJong, after first looking toward third, snapped a throw to second baseman Tommy Edman — who had sneaked behind Blackmon — for the out to end the inning.
Flaherty got more defensive help from left fielder Tyler O'Neill for the final out of the second. O'Neill raced toward the line to make a diving catch off Dom Nunez.
In the Cardinals' second, Gomber was confronted by Arenado, who was the centerpiece of the trade that brought Gomber to Denver. Gomber lost the first head-to-head meeting as Arenado bounced a double over the right-field wall, out of the reach of the sliding Blackmon. Featuring his knuckle curve, Gomber then struck out both DeJong and O'Neill but Bader jumped on one of those breaking balls for a two-run homer that hit above the left-center-field wall. The homer was reviewed by Jim Reynolds' umpiring crew but only briefly.
Bader, who was nine for 25 against with two homers and four runs batted in against lefthanded pitching in 2020, had two homers in his first two at-bats, good for three RBIs, against lefthanders this season.
Gomber had his moments on Friday. He struck out two hitters in each of the first three innings and a total of seven for his five innings. He had told his manager, Bud Black before the game, "I get it, Buddy. This is going to be a little different for me. But I'm fine."
Black said he told Gomber, "Just be yourself. You don't have to try to prove anything to anybody.' He nodded and said, 'I gotcha.' We'll see. We don't know what's going to happen. We don't know what type of game he's going to pitch. We don't know what type of game Flaherty is going to pitch. That's why we play."
Gomber and Flaherty, both drafted in 2014, first played together in 2015 at Class A Peoria. Flaherty was 9-3 but Gomber, a fourth-round pick compared to Round 1 for Flaherty, had an even better mark at 15-3.
But Flaherty had the upper hand in all departments Friday. At bat, Gomber popped up in his first at-bat and fanned on a 3-2 pitch, the eighth pitch of the at-bat, to end the fifth inning as Flaherty's fourth of six strikeouts.
More assistance from Flaherty's defense manifested itself in the Colorado sixth when first baseman Paul Goldschmidt sprawled to his right for McMahon's hard grounder. Flaherty left after having thrown 103 pitches, with his next start to come on Thursday in Milwaukee.
The Cardinals, effectively, had put the game away with two runs in the fifth. Andrew Knizner ended a nothing-for-20 nosedive with a single and Edman and Dylan Carlson also singled. Carlson's hit drove in a run, as did a forceout grounder by Goldschmidt — who actually was robbed of a hit on the play by Colorado third baseman Josh Fuentes, a Missouri Baptist product who is Arenado's first cousin.
Arenado, in turn, took a hit from McMahon on a short-hop smash in the eighth, with Ryan Helsley pitching. And Edman, capping a brilliant night of defense by the Cardinals, dived to snag a hit from Story with Genesis Cabrera pitching in the ninth.
Cabrera allowed the only other Rockies' hit, a leadoff single in the ninth by Raimel Tapia, but struck out the final two hitters of the game.
The Rockies' loss was their seventh in succession at Busch since 2018 and they are 4-23 here since July 4, 2012. They are 2-12 on the road this year against all opponents, having been outscored 84-44, or by nearly three runs a game.
Meanwhile, the Cardinals are 17-5 when they homer at least once and 11-2 when they hit two or more. They have won only two games out of 11 in which they did not homer.