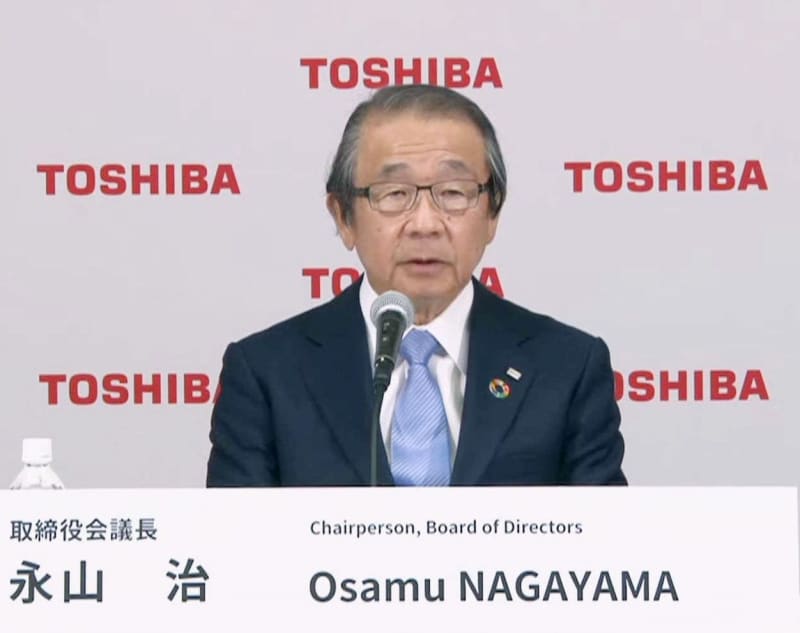 Japanese industrial conglomerate Toshiba Corp.'s attempts to fend off foreign activist investors in cooperation with the government ahead of a general shareholders' meeting last year were problematic in terms of compliance and governance, the head of the board said Monday.
Osamu Nagayama, chairman of Toshiba's board of directors, apologized to people concerned, including shareholders, after a probe by lawyers revealed last week that Toshiba sought government help in blocking proposals by foreign activist investors.
Nagayama said former CEO Nobuaki Kurumatani is responsible for having caused confusion with his "confrontational approach" to investors. The ex-CEO chaired the shareholders' meeting.
"I apologize for causing confusion and worry among all stakeholders," Nagayama said in an online briefing.
"We have to say those people (who were engaged in exchanges with the government) lacked awareness about governance and compliance," Nagayama said, referring to the findings of an independent probe by lawyers.
Ahead of the June 25 shareholders' meeting, Toshiba has been pressed against time to ease tensions with foreign activist shareholders, who have a big say following their investments to help the conglomerate cope with financial struggles.
Launched at the request of foreign shareholders, the independent investigation has found Toshiba sought the industry ministry's help in thwarting proposals by foreign activist investors like Singapore-based Effissimo Capital Management Pte. Ltd. in a general shareholders' meeting in July 2020.
Nagayama, who himself has also come under criticism, said priority should be to "rebuild" Toshiba's board.
His remarks came a day after Toshiba in a rare move changed its list of board director nominees pending shareholder approval.
Dropped from the list are Junji Ota, chairman of Toshiba's audit committee, and member Takashi Yamauchi. The audit committee concluded earlier that there was no problem with the shareholders' meeting last year.
Two senior executives mentioned in the independent panel's report -- Corporate Senior Executive Vice President Masayasu Toyohara and Corporate Senior Vice President Masaharu Kamo -- will retire, Toshiba said Sunday.
The panel said last week Toshiba, in collaboration with the ministry, exerted "undue" influence over the shareholders, concluding the meeting was not managed fairly.