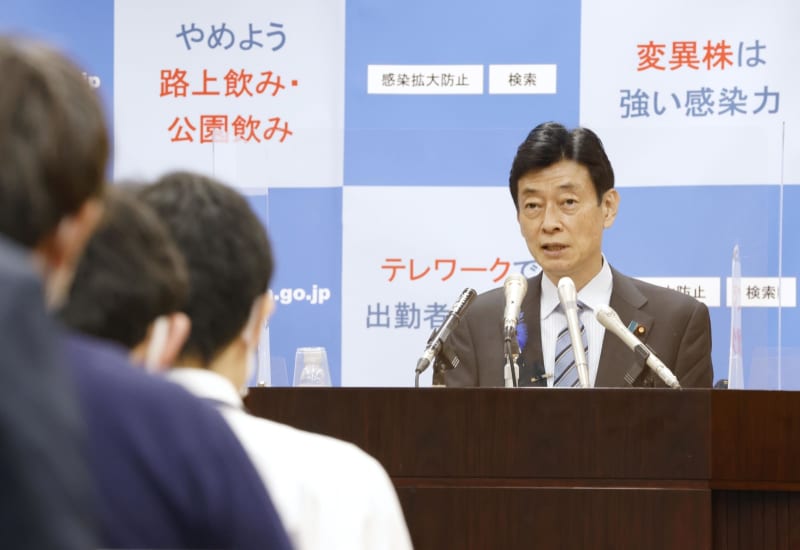 Japan's minister in charge of the coronavirus response apologized Tuesday for suggesting last week the government plans to ask financial institutions to ensure restaurants and bars will follow the ban on serving alcohol as an anti-virus measure, which triggered a backlash.
"What I said caused confusion and given anxiety," Yasutoshi Nishimura told a press conference. "I failed to fully get across the point, so I feel sorry." But he denied having any intention to resign as a minister over the matter.
Opposition lawmakers had criticized the minister's suggestion Thursday that the government could apply pressure on alcohol-serving establishments through their lenders by withholding loans as "nothing but a threat." Nishimura retracted the proposal the following day.
Under the capital's fourth COVID-19 state of emergency from Monday through Aug. 22, food service establishments are prohibited from serving alcohol and are required to close by 8 p.m. The suggestion sparked an outcry among dining establishments affected by anti-virus steps as well as some of the general public.
Nishimura vowed to stay on as minister, saying he will "live up to the responsibility of curbing the spread of the virus and creating an environment in which businesses can be maintained."
On Thursday, he had said the government would share with financial institutions information about their client restaurants and bars that were not following the alcohol ban, and wanted such institutions to request compliance with anti-virus measures.
Nishimura also said Thursday the government would demand alcohol beverage wholesalers stop selling drinks to dining establishments during the state of emergency, also extended in the southern island prefecture of Okinawa through Aug. 22.