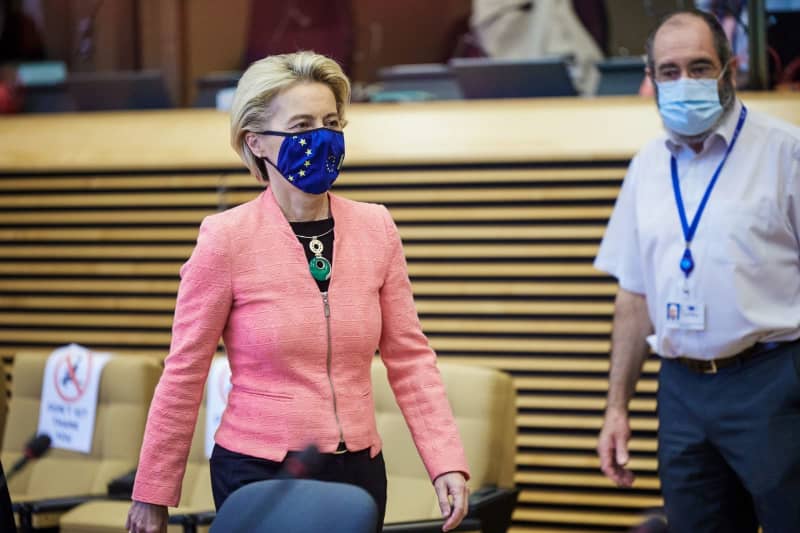 The European Commission has unveiled its masterplan to reduce greenhouse gas emissions 55 per cent by 2030, a key staging post to reaching net zero by the middle of the century in a bid to halt climate change.
In a mammoth legislative package, the commission proposed about a dozen new or revised climate or energy laws, which could usher in a major shake-up for industries from transport to energy and construction.
"Our current fossil fuel economy has reached its limits," commission President Ursula von der Leyen said at a press conference on Wednesday.
The time had to come shift towards more innovation and cleaner energy, and the EU now had a roadmap to make this happen, she said.
The plan is backed by hundreds of billions of euros of shared EU funds, and is part of the bloc's "answer to climate change," the German conservative politician said.
EU leaders agreed to the 55-per-cent reduction - compared to 1990 levels - after late-night negotiations in December last year, tasking the commission with hashing out detailed plans on how to achieve the significant step-up of the previous 40-per-cent reduction target.
First up is an update of the bloc's emission trading system (ETS). Created in 2005, the ETS makes high-polluting sectors like power plants and industry buy permits for the emissions they produce.
The commission said it wants to lower the overall ETS emissions cap and speed up annual reductions, as well as eventually phasing out free pollution allowances for aviation and incorporating shipping into the scheme.
A parallel scheme for road transport and buildings is also to be set up.
A second key element is the introduction of a carbon border adjustment mechanism. This would impose a levy on high-polluting products like fertilizers, steel, aluminium and cement imported from outside the bloc.
According to an EU official, this could be imposed from 2026. The proposal may prove controversial with key EU trading partners that could see the cost of doing business with the single market rise.
There is also a proposed requirement that all new cars and vans need to be emissions-free by 2035, phasing out the sale of diesel or petrol cars by that point.
However, that plan has a review clause, with progress to be analyzed every two years, EU sources said, asking to remain unnamed. A report assessing manufacturers' readiness to meet the objective is due in 2028. The 2035 deadline could theoretically be pushed back.
Also on the cards in the commission's proposal is a major increase of the current 2030 renewable energy production target up to 40 per cent of all EU needs.
Many of the EU executive's proposals need to be approved by the EU countries - which with their different energy mixes and pet industries are likely to haggle over every detail in the proposals.
But not only governments are keeping a close eye on the suggestions: The past weeks have seen a flurry of lobbying and campaigning from environmentalists and industry alike.
The European Environmental Bureau said Wednesday's proposal's was "unfit and unfair."
They slammed it as a missed historic opportunity that left the door open for "coal, gas and oil to stay in the EU energy system for at least another two decades" while passing on the bill to EU citizens.