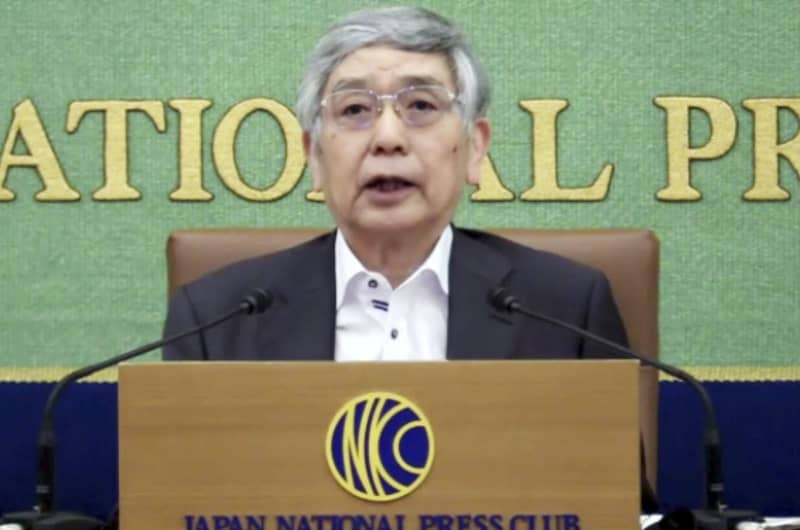 Bank of Japan Governor Haruhiko Kuroda said Tuesday the central bank does not intend to prioritize green bond purchases as part of monetary easing, while some European central banks are considering doing so as they commit themselves to combating climate change.
Kuroda said the BOJ's new scheme to provide funds to financial institutions for their loans and investments aimed at tackling climate change is "the most effective" for the Japanese economy and financial system.
"We are already buying corporate bonds as part of monetary easing so it's natural that we can and will buy green bonds if they appear," Kuroda said in response to a question during an online event. "But the Bank of Japan will not prioritize buying green bonds."
The BOJ said in mid-July that it will offer zero-interest funds to private-sector financial institutions for their loans and investments in green-related products. The loans can be rolled over a number of times under the scheme to be launched later this year and run until March 2031.
As part of bold monetary easing implemented under Kuroda, the BOJ buys a range of assets including Japanese government bonds, corporate bonds and exchange-traded funds.
With carbon neutrality gaining attention among policymakers, the Bank of England and the European Central Bank are taking greater account of climate change in their policies, while the U.S. Federal Reserve is seen as having reservations.
The BOJ has been treading carefully so as not to overstep its mandate by throwing support behind efforts in the private sector to tackle the global challenge.
Kuroda said it is better to take a "learning by doing" approach rather than waiting in helping the green push in the private sector because climate change would have a "far-reaching" impact.
"Central banks are considering how their monetary policy can help address climate change, which relates to their mandate and responsibility of ensuring price stability as well as financial system stability," Kuroda told the online event hosted by the Japan National Press Club.
"For the Bank of Japan to take necessary steps within its mandate will contribute to macroeconomic stability in the long run," Kuroda said.