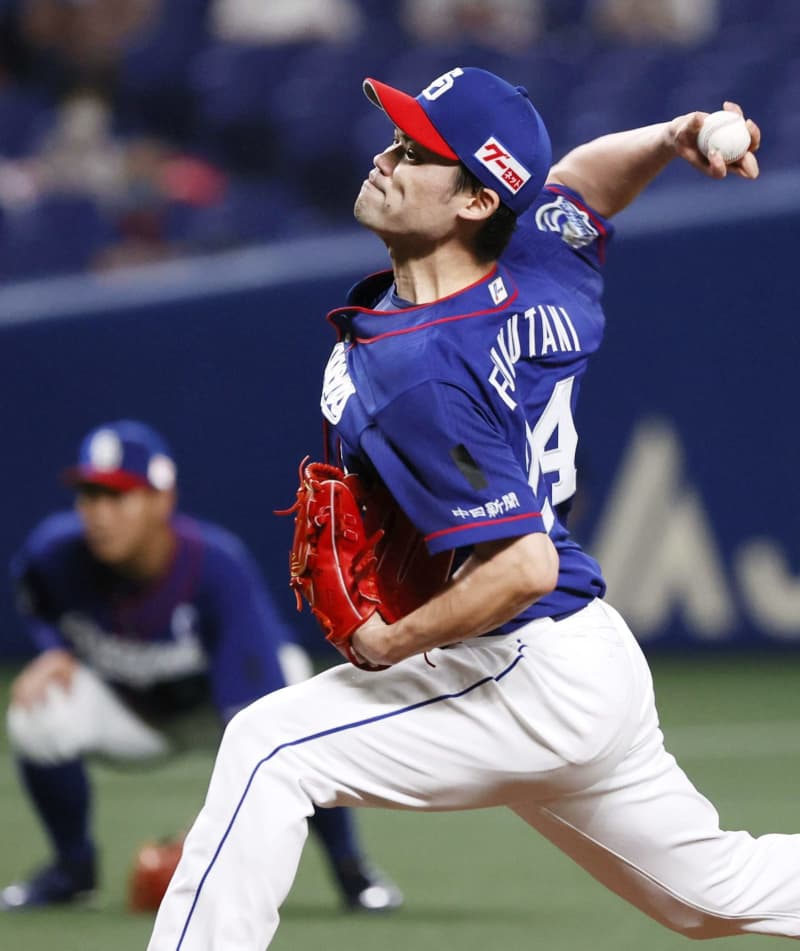 Koji Fukutani hurled seven innings of four-hit ball to outpitch Tokyo Olympic winner Masato Morishita as the Chunichi Dragons beat the Hiroshima Carp 3-0 Tuesday in the Central League to snap their six-game losing skid.
Fukutani (5-9) scattered four hits, walked none, had a hit batsman and struck out five at Vantelin Dome Nagoya, coming out on top of Morishita who was pitching for the first time since earning the win over the United States in the Aug. 7 Olympic final.
Hiroshima's Takayoshi Noma had a leadoff single in the first inning when the visitors had two runners on bases, and also opened the third with a double, but Fukutani stood firm en route to a fine 92-pitch outing.
Morishita (6-5) issued a walk with two outs in the third before Yota Kyoda stole second, and Masaru Watanabe, the batting hero on the night for the home team with two RBIs, singled to left to drive in the opening run.
A pinch-hit RBI single from Ariel Martinez provided the Dragons' second run in the seventh after Shota Ono opened the frame with a single.
Morishita was chased after the inning yielding two runs, both earned, on six hits and two walks, fanning four in a 106-pitch effort.
Chunichi reliever Katsuki Matayoshi allowed a hit but worked a scoreless eighth before Watanabe opened the home half by slugging a solo home run, his first as a pro, over the right-field wall off Hiroshima reliever Makoto Kamna.
Closer Raidel Martinez had a nervy ninth giving up a hit and walk but held on to his 10th save as Hiroshima lost its third straight.
At Tokyo Dome, rookie Teruaki Sato had two solo homers to take his season's tally to 22 as the CL-leading Hanshin Tigers beat the DeNA BayStars 6-2.
At Zozo Marine Stadium, Kona Takahashi held the Lotte Marines to two runs over seven innings and Tomoya Mori went 5-for-5 as the Seibu Lions won 8-2 in the Pacific League.