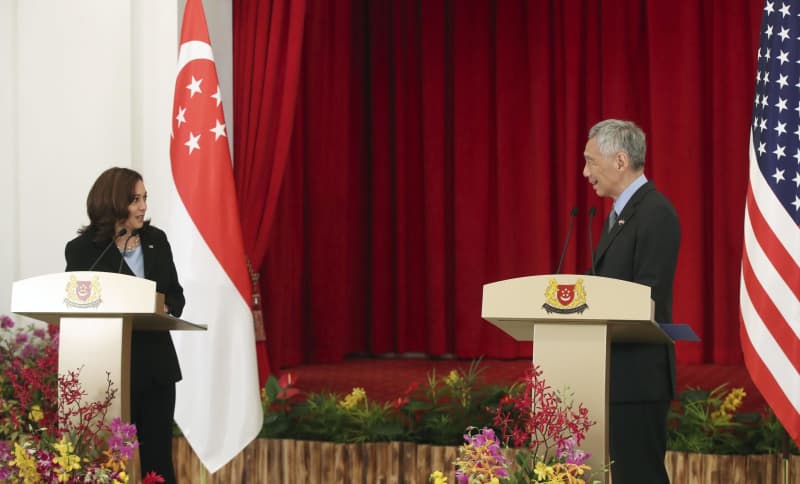 U.S. Vice President Kamala Harris on Monday reaffirmed the commitment of the United States to the Indo-Pacific region in talks with Singaporean Prime Minister Lee Hsien Loong on the second day of her Asia trip.
"Today we are in Singapore to stress and reaffirm our enduring relationship to this country and this region and to reinforce a shared vision of a free and open Indo-Pacific region," Harris said in a joint press conference with Lee after their meeting.
The vice president, who arrived in Singapore on Sunday as part of her first official trip to Southeast Asia, said she and Lee also discussed the withdrawal of U.S. troops from Afghanistan and the evacuation efforts taking place in Kabul, which have been fraught with problems.
"There's no question there will be and should be a robust analysis of what has happened," Harris said in a response to reporters' questions.
"But right now we are singularly focused on evacuating American citizens, Afghans who worked with us and Afghans who are vulnerable including women and children," she said.
Lee said at the press conference that he had offered the use of the Singapore air force's Airbus A330 multirole tanker and transporter aircraft to assist the U.S. evacuation efforts.
"We hope Afghanistan does not become an epicenter for terrorism again," he said.
Harris said she also reaffirmed "the United States' commitment to working with our allies and partners around the Indo-Pacific to uphold the rules-based international order, and freedom of navigation, including in the South China Sea" during the meeting.
They also discussed the political crisis in Myanmar and the international community's role in helping its people regain democracy.
The two leaders said their talks also encompassed bilateral cooperation for tackling the coronavirus pandemic and climate change, ensuring cyber security and strengthening supply chains.
Harris will deliver a policy speech on Tuesday and is also scheduled to meet business leaders in Singapore to discuss shoring up supply chains in the two countries before leaving for her next stop, Vietnam.