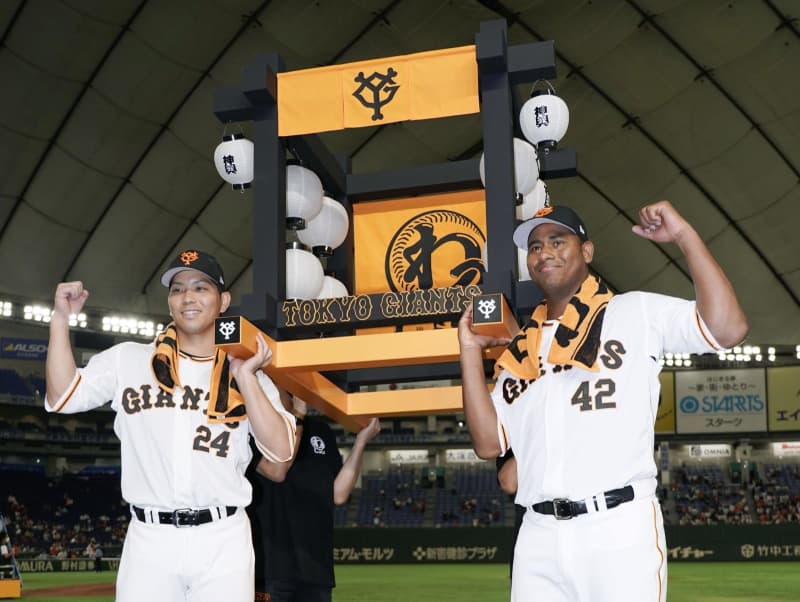 Cristopher Mercedes allowed a run over seven innings, and catcher Takumi Oshiro homered twice to power the Yomiuri Giants to a 3-1 Central League victory over the Hiroshima Carp on Tuesday.
The win kept the Giants two games back of the league-leading Hanshin Tigers and a half-game ahead of the third-place Yakult Swallows, all winners on Tuesday.
Mercedes, who pitched well for the Dominican Republic against Japan in the Olympics, allowed three hits and three walks while striking out seven to improve to 7-1 this season.
With the game tied 1-1 in the bottom of the fourth at Tokyo Dome, Oshiro hit his 10th home run of the season to put the Giants ahead against Japan Olympian Masato Morishita (6-6).
Oshiro drove in a seventh-inning insurance run with his second homer.
"C.C. (Mercedes) did such a great job on the mound, so I was extremely happy to be able to get him some runs," Oshiro said. "It had been a long time since I'd hit a home run, and it (the first one) felt really good coming off the bat."
Morishita struck out eight batters without issuing a walk. He allowed six hits, but three were home runs, with Olympic teammate Hayato Sakamoto taking him deep in the third inning for his 13th home run.
"Morishita is such a good pitcher," Mercedes said. "Tonight was a great game. He was unfortunate to lose, but I'm happy the Giants won."
Rubby De La Rosa worked a scoreless eighth before flame-throwing Brazilian Thyago Vieira overcame a pair of no-out walks to pitch a scoreless ninth and record his 13th save.
At Shizuoka's Kusanagi Sports Complex, pinch-hitter Shingo Kawabata's eighth-inning single drove in the tie-breaking run from second as the Swallows beat the Chunichi Dragons 2-1. The fourth-place Dragons fell 12 games back of the Swallows and the CL's final playoff spot.
At Kyocera Dome Osaka, Koji Chikamoto homered, and he and Takumu Nakano each scored twice in the Tigers' 8-2 win over the DeNA BayStars.
At MetLife Dome, the defending Pacific League champion SoftBank Hawks blew a two-run ninth-inning lead but walked away with a 4-4 tie against the Seibu Lions, who lost their chance to win when the game's final out was recorded at the plate.
At Sapporo Dome, Shogo Nakamura's two-out RBI single capped a three-run ninth-inning as the Lotte Marines came from behind and finished in a 3-3 tie with the Nippon Ham Fighters.