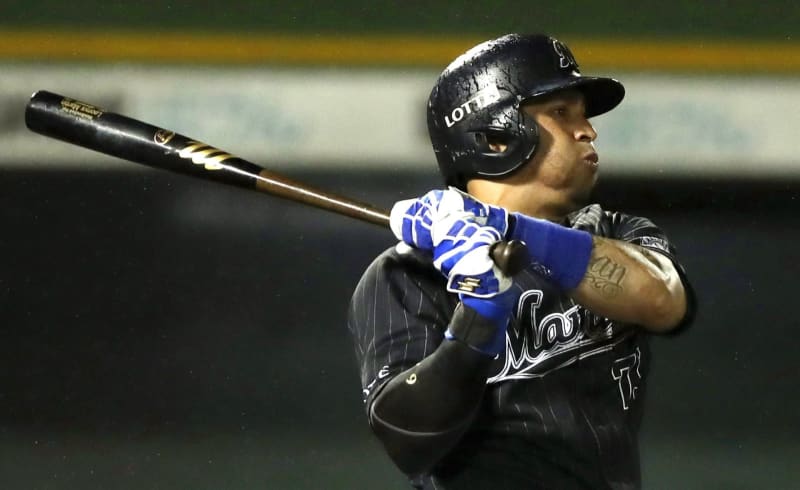 Leonys Martin snapped an eighth-inning tie with a three-run home run, pushing the Lotte Marines past the Orix Buffaloes 4-1 and propelling them into first place in the Pacific League on Wednesday.
The game marked the third time the PL lead has changed hands between the teams since Sunday. The teams have one more game left in their series at Hotto Motto Field Kobe, on Thursday.
Orix rookie right-hander Soichiro Yamazaki took a 1-0 lead into the sixth, when he surrendered a leadoff single and a one-out RBI double by Martin.
Ryo Yoshida (1-1), Orix's fourth pitcher, let the game slip away in the eighth. After a one-out dropped fly in the rain, Yoshida issued a walk, and Martin pulled into a tie for the league home run lead with his 25th and put Lotte ahead for good.
Marines starter Kota Futaki (5-5) worked seven innings and did not allow a hit until the fourth inning, when Orix rookie Ryoto Kita blasted his second career home run.
Naoya Masuda, the Marines' third pitcher, worked the ninth to record his league-leading 31st save. He became the 17th pitcher with 150 career saves in Japan.
At Sapporo Dome, Ryota Takinaka (6-4) struck out six over six innings while Daichi Suzuki backed him with a home run, two doubles and four RBIs as the third-place Rakuten Eagles beat the Nippon Ham Fighters 8-0 to move within 2-1/2 games of the league lead.
At MetLife Dome, Ryoya Kurihara homered and drove in four runs to back ace Kodai Senga (5-1), who struck out six over seven sharp innings, as the fourth-place SoftBank Hawks beat the Seibu Lions 9-0 to stay 1-1/2 games back of Rakuten.
At Koshien Stadium, Mel Rojas Jr. and Yusuke Oyama each hit a two-run home run to bring the Central League-leading Hanshin Tigers from behind in a 5-3 win over the third-place Yakult Swallows, who fell 3-1/2 games back.
At Yokohama Stadium, Shinichi Onuki (6-5) allowed a run over six innings in the DeNA BayStars' 4-1 win over the second-place Yomiuri Giants, who fell 2-1/2 games back of the Tigers.
At Mazda Stadium, lefty Takahiro Matsuba (3-3) held the Hiroshima Carp to one run over six innings in the Chunichi Dragons' 4-1 win. Hiroshima's Seiya Suzuki homered for the fifth straight game with his 25th of the season.