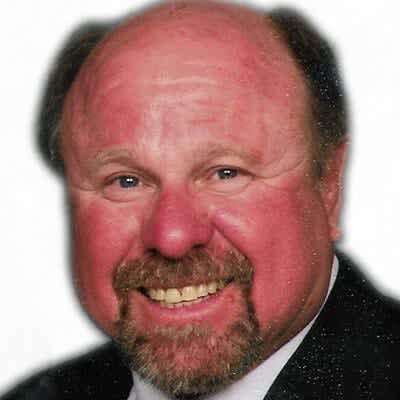 Cornerback for the Nebraska Cornhuskers from 1970 to 1972
Joe Blahak was a starting defensive back from 1970 through 1972. Sadly, Joe passed away on April 25th, 2016, from an apparent heart attack. His Nebraska teams finished 33-2-2. He was inducted into the Nebraska Football Hall of Fame in 1990, the Columbus, NE Shamrock Hall of Fame in 1999 and the Nebraska High School Sports Hall of Fame in 2011. He earned All-Big Eight honors twice and second team All-American as a senior. Besides making the last block in Johnny Rodgers famous punt return he also forced a fumble and recovered another one in that game.
He was drafted by the Houston Oilers in the 8th round and his NFL career spanned five years from 1973 through 1977 with Houston, Minnesota, Tampa Bay, and New England.
After Joe passed away, Randy York wrote this for Huskers.com.
"Joe was fun. He was funny. He was affable and he was gregarious," said Red Beran, a Husker teammate who communicates regularly with Husker football letter winners. "Joe's nickname was Airhead, and that wasn't a putdown. He liked living up to it," Beran said. "You never knew what he was going to say next. He was a great athlete, a great teammate and very serious every time he took the field, even though he did add a lot of levity to almost every situation. He liked being goofy in a good sort of way."
In 2004 I hosted a dinner at Misty's in Lincoln where we had players from the 70-71 National Championship teams in attendance. Jerry Murtaugh showed up late and had a bunch of baseball caps with the logo G.O.A.L. that he passed out which stood for the Greater Omaha Athletic League, a non profit that he was running at the time to help high school kids get in shape and lose weight. Joe picked up the cap and said "What does this stand for? Good Old A**hole Linebacker. That's when this picture of my Mom, Margaret Max, and I was taken. I have it hanging on my wall in my Husker room along with Mom in a "team picture" to remind me of those memories.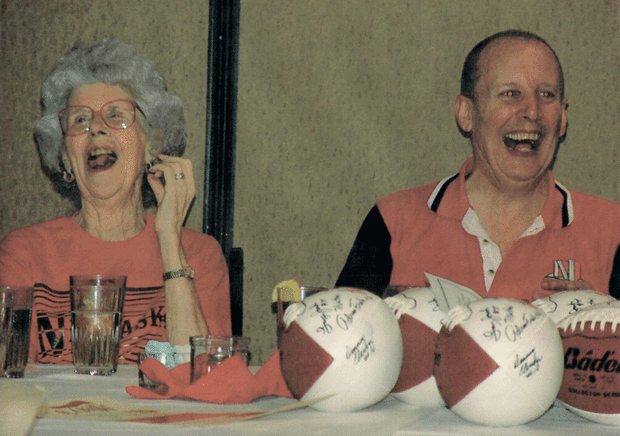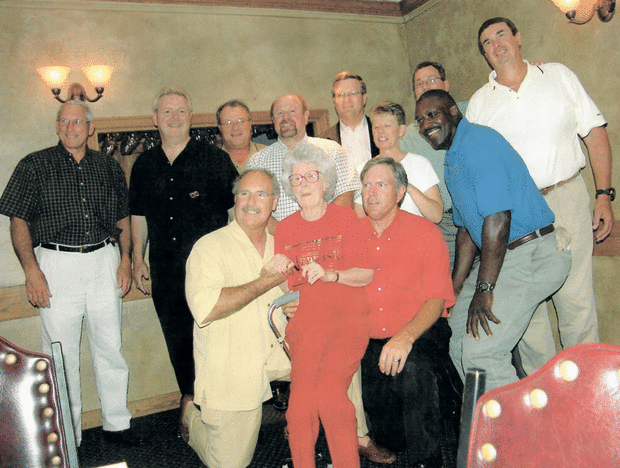 This interview with Joe was done by David Max on June 15th, 2004.
DM Where are you from originally?
JB I'm from Columbus,NE.
DM What was it like being a Nebraska native and being recruited to Nebraska?
JB Obviously I wanted to go. I had received letters from Notre Dame and a lot of the other Big 8 schools. There was no doubt where I was going. I came from a Catholic high school and Notre Dame thought that they had an advantage.
DM Who recruited you to Nebraska?
JB Cletus Fischer was my primary recruiter. Cletus coached at St. Bonaventure which became Scotus and he coached my older brother in high school.
DM So you knew who he was then?
JB Oh, yes. Very well. He was like family.
DM Who were the schools other than Nebraska that recruited you the most?
JB Coach Parseghian from Notre Dame called and I told him that he was offering the scholarship to the wrong person. There was a long silence on the other end of the phone and then he said "What do you mean?" I said "Well, my girl friend is going to Nebraska." We ended up playing them in the Orange Bowl my senior year and he brought that up. He said he had never thought of that before.
DM Did you make any other recruiting trips?
JB No. My decision was made. I was never going any place but Nebraska.
DM Who was your position coach at Nebraska and what was he like?
JB Warren Powers. Absolutely a great, great coach. Warren played for the Raiders and I had the benefit of that professional experience. He was an excellent coach and taught me quite a bit. He really worked a lot on footwork and technique. I had a lot of speed and he helped a lot from the coaching stand point.
DM Is there a particular regular season game that sticks out in your memory?
JB I had five interceptions in one game against Kansas State my sophomore year against Lynn Dickey who later became one of my teammates. I played with him down at the Houston Oilers. As a team we had seven interceptions that day.
DM So Lynn didn't have a good day!
JB (Laughs) No, he didn't. We had a good pass rush.
DM Do you have any "in the huddle" stories?
JB We always had leadership in the huddle. My sophomore year it was Jerry Murtaugh. Jerry controlled the huddle. You knew not to make mistakes. The second year Bob Terrio took over the leadership role. My senior year it was Billy Janssen.
DM Do you have a favorite Bob Devaney story?
JB (Laughs) Yeah, I do. My sophomore year we were playing LSU in the Orange Bowl and we had them down I think third and 33. Back then Nebraska played a lot of zone defense and I had deep third and being real aggressive I'd always jump all over a curl pattern. The outside receiver Andy Hamilton curled in and here I come thinking I had an interception and was going to run it back for a touchdown and Bert Jones pumps once and just lofts one over my head and the other receiver went out and caught it. Billy Kusch caught him 35 yards down field so they got the first down. We went on to stop them and came to the sidelines. On the sidelines the offense was always to the right and the defense to the left. I came off the sideline where we stopped them at and had to go through the offensive side so I ran parallel to the field and ran off the field when I got to the defensive end of the field. The first person that came up to me was Jerry Murtaugh and he explained it to me that he didn't want me to do that anymore. I'm standing there and kind of feeling bad and the other guys are making their comments and do you know how sometimes you notice motion out of the side of your eye? It was just like the parting of the Red Sea. Here came Coach Devaney and he was wearing red pants, a red sports coat and a red hat and he comes walking up to me. He grabs my face mask and pulls me down to his face and proceeds to tell me what for. I won't repeat it verbatim but he told me that if I ever did that again I would never touch the football field at the University of Nebraska ever again. He pushes me back and turns around and leaves. Coach Melton was standing a few feet away and he turns around and says "He was serious about that!" It never happened again.
DM Do you have a favorite Tom Osborne story?
JB He took over the year after I graduated. I probably could of never played for Tom. I got out of practice and enjoyed the rest of it and it used to frustrate Tom because I would always act kind of goofy. One day in practice he decided he was going to run a pattern against me. I said "Bring it on!" He does like a three yard out. I said "I expected more of you." He said "Well, I completed the pass didn't I?"
DM What was your best Bowl Game memory?
JB I would probably say Alabama. We were undefeated going into the Orange Bowl my junior year and had just beaten Oklahoma when they were number 2 and now Alabama was number 2. They had Johnny Musso who was a big running back and John Hannah was a big lineman who later was a teammate of mine with the Patriots. They were just so cocky before the game. They had beaten us before and they were going to beat us again. We really just kind of took it to them. That was the most rewarding one.
DM You are a first generation Husker. What was it like having your son Chad play for the Huskers?
JB It was my son and Bill Kusch's son and Jerry List's son that were on the same team. It was fun. He was doing it because he wanted to do it. It was neat going to the games and see him suit up with the great experiences that I had and he was getting to have those too.
DM Do you still stay in touch with teammates that you played with?
JB We do a lot of charity work here in the state and I get to see a lot of people at these events. We have get-togethers around the games in the fall.
DM What was it like transitioning from Nebraska to playing in the pros?
JB It was a pretty big transition. The quality of play goes up every time you step up from Pop Warner to high school and then to college and the pros. You go against guys that are better and better all the time. You see guys that are so big and yet so quick. Their physical abilities are so phenomenal. It was tough for me because I was a shorter player and they are always looking for the 6'2" or 6'3" corner. It was me getting to play against and with guys that I grew up admiring and idolizing. Probably the greatest experience was when I went to the Vikings. The first person to greet me was Mick Tingelhoff, a former Nebraska guy. Meeting Bill Brown, Dave Osborne, Fran Tarkenton, the Purple People Eaters which I became a part of and it was really neat. It was quite an experience.
DM How many years did you play in the pros?
JB Five years. Long enough to get into the retirement program. I was drafted by Houston. Then I played two years with the Vikings. I was picked up by Tampa Bay in the expansion draft and played part of the year there and finished up with the Patriots. At that point in time my contract ended and I went back to the Vikings for my final year.
The last time I saw Joe was at a Husker Salute to the Troops event the year before he passed away. He continued to support Nebraska his entire life. RIP Joe. Enjoy the game from your skybox in the sky.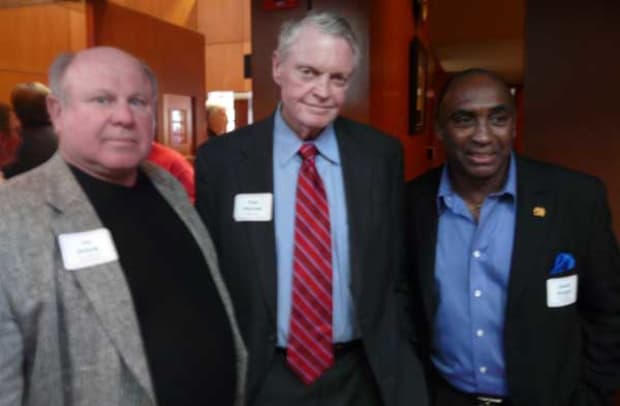 View the 6 images of this gallery on the original article
Related