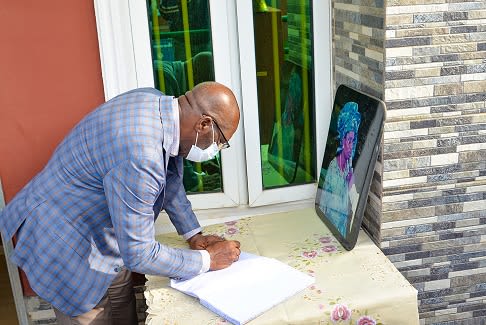 The Edo State Governor, Mr. Godwin Obaseki, has reminisced on the life and times of late Madam Ayo Edna Awo-Osagie, mother of his former Special Adviser on Political Matters, Chief Osaro Idah, hailing her support for his administration.
The governor paid glowing tributes to late Madam Awo-Osagie, during a condolence visit to the residence of Chief Idah in Benin City.
Obaseki was accompanied on the visit by the Secretary to Edo State Government, Osarodion Ogie Esq.; his Chief of Staff, Hon. Osagbovo Iyoha and other government officials.
He said late Madam Awo-Osagie played a strategic role in his re-election, which she took as her personal project.
According to him, "I am here with members of my administration to pay the family a condolence visit on the passing of your beloved mother. Your late mother was also my mother; she took our election as her project."
"She was there for us with her prayers; she gave us her support and brought her network to bear to see to our victory. She had a lot of positive and encouraging words for us. I know how happy and pleased she was over our victory. For me personally, I lost somebody who cared for me," the governor said.
He noted, "We were very close; your loss is also our loss. I just want to let you know that in all of the pain, mama lived a good, long, productive and influential life. She touched lives and affected our communities; she was very active in bringing peace and promoting the progress of our society.
"We are a family and want to be involved and participate in every funeral arrangement. On behalf of the Edo State Government, please accept our sincere condolences."
In his remarks, Chief Osaro Idah expressed appreciation to the governor, noting, "I want to appreciate you, not just for this condolence visit, but also the role you have played in keeping mama alive till this day. I can recall anytime both of you met, she was fond of you.
I think that is one of the things that kept her till this day."