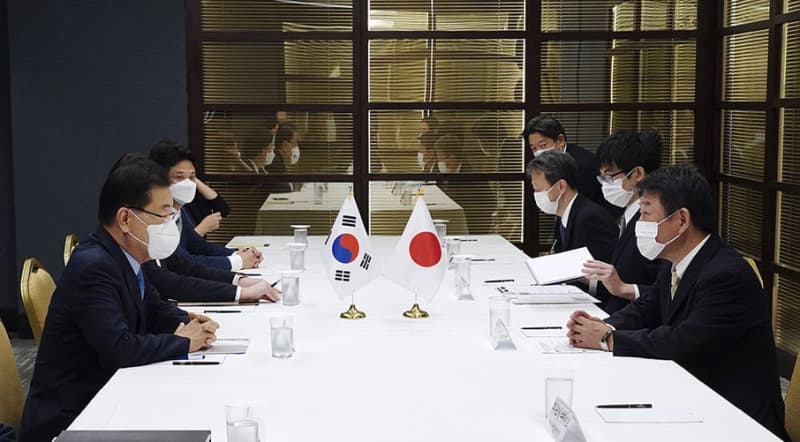 Japanese Foreign Minister Toshimitsu Motegi and his South Korean counterpart Chung Eui Yong held talks Thursday in New York to discuss a host of bilateral issues including wartime compensation.
During the meeting held on the fringes of the U.N. General Assembly sessions, Motegi and Chung took up issues such as compensation for forced labor during Japan's 1910-1945 colonial rule of the Korean Peninsula and "comfort women" in Japan's wartime military brothels, according to South Korea's foreign ministry.
Chung also called on Japan to lift strict export control measures which Seoul sees as retaliation from Tokyo for South Korean court rulings ordering Japanese firms to provide compensation for wartime labor.
Motegi is believed to have repeated Tokyo's positions on the issues.
The meeting comes a day after they joined a trilateral gathering involving U.S. Secretary of State Antony Blinken.
Relations between Tokyo and Seoul, which have been strained for years due mainly to a feud over wartime compensation, deteriorated in particular after the launch of South Korean President Moon Jae In's government in 2017 as he questioned the legitimacy of a 2015 diplomatic accord between Japan and South Korea and reversed the policies of his predecessor.
In a deal reached in December 2015, the two countries agreed to "finally and irreversibly" resolve the comfort women issue between then Japanese Prime Minister Shinzo Abe and South Korean President Park Geun Hye.