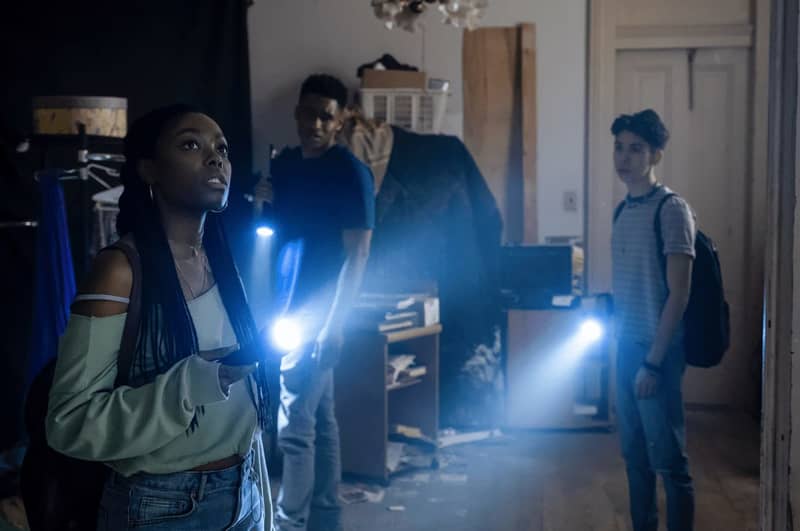 Jason Blum is at the top of the horror hierarchy, but he doesn't want to put the same scares — or filmmakers — in front of audiences time after time.
The second installment of Amazon Prime's "Welcome to the Blumhouse" anthology of fright films, which hit the streamer Friday, is the mega-producer's answer to that.
"There are a lot of scripts that we see on the movie side of the company that are movies that should get made. They aren't necessarily right for Universal but they should be made, and this would give me a way to make them," the Blumhouse Productions CEO and founder, 52, told the Daily News of collection's origins, which he credits to Amazon Studios Chief Jen Salke.
Blum — a three-time Academy Award nominee for producing Best Picture noms "Whiplash," "Get Out" and "BlacKkKlansman" — and Salke quickly decided they would "choose all the filmmakers from underrepresented groups of people."
"Welcome to the Blumhouse" debuted in 2020 with four films, including "The Killing" creator Veena Sud's "The Lie," starring Joey King, and "Black Box," starring Phylicia Rashad.
This year's lineup boasts Friday's premieres: Gigi Saul Guerrero's "Bingo Hell," about a senior citizen trying to protect her community from the deadly force that's overtaken the local bingo hall, and Maritte Lee Go's "Black as Night," about a group of teens battling vampires in post-Katrina New Orleans.
Next Friday will usher in Ryan Zaragoza's "Madres," about a Mexican American couple who, in the 1970s, move to a California migrant farming community where they contend with bizarre symptoms and unsettling visions while awaiting the birth of their first child, and Axelle Carolyn's "The Manor," starring Barbara Hershey as a woman who believes a supernatural force is killing her fellow nursing home residents.
Sending these movies straight to streaming, the "Paranormal Activity" producer explained, enables filmmakers to be "more free creatively" than they would be with a theatrical release, which forces them to "work within pretty narrow parameters."
"It's really hard to play with tone. It's very hardto sell a horror comedy theatrically, but on streaming, they work great. So like Gigi's movie, 'Bingo Hell,' like that tone is so broad and crazy," said Blum. "It's very, very hard to sell that in a 15- or 30-second spot and get and get, you know, 2 million people to show up. But on streaming, you can do it. And these movies can be discovered over time."
As for "The Manor," the script came to Blumhouse amid the pandemic, which helped fuel the production company's decision to make it.
"We were in the middle of COVID. ... It really did speak to isolation and being trapped in a way where no one can hear you," said Blum who finds the idea scariest in the way "[Barbara Hershey's character is] very clear that she should not be at this place and she should get out and no one will listen to her."
And who in Hollywood today is a better judge of what makes something scary?
For Blum, "The key to a good horror story is obviously [that] it's got to be super scary, intense and thrilling" and, ideally, "It has to feel original.
"A lot of horror movies that you see just really feel like they've been done before. And I don't want to pretend, you know, we've made some of those too," admitted the "Halloween Kills" producer. "I wish we hadn't, you know, you can't get it right all the time. But our goal is to make scary movies to feel different and original and like no one's ever seen before and I certainly think these four movies fit that goal."
———