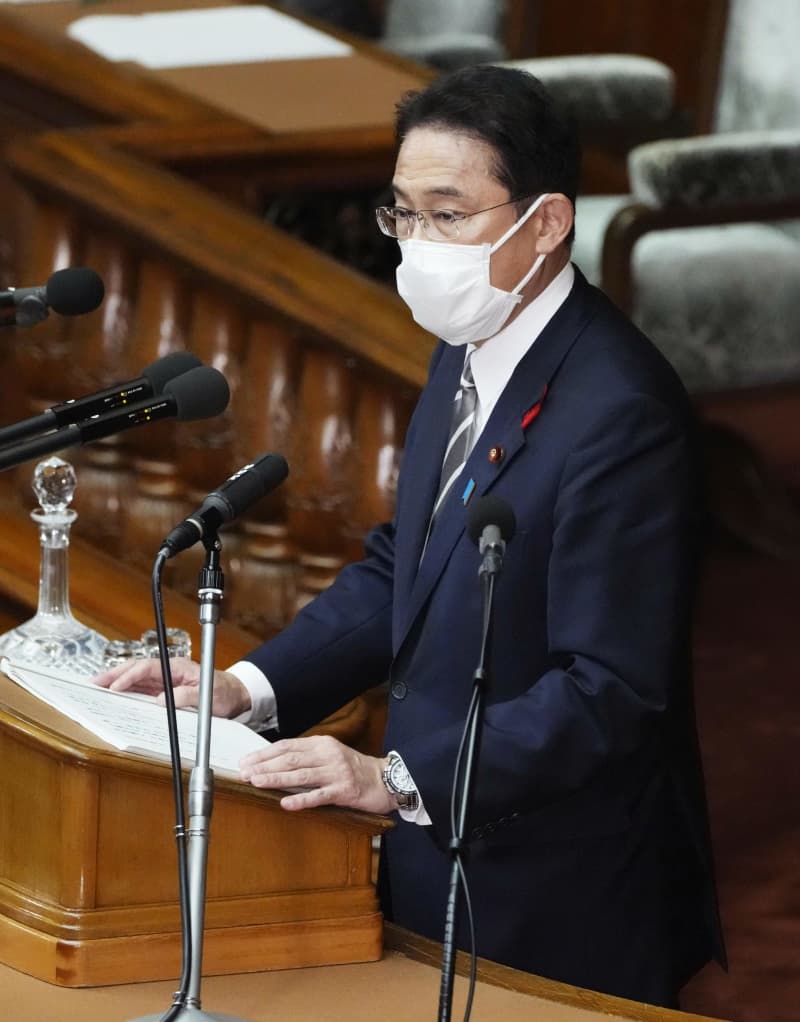 Japan's new Prime Minister Fumio Kishida on Friday vowed to implement a "new capitalism" to put the world's third-largest economy on a growth track and redistribute the fruits of that success to build up a stronger middle class in his first policy speech since taking office.
Addressing the lower house of parliament, he also promised to bolster the government's response to COVID-19 while laying out plans for a sweeping review of security strategy to promote a free and open Indo-Pacific in the face of an increasingly assertive China.
"Only when we properly distribute the fruits of growth will we be able to realize more growth," Kishida said, arguing that neoliberal policies had created a "deep rift between the haves and the have-nots."
As part of his strategy to spark economic growth, the prime minister said his government will invest in cutting-edge fields such as artificial intelligence and seek legislation to prevent the leakage of technology to overseas competitors.
Signaling a continuation of "Abenomics," pursued by former prime ministers Shinzo Abe and Yoshihide Suga, Kishida vowed to ward off deflation through drastic monetary easing and fiscal spending.
But his comments on redistribution appeared aimed at addressing criticisms that Abe's signature policy mix had boosted corporate earnings and stock prices but failed to trickle down to the middle class.
Kishida, who took office Monday after being named leader of the ruling Liberal Democratic Party, promised to implement tax incentives for companies that raise wages.
On COVID-19, he warned against becoming complacent following the lifting of the state of emergency and vaccination progress, pledging to ready booster shots and medical treatments as well as legislation to make it easier for the government to impose restrictions on movement and secure medical resources when future waves of infections happen.
"The key to crisis management is to be always prepared for the worst-case scenario," Kishida said, adding that cash handouts will become available for businesses hit hard by the pandemic, as well as people in need such as those without regular employment or who are raising children.
Throughout the speech, he emphasized the importance of communication and building trust, whether with the public or with other countries, seemingly an acknowledgement of the poor articulation of policy that eventually forced his predecessor Suga to resign after just over a year in office.
Quoting an African proverb -- "If you want to go fast, go alone. If you want to go far, go together" -- Kishida made the case for building "a kind and warm society based on human connection."
Turning to foreign policy, he vowed to work with partners including fellow members of the so-called Quad -- Australia, India and the United States -- to realize a free and open Indo-Pacific region, an undertaking that comes amid China's growing economic influence and military buildup.
Maintaining stable Japan-China relations is important for the region and the international community as a whole, but Japan will cooperate with like-minded countries to "say what needs to be said," the prime minister said.
In order to counter threats including North Korea's recent resumption of ballistic missile tests, he said the government will revise its National Security Strategy, drawn up in 2013 under Abe, as well as the National Defense Program Guidelines and the Medium Term Defense Program.
Kishida also reiterated he is willing to meet with North Korean leader Kim Jong Un "without preconditions" to resolve the issue of the country's abduction of Japanese nationals in the 1970s and 1980s.
On Russia, the prime minister said there can be no signing of a postwar peace treaty without first resolving a decades-long territorial dispute, and that he wants to build a relationship with President Vladimir Putin to push negotiations forward.
Kishida, who hails from a political family in Hiroshima, said that as the only country to be hit by an atomic bomb in war, Japan will serve as a bridge between nuclear weapons states and non-nuclear weapons states to work toward "a world without nuclear arms."
On constitutional revision, he said he expects constructive debate in parliament and more public discussion on a way forward.
The LDP has proposed a set of four amendments including the addition of a reference to the Self-Defense Forces in the war-renouncing Article 9 in order to legitimize their existence and giving the Cabinet the ability to wield emergency powers during national crises.