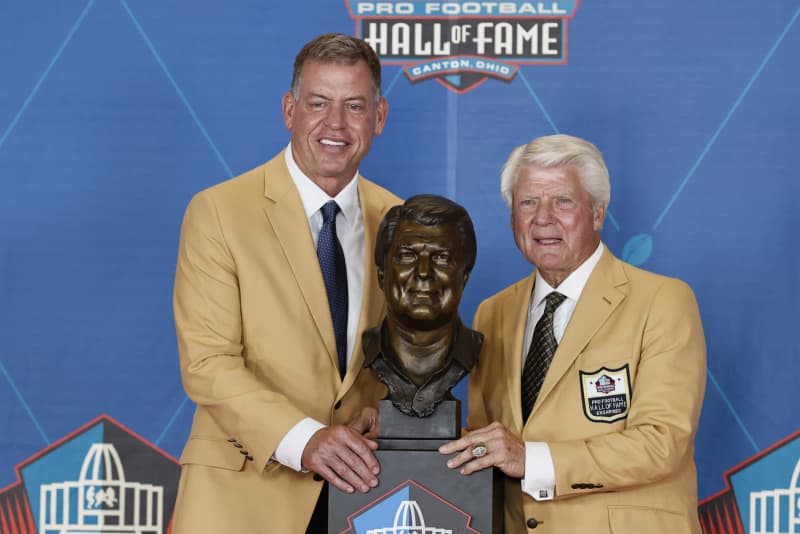 NEW YORK — Cowboys Hall of Famer Troy Aikman said on the radio this week that the Giants are "not in Dallas' class."
On Friday, a coy Joe Judge wouldn't say if he had used the Fox analyst's quote as bulletin board material for Sunday's Giants (1-3) visit to the Cowboys (3-1) in Arlington, Tex.
But sources told the New York Daily News all of the players heard or saw it.
"We don't even have a bulletin board in there to be honest with ya," Judge said with a smirk. "It's screens and magnets. We're in the future now, so. These guys are all active on Twitter and all types of junk, so I'm sure they see stuff."
Leonard Williams had a big smile on his face Friday as he toed the company line when asked about Aikman, who will be on the call Sunday.
"I actually didn't see that, but I think everyone's entitled to their own opinion," Williams said. "That's those guys' job to make those types of predictions, and it's my job to come here practice and focus on winning the game. And like I said, I haven't even seen that."
Judge, when told several Giants players had heard Aikman's diss, said: "Honestly don't know what you're referring to right there." Then the Giants' coach raved so wildly about the Cowboys, it was hard to believe his praise wasn't a bit tongue in cheek.
"I don't think we really need any external motivation to show up and do our jobs," Judge said. "If we need somebody else to get us in a mind frame to play, I think we have other issues at hand. On the topic of what was said, this team's extremely good.
"This is one of the best teams statistically that this league's seen in a long time," the Giants' coach added. "This team's an outstanding team. … I think this is one of the top teams in the league and one of the top teams we've seen in a long time."
Aikman made his comment during a Tuesday morning appearance on 96.7 The Ticket in Dallas-Fort Worth.
He said he believes the Cowboys are "right there" in the NFC with contenders such as the reigning champion Buccaneers, the Rams and the Packers. Then he delivered his brutal assessment of the Giants:
"They're coming off a big win," Aikman said. "But in my opinion — and I understand the NFL and anybody can beat anybody and all that — but they're not in Dallas' class as far as I'm concerned."
Aikman's comment isn't exactly controversial, obviously. The Giants are 19-49 since the start of the 2017 season, compared to Dallas' 36-32 mark in that same span.
The Cowboys had beaten the Giants in seven straight games from the start of the 2017 season up until last season's Week 17 Giants win at MetLife Stadium.
Now Dak Prescott's offense is flying high at 31.5 points per game, compared to the Giants' 20.8. And Dan Quinn's Dallas defense has 10 takeaways, second most in the league, compared to the Giants' four.
The Giants also will be without wide receivers Sterling Shepard (hamstring) and Darius Slayton (hamstring) for a second straight week, and without safety Jabrill Peppers (hamstring).
Plus left tackle Andrew Thomas (left foot) is questionable and could be a game-time decision. It looks like Nate Solder may slide to left tackle and Matt Peart could start on the right.
"It's definitely a challenge but I'm prepared for adversity," said Thomas, whose injury is on the same foot he had surgery on in January. "We'll see what happens Sunday. I definitely have confidence in our passing front."
On the other hand, the Giants have recent experience shutting up doubters.
Last week, Saints corner C.J. Gardner-Johnson said he felt "sorry" for the Giants going down to the Superdome and promised a "rude awakening." The Giants upset the Saints, 27-21, in overtime. And they're hoping to shock the world against Sunday.
"It really is any given Sunday," Williams said. "If you devalue the team you're gonna go against, you're not gonna prepare the same and you can get upset. You can't overhype the team, as well, because you obviously have to feel like you have to compete with them."