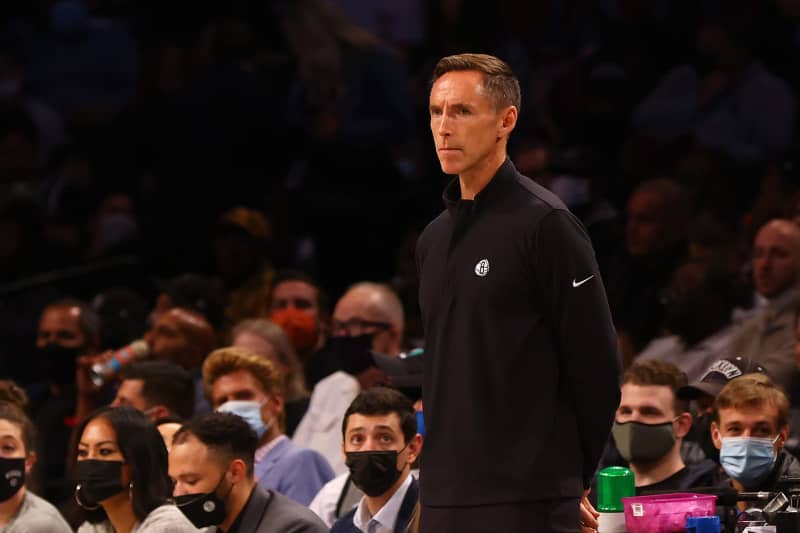 NEW YORK — Somebody break out the WD-40.
In their first home preseason game of the season, against a Milwaukee Bucks team that rested all their starters and role players, the mostly available Nets looked like that used Brillo pad hanging next to your kitchen sink.
Rusty.
It could only be expected in the team's first real action of the 2021-22 NBA season: Easy shots didn't fall, passes missed their targets and the championship contenders narrowly escaped the Bucks, 119-115, despite the Bucks sitting their best 11 players.
Giannis Antetokounmpo, Khris Middleton, Jrue Holiday, Pat Connaughton, Brook Lopez, Donte DiVincenzo, George Hill, Bobby Portis, Rodney Hood, Semi Ojeleye and Grayson Allen all watched from the sidelines as the defending champions battled a Nets team slowly getting players reacclimated to game speed and rotations. Friday night marked the first game of the season for Kevin Durant, James Harden, Joe Harris, Blake Griffin, Patty Mills and James Johnson, who each sat out the preseason opener in Los Angeles.
And boy, did it look like it.
Harris was the team's sharpest player, connecting on each of his first four 3-point attempts, but he was one of few bright spots in an otherwise meaningless exhibition game. Without Kyrie Irving (ineligible without the COVID-19 vaccine) and Paul Millsap (health and safety protocols), the Nets started Bruce Brown alongside Harden, Harris, Durant and Griffin.
A lineup that got a lot of run together last season looked like it was their first pickup game at the Rucker.
Harden, for example, broke the defense down, then rifled a pass to the corner, where he expected Griffin to remain. Griffin, however, cut baseline on the play, leading to a turnover and confusion from both ends of the party.
The rust was consistent for Harden, who finished with eight points on 1-of-6 shooting from downtown. Durant's game looked a bit stale, as well: 18 points on 5-of-14 shooting from the field to go with six rebounds and three assists.
"Tonight's just another (exhibition game) to try and get markers and trending points and get back on the practice floor and clean things up, and at the same time, we're trying to make sure guys land safely, physically, so their ramp up in the regular season is there," Nets head coach Steve Nash said pregame. "You know you don't want to overplay guys in the preseason but you also don't want to leave them in a position where they're going from 22 minutes to 36 minutes the first night out so we have to kind of manage that although that's done on the practice floor. But some of it obviously is most valuable to do it in a dress rehearsal."
Nothing to see here. Just the byproduct of a long offseason finally coming to its end.
It's a good thing the Nets have another two exhibition matches left on the schedule before the results start to count in the win-loss column: Monday's road trip to Philadelphia against the 76ers, followed by next Thursday's preseason closer against the Minnesota Timberwolves. Nash said his team isn't going regular-season speed just yet.
"It's getting there," he said. "I don't know if we're there yet. We've probably practiced five days like actually gone up and down so it's not a great sample size to start trying to overemphasize that kind of assimilation into the regular season. I think we still have to go through the whole process."
The longer Irving sits due to his vaccination status, the longer there will be both periods of adjustment and uncertainty for the Nets, as they enter a season ripe with championship hopes. Millsap's return timeline also remains unclear.
Closers
Nash pulled his starters and role players at the 8:10 mark in the fourth quarter and let his third unit go against Milwaukee's end of the bench. That lineup featured 27th overall pick Cam Thomas, 44th overall pick Kessler Edwards, third-year big man Nicolas Claxton and forwards David Duke Jr. and Devontae Cacok.
And make no mistake: That meant it was Cam Thomas time.
Thomas took 10 shots in those eight minutes and, just like his predecessors, was cold and rusty to start. He then proceeded to hit back-to-back shots in the game's final minutes, including a push-off stepback mid-range shot that gave the Nets a five-point lead with 24 seconds to go.
And left veteran forward James Johnson pointing and laughing at the victim of the play.
Thomas continues to hit big shot after big shot, continuing the trend from college at LSU (where he led all freshmen in scoring), into Las Vegas Summer League (where he won Co-MVP and set a new scoring record), all the way to preseason, where he has proven capable of scoring against every player who has attempted to guard him.
Open roster spot
The decision to go with the third unit to close the game also gave Nash, Sean Marks and Nets brass an opportunity to evaluate both Duke and Cacock in a close game in the fourth quarter. The Nets only have one more open roster spot for a player on a two-way contract, and both Duke and Cacok are playing on non-guaranteed contracts.
Duke played with high energy and came up with a critical string of rebounds, but also turned the ball over on a baseline drive to the rim. Cacok impressed with his physicality and ability to defend and finish around the rim.
Cacok, who is 6-7 and 240 pounds, also makes sense for Brooklyn's roster, given the next time they play against the Milwaukee Bucks, Antetokounmpo will suit up — and the Nets will need strong, willing and able bodies to stand in-between the Greek Freak and the rim.
Claxton's presence in garbage time was also of note, given Nash said his third-year big man would play "a prominent role" this season. He only played eight minutes, despite Millsap missing the game due to the health and safety protocols.