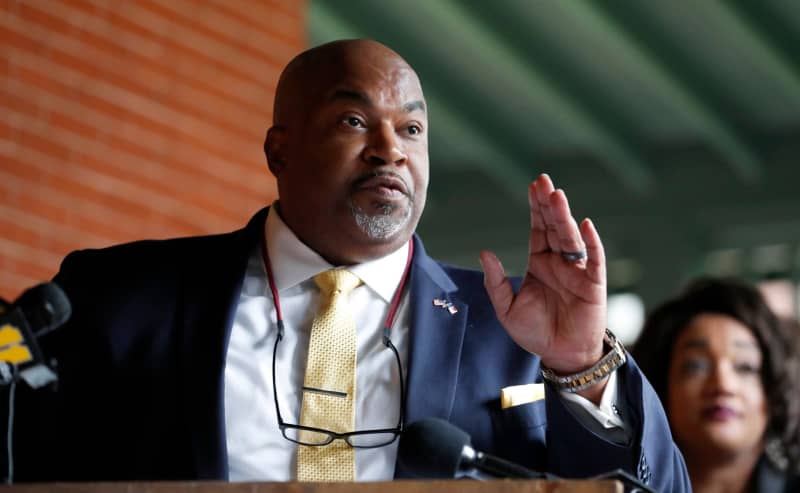 North Carolina's Lt. Gov. Mark Robinson is shameless when it comes to bellowing against make-believe threats to God, guns and heterosexuals. But even if the state's highest-elected Republican is beyond embarrassment, he is still embarrassing for North Carolina, and especially for North Carolina Republicans.
His party's leaders should tell him he's wrong, but they say nothing.
Robinson, fresh off a campaign to stamp out liberal "indoctrination" in public schools about the role of race in U.S. history, has made news again for attacking gay and transgender people as engaged in "filth." His comment surfaced when the website Right Wing Watch posted a video last week of a speech Robinson gave in June at Asbury Baptist Church in Seagrove.
"There's no reason anybody anywhere in America should be telling any child about transgenderism, homosexuality, any of that filth," Robinson said to rising applause. "And yes, I called it filth. And if you don't like it that I called it filth, come see me about it."
The media – state and national – have come to see the lieutenant governor about it, much to his delight. When you occupy a mostly invisible office, but hope to win a higher one, attention – negative or positive – is what you want most.
Robinson was not cowed to be caught on tape in a church denigrating his fellow children of God. There was no backtracking or claims about context or misspeaking. Instead, he reasserted his comments.
"We will not be intimidated. We will not back down. We will not change our language," Robinson said in a video he posted over the weekend. "The language I used, I am not ashamed of it. I will use it in the future because, again, it is time for parents in this state to take a strong stand for their children."
It is a measure of Robinson's character that when caught being a bigot, he takes refuge behind children. This is not about his condemning the sexual preference or the gender identification of other people, he says. No, it's about him protecting "young children" from being forced to listen to explicit talk about sexuality.
Of course, there is little about sexuality and gender being taught in public schools to young children. This is a straw man just like the other phony issues Robinson concocts – that gun rights are under attack or school teachers are brainwashing children to "hate America."
But while the threats are false, those hurt by the backlash are real. There are thousands of North Carolina school children struggling with their sexuality and gender identity. When a top public official condemns their feelings as "filth," a difficult stage of life becomes more difficult, even dangerously so. A 2021 survey found that LGBTQ youth are four times more likely than their peers to seriously consider suicide, the second leading cause of death among young people.
So much for Robinson's protecting the children.
Attacks on the dignity and humanity of gay and transgender people are terrible from anyone, but especially so from an official elected statewide to work on behalf of all North Carolinians. That this collective rejection of people based on who they are is coming from a Black man who knows the history and the present reality of prejudice adds a dimension of sadness to his malice.
As with their indulgence of Donald Trump and his race-baiting, Republicans accept Robinson's comments as an amusing implosion of political correctness. But he's not blasting some liberal speech code. He's denying the rights to which all people are entitled, even those he doesn't approve of.
At some point, and it's past that point, Republican leaders should condemn Robinson's comments and the hate he encourages. Instead, they are silent.
We'll take that as concurrence.
Voters should, too.
____