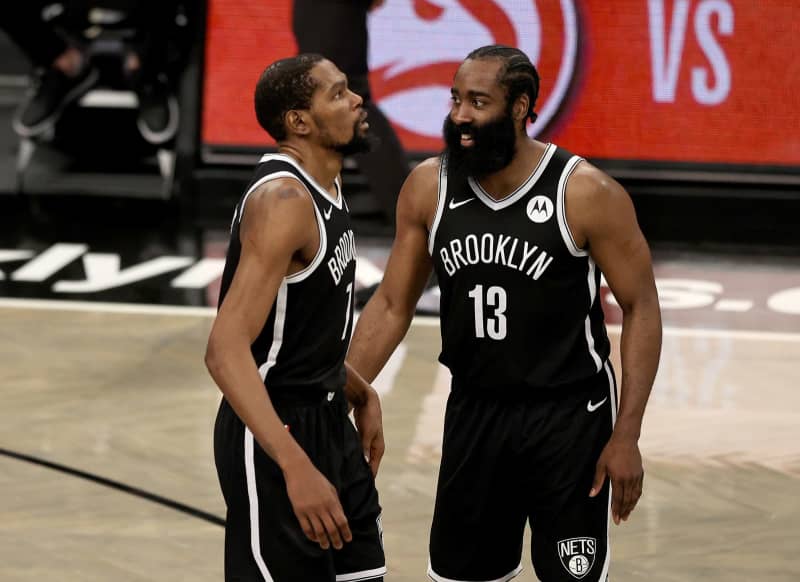 Don't forget about James Harden and Kevin Durant.
The Nets will be without Kyrie Irving (unvaccinated) until his status or the city's COVID-19 vaccine mandate changes, but Harden echoed the sentiment shared from top-down: The goal is still to win a championship, and he believes with or without Irving, the Nets are capable.
"Yeah, we still have two pretty good leaders on the team," Harden said after Nets practice on Wednesday. "Obviously Kai is our leader, as well, but we still have obviously myself and Kevin to lead, which we're pretty good at. And go out there and be great every single night."
The Nets have a number of options on their roster to fill-in for Irving, who averaged 27 points, six assists, five rebounds and joined the 50-40-90 Club last season. The fact still remains this is the second consecutive season with championship aspirations off to a rocky start due to roster instability.
And it's the third season of a four-year window that opened when Irving and Kevin Durant signed their original contracts in Brooklyn. Durant has since signed a contract extension through the 2025-26 season, but Harden has not, and a recent report suggested the Nets are no longer interested in extending Irving a deal.
Nets head coach Steve Nash, who spoke immediately before Harden, said not having uncertainty for the season is important.
"It's not gonna be hanging over us," Nash said of the decision to keep Irving away from the team for the time being. "I think a decision was made and that can be beneficial to us starting to really build and have that understanding that 'this is what's happening' instead of us living in a world that is very uncertain — we weren't sure from one day to the next what was gonna change, what was gonna happen. That can be difficult, and that can put an extra strain on everybody."
The Nets have just one more preseason game left on the schedule before Monday's opener in Milwaukee against the Bucks, and they were on the receiving end of a wake-up call in a dismantling at the hands of the Philadelphia 76ers on Monday.
Harden agreed the decision to keep Irving away from the team, and not to let him play part-time only, gave the team a bit more clarity entering the regular season.
"I think for us, we've just got to focus on the guys in this locker room that's here, that's putting in the work every single day," Harden said. "That's all we can control, that's all we can focus on. Every single day, it's already a struggle; it's already difficult just because we're trying to catch up, we're trying to put it together. So I think that's the main thing we could focus on, getting better every single day as a unit for whoever is in the locker room and preparing for games with us."
Harden also said the front office sought his opinion on whether or not to allow Irving to be a part-time player, though he appeared uncertain how much his opinion weighed in the final decision.
"That's the front office. We had conversations. As far as a collective unit. The ultimate decision that the front office made was that if Kai wasn't going to be here full-time then it's best for him not to be around the team part-time," he said. "I have no say-so in that. I can only state my opinion and we've got to continue to move forward. Obviously we'd love to have Kyrie here."