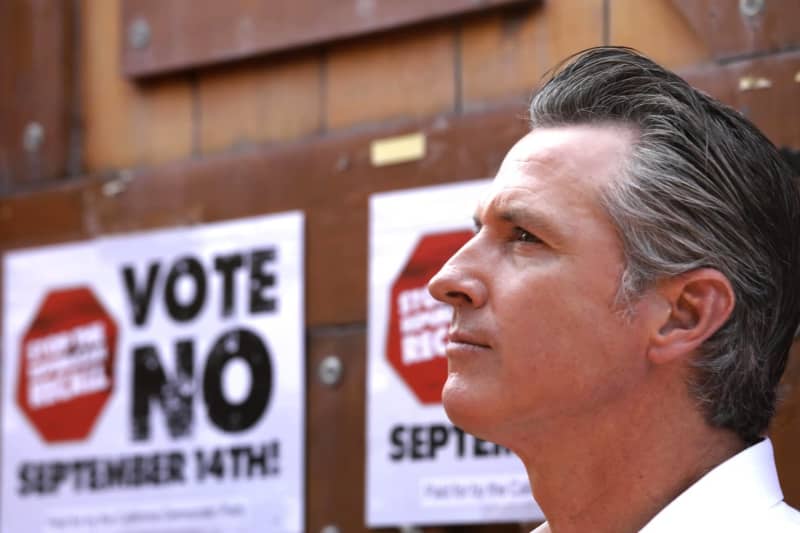 Early polling last year for the California recall election indicated Gov. Gavin Newsom might have a problem with the Latino vote.
The surveys suggested Latino voters were split about retaining the Democratic governor, making them a closely watched group during the recall election.
In the end, Latino voters were more likely to vote to keep Newsom in office than non-Latino voters in the recall election, according to a new analysis of how Hispanics cast their ballots in 18 California counties by the Latino Policy & Politics Initiative.
Overall, researchers estimate that nearly 78.1% of Latino voters who cast ballots voted against the recall.
Nearly 1.8 million Latino voters participated in this year's recall election, which is about 30% of registered Latino voters. Among all registered voters, 58.45% turned out for the for the election.
Latinos in California represent 39% of the state population, the U.S. Census Bureau estimates, and account for about a third of the state's eligible voters. They are predominantly Democrats.
Researchers broke down their analysis of 18 California counties using precinct-level vote data and a statewide election database from UC Berkeley. The 18 counties represent 81.4% of the state population and 81.5% of the state's Latino population, according to the analysis.
"Latino support for Gov. Newsom was higher than non-Latino support," said Michael Rios, a research analyst at the Latino Policy & Politics Initiative.
He said the research shows Latinos who voted ultimately were not split about retaining Newsom.
After the initial polls, Democrats made concerted efforts to get their message out in Latino communities. Local Latino leaders held press conferences. Newsom's campaign ran ads in Spanish. So did radio talk show host Larry Elder, who sought to take Newsom's place.
"Future campaigns should really take from this is that mobilization efforts do work. It's worth investing in and especially for Latino voters," he said. "They're not an apathetic voting base. It's not impossible to get them to the polls. They just need to be educated and really reached out to."
Ultimately, even in counties where voters were split on the recall — Orange, Riverside, San Bernardino and Merced — the majority of Latino voters cast their ballots in favor of the Democratic governor. In San Luis Obispo County, however, 50% of Latino voters cast a ballot to keep Newsom in office compared to 62% of non-Latino voters.
Newsom had the highest support among Latino voters in Southern California and the Bay Area. In Sacramento County, 74% of Latino voters voted "no" on the recall, compared to 49% of non-Latino voters.
Since the last recall election of a California governor in 2003, Latino voters have increased by 150%, their research found, while the growth of white voters increased by 5%.
The analysis also found that Latino voters were more likely to vote later than other demographic groups. "The single-biggest day of Latino votes was Sept. 14, 2021, the day of the recall election," according to the analysis.
Meanwhile, the majority of Latino voters cast their ballots by mail. Latinos in Los Angeles, San Francisco and Tulare counties were more likely to vote in person.
During a postmortem event after the recall election organized by the Sacramento Press Club in September, Juan Rodriguez, Newsom's recall campaign manager, said the biggest challenge for mobilizing Latino voters was closing the "awareness gap" about the recall. Those outreach efforts included working with community-based organizations to reach out to Latino voters.
"Latinos are not a monolith. They care about more than immigration. They care about education. They care about jobs," he said. "You need to meet them where they are at."