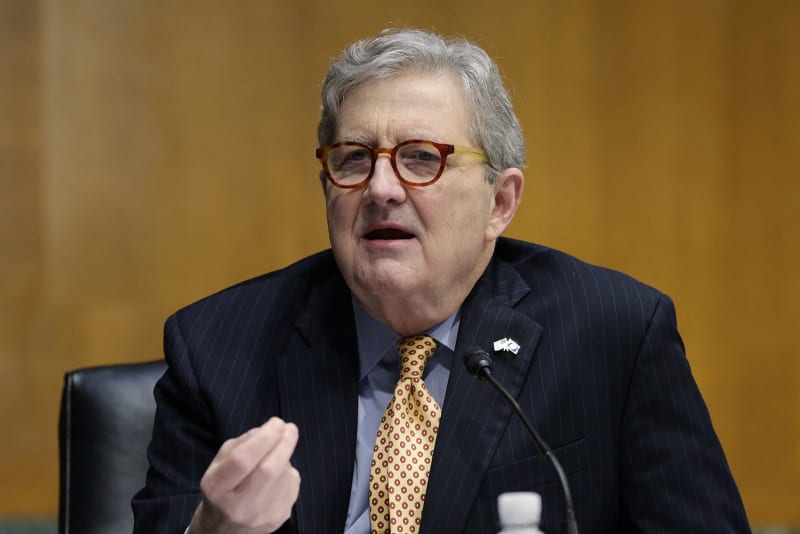 ATLANTA — The Georgia Senate approved new political maps for itself Tuesday, securing the chamber's Republican majority while allowing minor inroads by Democrats in a closely divided state.
The Senate map, drawn by the chamber's Republican leadership, solidifies GOP control while allowing one additional Democratic-leaning district as Georgia's population has grown by 1 million residents since 2010. There are currently 34 Republicans and 22 Democrats in the state Senate.
Tuesday's 34-21 vote along party lines is the most significant step yet in redrawing Georgia's district boundaries during the once-a-decade redistricting process.
Approval of the state's 56 Senate districts, each with more than 191,000 residents, puts them on a rapid path toward final approval by the state House as soon as this week. Proposals to redraw Georgia's 14 congressional seats and 180 House seats will soon follow.
The map opens an opportunity for Republicans to flip a Johns Creek district held by Democrat Michelle Au, encompassing more GOP-leaning voters from Forsyth County within its boundaries. The map also calls for two new districts that would favor Democrats in metro Atlanta.
The changes to Au's district convert it from having a majority of people of color to a majority-white district.
"The Republican map under consideration does not add even a single majority-minority district over the total we've had for the past decade," said Au, the daughter of Chinese immigrants, noting that the state's population changes were driven by people of color while white populations declined. "It's as if the huge population growth we've seen consisting essentially entirely of Georgians of color has been rendered invisible."
Senate Republicans said they drew a fair map that accounts for Georgia's expansion to 10.7 million residents.
Senate Redistricting Chairman John Kennedy said Republicans did a better job in redistricting than Democrats when they were in power two decades ago.
"Quite frankly the Republicans are not going to be lectured by Democrats who ran the system 20 years ago the way they did and come into this chamber and talk about how horribly unfair it is and what a challenge it is to democracy," said Kennedy, a Macon Republican. "No, not at all. Let's be honest. If you're not consistent, you're not going to be credible."
While some cities are split up, the Senate map keeps most of Georgia's 159 counties intact. Twenty-nine counties would have multiple senators, down from the current 39.
No incumbents of either party were drawn into competition with their peers. Two districts where senators are seeking higher office were dissolved and reformed in areas with growing populations — one in Gwinnett County and another near Alpharetta and Roswell in Fulton County.
State Sen. Kim Jackson, a Stone Mountain Democrat who is also in her first term, said it seemed as those the Republican-drawn maps target Au, who is the only Asian American woman in the Senate.
"When you target women leaders, you are targeting all women in Georgia," Jackson said. "When you come after women, women will come after you at the ballot box."
The two new Democratic-leaning districts in metro Atlanta were borne from the state's shifting demographics with rural areas losing people and cities making gains. At the same time, Georgia's white population has shrunk to just over 50%, according to the U.S. census.
The map dissolves a South Georgia district currently represented by state Sen. Tyler Harper, a Republican from Ocilla who is running for agriculture commissioner. The revised Senate boundaries also relocate a district north of Atlanta represented by state Sen. Bruce Thompson, a Republican from White who is running for labor commissioner.
Meanwhile, new state House maps also advanced through committee Tuesday and are scheduled for a vote on the House floor Wednesday.
Like the Senate maps, the House proposal would safeguard Republican majorities while bending to the realities of a politically shifting state. The House map envisions 97 Republican-leaning districts in the 180-seat legislative body. The current partisan split in the House is 103 Republicans to 77 Democrats.
Congressional maps will be the last to be debated.
Senate leaders pitched a map that would improve Republicans' chances of gaining a seat in Congress by shifting boundaries of a district in Atlanta's northern suburbs held by Democratic U.S. Rep. Lucy McBath. The House hasn't yet introduced its congressional map, which could differ from the Senate proposal.
———