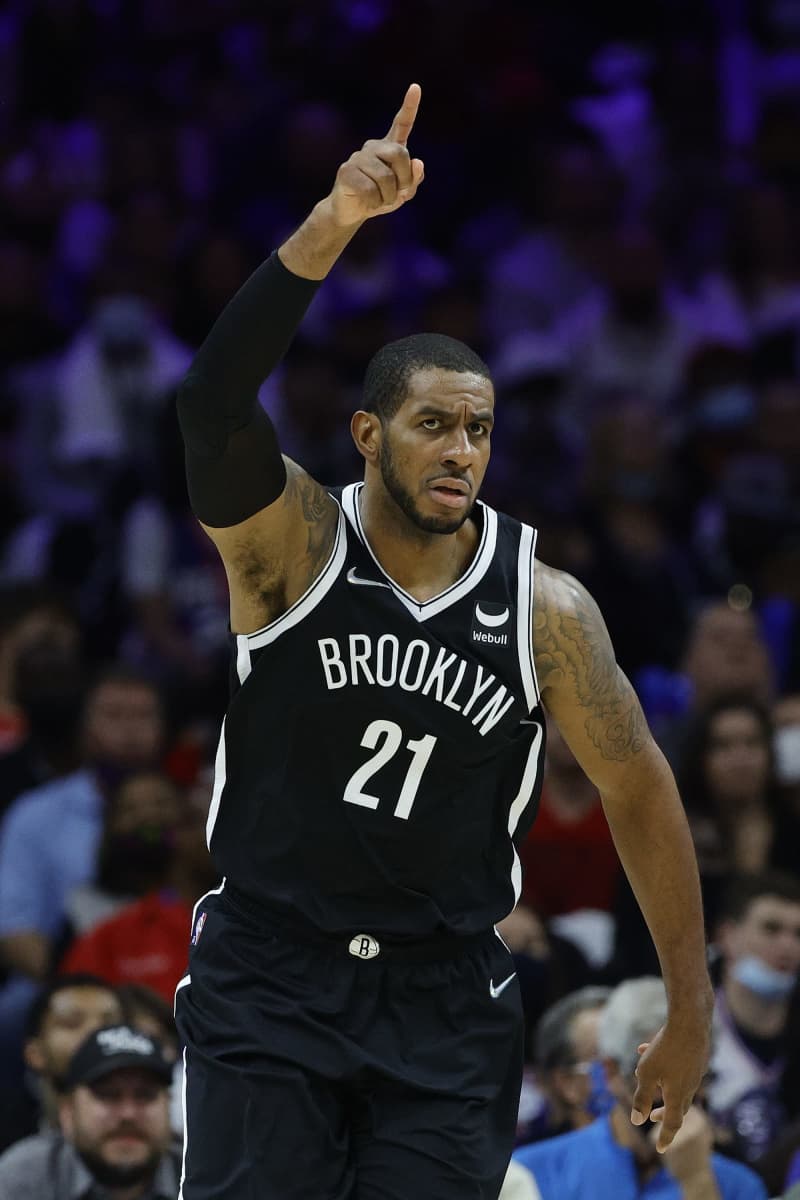 If NBA awards were monthly, LaMarcus Aldridge would be a front-runner for Sixth Man.
Aldridge, who has been one of the Nets' most reliable players, helped carry them to a 123-90 win over the Magic in Orlando on Wednesday. He came off the bench and scored 13 points in the second quarter, tallying 21 total with nine rebounds on 9-of-16 shooting in yet another impressive performance for the Nets.
The cherry on top? He shot 3 of 5 from deep.
The seven-time All-Star has averaged 13.1 points and 5.5 rebounds a game this season, just months removed from an abrupt retirement due to a heart condition he's battled since his rookie year.
In a season without Kyrie Irving, Aldridge has proven to be the Nets' third-most reliable scorer — behind Kevin Durant and James Harden, but in front of Patty Mills.
Which begs the question: Why not start him? And why not start DeAndre' Bembry?
In their respective roles, they have been two of the Nets' five best players 12 games into the season. And there's a case to be made to start Aldridge and Bembry alongside Durant, Harden and Joe Harris.
If the Nets are going to replace Irving's production — he averaged 27 points, six assists and five rebounds per game last season — their best bet would be starting Aldridge. He is a seven-time All-Star who has just as many seasons averaging more than 20 points per game. Starting Aldridge would help solve an important issue for the Nets and that' keeping some pressure off of Durant or Harden at any one time.
The Nets aren't just battling opponents on a nightly basis, they are waging a war of attrition. Harden is recovering from a hamstring injury, but hamstrings have proven fickle. Durant has proven he is 110% back from having ruptured his Achilles two seasons ago, but he has played 413 minutes through 12 games, an average of 34.4 minutes, including two games in two nights on the road.
Irving's presence, while fleeting, is missed, not just because of the numbers, but because of his presence, which Aldridge mimicked on Wednesday night, albeit against a lesser opponent.
Wednesday marked Aldridge's third game with more than 20 points this season, plus another three games with more than 15. Bembry came off the bench and shot 3 of 3 from downtown. He is furthering his status as a top-five player on a championship team.
But Wednesday night was about Aldridge. Durant scored 30 points for the sixth time this season, and did it in 29 minutes. He struck early and often, demoralizing the Magic's defense with shots they contested, but fell anyway.
Harden registered his third triple-double of the season, reaffirming the notion that despite his struggles, he is rounding into MVP form. He scored 17 points to go along with 11 rebounds and 11 assists.
Aldridge was the third consistent flow of offense for the Nets. He's what they've missed all season long.
And while starting him may be against what Nash feels at his core — that Aldridge brings stability to the team's second unit — starting him may bring the team some equilibrium.
The Nets were built to support three stars, after all. Not just two.