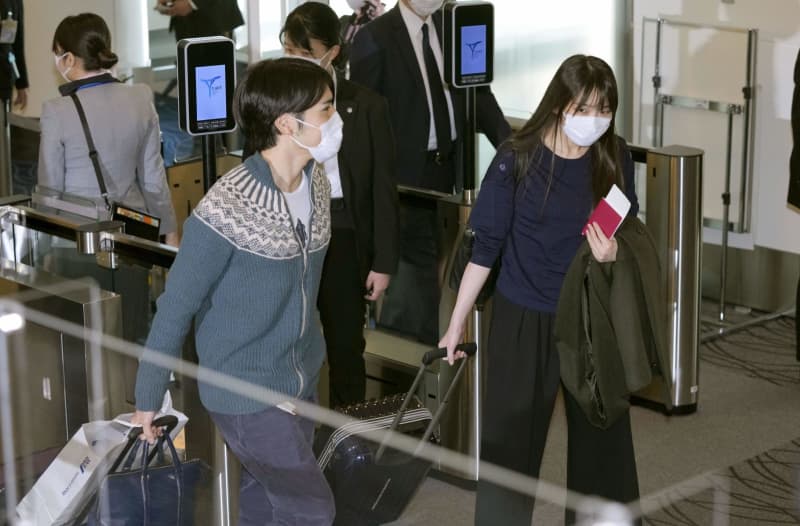 Former princess Mako Komuro and her husband left Japan on Sunday to start a new life in the United States, less than a month after tying the knot amid controversy over a financial dispute involving his mother and her former fiance.
The couple, both 30, departed from Tokyo's Haneda airport for New York where Kei Komuro works as a law clerk at a legal firm. Their departure follows an apparent settlement of the dispute, with the former fiance reportedly agreeing to receive "settlement money" in a meeting with Kei Komuro on Friday night.
In an unprecedented step for an imperial marriage, the niece of Emperor Naruhito skipped the usual traditional rites and turned down a lump-sum payment of about 150 million yen ($1.3 million) in taxpayers' money, amid public unease over the dispute.
The 1947 Imperial House Law, which limits heirs to the imperial throne to males with an emperor in the paternal line, requires female royals to give up their imperial status when they marry commoners.
When the couple spoke before members of the press on Oct. 26, the day they registered their marriage, Mako Komuro revealed it was her who had asked Kei Komuro to move forward his plans to study abroad and "set up a base (for living) overseas."
Kei Komuro graduated from the law school of Fordham University in New York with a Juris Doctor degree in May and the Komuros have already secured a place to live in the U.S. city, according to sources familiar with the matter.
He returned to Japan from the United States in late September for the first time in more than three years. Following the marriage, the couple lived in a Tokyo condominium.
The husband took the New York state bar examination in July but failed. He is expected to retake the exam in February.
With the couple and their families having become fodder for tabloids and TV talk shows for years, the eldest daughter of Crown Prince Fumihito also said during the press event she was "horrified, scared and saddened by the fact that false information has been taken as fact and that unfounded stories have spread."
She has been diagnosed with complex post-traumatic stress disorder caused by what she described as psychological abuse the couple and their families received, the Imperial Household Agency recently said.