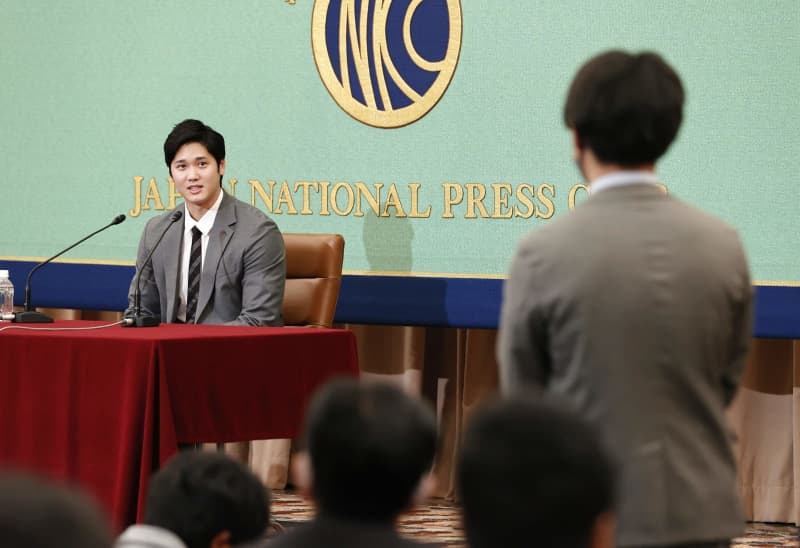 Los Angeles Angels dual threat Shohei Ohtani is not only keen on recommitting to his two-way role in the 2022 season, he says he is ready to add even more responsibility if given the chance.
Speaking to reporters at the Japan National Press Club in Tokyo on Monday, Ohtani, who just completed his 14-day home isolation period, said he would welcome the opportunity to pitch, hit and play a defensive position regularly next year.
"I did play outfield after a pitching start a couple times this season," Ohtani noted.
"But that decision, if it happens from the start, will need to involve not just the manager but the GM, too, as it has to do with the overall balance of the team. I'll take it if I'm given the chance. It means more options for me."
Ohtani, dressed in a suit and tie, gave short, straightforward answers to the dozens of questions thrown at him. He was asked about the 2011 Great East Japan Earthquake, his possible wedding plans, charity work and offseason meals as well as Babe Ruth and baseball mechanics.
To many of the questions about his extraordinary season, his first in a full-time two-way role, the 27-year-old just smiled shyly and said he does not know how to explain.
"People might say I'm 'on another level' but I don't see myself that way. I'm doing something different and there are not many examples (of two-way players). If there are more instances like me we'll have a clearer idea of whether or not I'm amazing."
"It wasn't like I planned the season to be this way. My manager and I communicated a lot, and it just so happened that I was okay pitching and hitting in the same game more times than expected," he said.
Ohtani, the consensus favorite to be named American League MVP on MLB Network at 6 p.m. U.S. eastern time on Thursday, was healthy and got through a full 162-game schedule remarkably unscathed given his workload.
Ohtani had 46 home runs, 100 RBIs and 26 stolen bases this season, his fourth in the majors after playing in his native Japan. In 23 starts on the mound, he was 9-2 with a 3.18 ERA while striking out 156 batters.