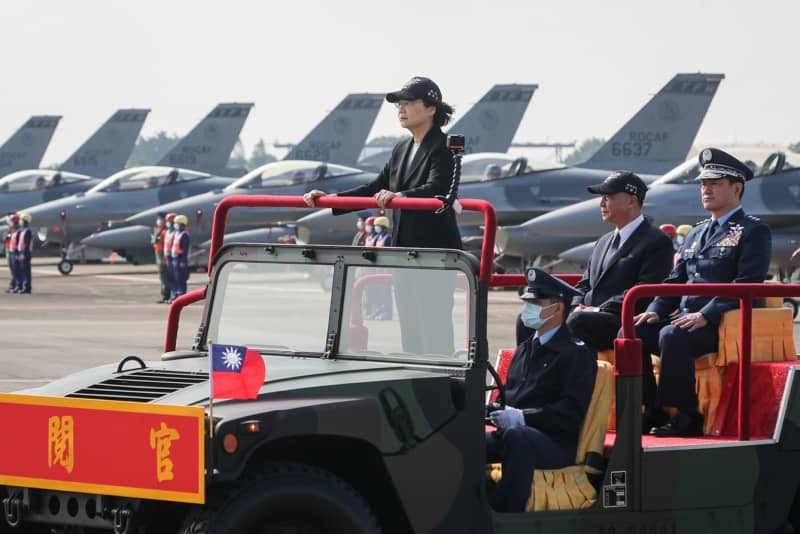 Taiwan's air force deployed its first squadron of upgraded F-16 fighter jets on Thursday, making the self-ruled island better equipped for modern warfare.
Speaking at the ceremony at an airbase in Chiayi County in southwestern Taiwan, President Tsai Ing-wen said, "Today we commission the first batch of the retrofitted F-16 fighters and the upgrade of the rest of the fleet will continue as planned."
With the initial deployment of the F-16V combat aircraft and the arrival of more over the coming years, Tsai said, Taiwan's ability to defend itself will be further strengthened.
The development comes as China has ramped up military pressure on Taiwan, such as by sending a large number of military planes into the island's air defense identification zone.
According to local media, Taiwan's air force has so far upgraded 64 of its standing fleet of 141 F-16 A/B Fighting Falcon combat aircraft to the new F-16V standards.
The NT$110 billion (US$3.9 billion) upgrade program was launched in 2016 and is carried out by government-owned Aerospace Industrial Development Corp. in coordination with the U.S. aerospace giant Lockheed Martin Corp.
The air force aims to see the F-16V reconfiguration of the F-16 A/B aircraft completed by 2023.
It also hopes to acquire 66 more F-16Vs from the United States by 2026, which will be used to replace its aging fleet of F-5E fighters.
The fleet size of Taiwan's active combat aircraft is ranked No. 10 in the world, according to the World Air Forces 2021 Report.
If the 66 advanced variants the F-16 fighters are factored in, Taiwan will have as many as 207 F-16s, making it the largest fleet of F-16 fighters apart from the United States.
By then, Taiwan's ranking would move up to No. 7 or No. 8, air force Chief of Staff Huang Chih-wei told a legislative committee meeting on Wednesday.